The Independent's journalism is supported by our readers. When you purchase through links on our site, we may earn commission.
Wines of the week: 7 reds to blow away the January blues
Time to diet and go cold turkey on the alcohol front? Not for Terry Kirby. Instead of coming home to a salad and tap water on these dark winter nights, he says, here's what will be more uplifting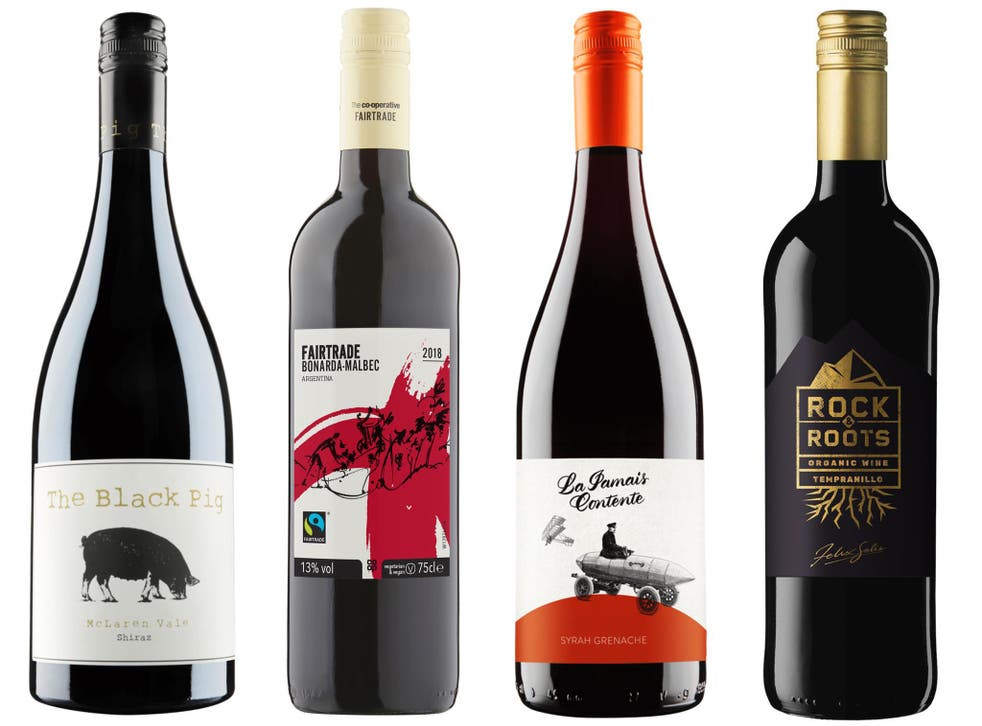 Welcome to January. Yup, Christmas and New Year are done, the coffers are empty, the leftovers all eaten or consigned to the bin, and the dubious pleasures of real winter lie ahead, rather than the bright lights of the festive season.
Obviously this is the fit-and-proper time to embark on rigorous self-denial, diets, fasting, abstinence from alcohol etc. Or not. Certainly not in my house, because in these dark and wintry days, I don't really want to come home to a salad and a glass of tap water.
Certainly one can be a bit more frugal, moderate alcohol consumption, and take some time off if one has particularly indulged. Frankly, though, comforting and warming foods and robust, modestly priced red wines are what I need right now to get me through the next couple of months.
And, I'm sorry to say, most low or non-alcoholic wines just don't work for me; I prefer a non-alcoholic beer or sparkling water anyway, if I'm having a night off.
In our search for wines that offer simple pleasures at modest prices, and hopefully remind us of sunshine to warm our wintry souls, it's first to the south of France and a taste of the Mediterranean with the La Jamais Contente Syrah Grenache 2018 (£9.59, virginwines.co.uk), a typical Pays d'Oc blend from the Languedoc, with rich, herbally tinged flavours, balancing ripe fruit and peppery spice.
Staying in the Languedoc, the wines of Abbotts & Delaunay are reliably good and the Abbotts & Delaunay Mourvedre 2017 (£8.99, or £7.99 if bought as part of a mixed six bottle purchase, majestic.co.uk) is dark, intense and smoothly drinkable, with a lovely spicy finish.
Both of these wines would be ideal with a cassoulet of beans and mixed meats, or a vegetable tagine with chickpeas. The mourvedre would also be good with any meatier casserole, but moving up the scale with more syrah and some southern-hemisphere sunshine, the Black Pig McLaren Vale Shiraz 2017 (£11.99, virginwines.co.uk) has big, robust, smooth flavours, without the more violently scented wildness that's characteristic of so much Aussie shiraz, and is one for beef bourguignon, Lancashire hot pot or game pie.
A much less full-on syrah/shiraz is the Earth's Essence Shiraz 2017 (£9.99, ocado.com). It is uniquely matured with an extract of South African indigenous rooibos and honeybush woods, giving it a warming, herbal, brambly, sweet note that probably makes it more like a French syrah than a New World shiraz.
Moving across the Atlantic to South America, the Fairtrade Bonarda-Malbec (£5.25, Co-op stores; not available online) is an appealing bargain blend, with chewy, dark-fruit flavours. Keeping with the Co-op, but swinging back to Europe, the Rock & Roots Organic Tempranillo 2018 (£5.25 until January 28, normally £6.25, Co-op stores; not available online), from the baking hot Castilla-La Mancha region in central Spain, is a succulent, smooth red. Both of these easy-drinking gluggers are just right for a baked pasta or a paella.
Sticking with Spanish tempranillo, but moving north, Adnams have a good price on magnums of their brilliant own-label rioja: the Monte Acuro Rioja Crianza (£16.99, normally £19.99, adnams.co.uk) has lovely oaky, spicy, vanilla flavours and rich, juicy, dark fruits. A comforting and soothing bargain red to blow away our January blues.
Register for free to continue reading
Registration is a free and easy way to support our truly independent journalism
By registering, you will also enjoy limited access to Premium articles, exclusive newsletters, commenting, and virtual events with our leading journalists
Already have an account? sign in
Register for free to continue reading
Registration is a free and easy way to support our truly independent journalism
By registering, you will also enjoy limited access to Premium articles, exclusive newsletters, commenting, and virtual events with our leading journalists
Already have an account? sign in
Join our new commenting forum
Join thought-provoking conversations, follow other Independent readers and see their replies