Behind the scenes with an expediter, the hardest job in the kitchen you've never heard of
Little known to the public but vital to the smooth running of the restaurant, expediters set the pace for the whole dining experience. So what does it take to succeed?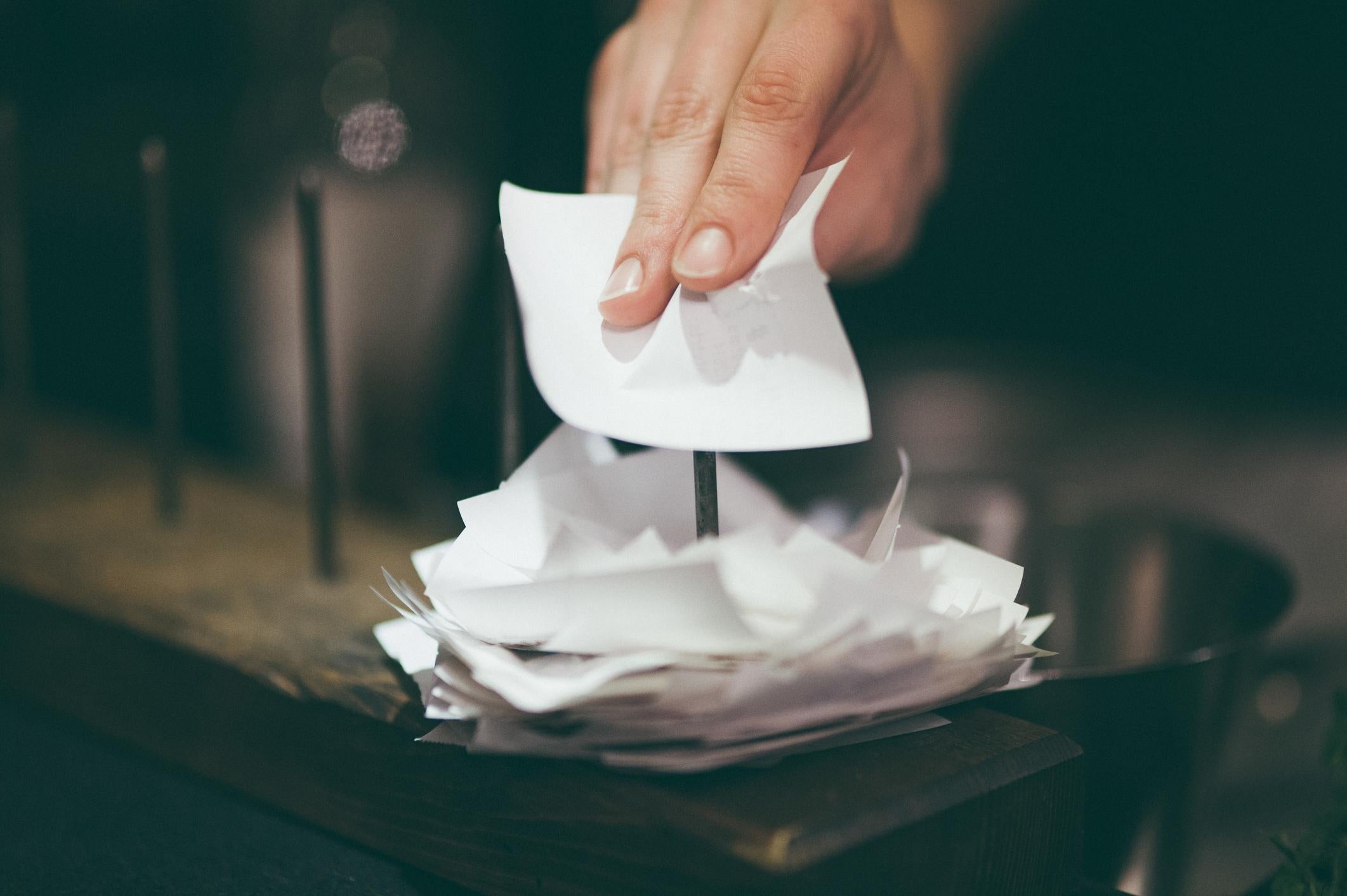 You're most likely to notice it in the abstract, if you notice it at all. The work of a good expediter is in the pacing of your dinner. It's in the steadiness of the room. It's in the sense that everyone in the restaurant is moving to a single, unbreakable rhythm.
The expediter sets that rhythm, managing the workflow of the kitchen like an air traffic controller. Though they may be unknown outside their restaurants, expediters are vital to smooth service. They fire dishes – signalling cooks exactly when to push ahead and finish a dish – and they keep time, continuously planning the next move.
"There's an exhilaration factor," says Tony Kim, executive chef of Momofuku Noodle Bar in New York, who got his start by expediting at a high-volume kitchen in Southern California. "It's a quarterback kind of position – you've got a whole team and you don't want to let them down."
The role may be played by the chef or the sous-chef, or a dedicated expediter fixed at the pass, the counter where dishes are picked up and hurried out to the dining room. Exact responsibilities may vary, but the most valued traits are universal.
Chefs say expediters should be precise, strategic and terrifically organised, with an uncanny, up-to-the-minute knowledge of all of the restaurant's moving parts, and an ability to communicate with ease, clarity and speed.
Most important, they should possess a sense of total unflappability and persistent sangfroid in the face of chaos.
"It was the first thing one of our sous-chefs told me," says Rebecca Raben, 26, who works as an expediter at Blue Hill at Stone Barns in Pocantico Hills, New York. "Things are going to get crazy, but no matter what, stay calm. Because if you lose it, then it translates everywhere – to the cooks, to the front of house, everywhere."
Kim, 40, describes expediters as conduits between the front and back of the house, pulling the teams closer to work as one. If an expediter panics and breaks down, so does that harmony.
"Everything could be crumbling around you, but the expediter has to be able to stay calm under pressure," he says. "No matter what's happening, you've got to be the exact same temperature: very cool."
In practice, every kitchen has its own idiosyncratic system, and the expediter fits into it differently.
At Noodle Bar, the chef and expediter both review the printed tickets bearing each diner's orders. Meanwhile, the manager roams the floor, talks with diners and relays where various tables are in their meal – say, a party of six has almost finished their small plates and are now in a hurry to get to a show; three parties of four with various food allergies are all about to order entrees.
The expediter processes all the information coming from the chef and the manager and fires sequences of dishes accordingly, keeping in mind exactly how long each dish will take to finish, and how much each cook is already juggling.
Some kitchens have multiple ticket machines, so cooks can see the orders as they come in. But Noodle Bar's cooks, who don't have tickets to reference, listen for the expediter's spoken cues. They cook blindly, as Kim puts it, on trust.
The pass has no heat lamps, and since the kitchen is open, diners can often see if food is waiting. "Our margin of error for time is so thin," he says.
At Stone Barns, the fine-dining restaurant where Raben works, every table has an almost completely different tasting menu based on the diners' interests, as well as on the quantities of what's available that day.
"We might just have three fish heads in, but if we find the right table of three that night that will appreciate it, then it's game on," Raben says.
The lack of a standard menu makes the role of expediting especially complex. The executive chef, Dan Barber, writes out each table's ticket by hand, with a thin Sharpie on a long strip of paper. As Raben expedites and helps with plating, she uses coloured pens to mark the ticket with the time each course is fired, and the time it leaves the kitchen.
In some cases, Barber puts a question mark on the ticket – for a dish to be determined spontaneously, later in the evening. This can make it difficult for the expediter to plan ahead.
"We have no idea what could happen next. It's madness, to be honest, it's absolute madness," says Raben, with clear delight. "My job is to organise that madness, so it all goes out seamlessly."
Some expediters speak of recurring dreams in which time compresses, and they race against it. The machine jams, or prints out endless streams of paper. They walk into a familiar kitchen, but it's full of unreadable tickets.
The work of an expediter can be a thrill, but it's also high-pressure, competitive and comes with major responsibilities. "If one guest is sitting at their table without food, that's not on the cooks," Raben says. "That's on you."
If an expediter at Noodle Bar misses a shift, Kim says the team finds ways to fill in, but it's a challenge. "There's this very funny, comical dance that happens between manager and chef because we're both doing two halves of the job," he says. "We're a step behind, we're just not as on it as we should be."
In some cases, no expediter may be preferable to a disorganised expediter, unfamiliar with the kitchen and its systems, who relays incorrect notes to servers about table positions, or forgets about an allergy.
"They don't just lag, they screw things up," says Erik Ramirez, the chef and owner of Llama Inn, a Peruvian restaurant in Brooklyn. During a busy brunch service years ago, one of his line cooks walked out and the expediter had to fill in and cook while a manager expedited.
"It's a pretty big hiccup" anytime someone new jumps into the role, he says. "Tables will lag, people will complain about the food taking a long time. It can be rough."
But in a restaurant they know inside and out, great expediters can peek into the dining room, peer across a full board of tickets, then organise the data in their heads and see directly into the future.
Cecily Kimura, 27, expedites as a sous-chef at Joule in Seattle, where she makes notes on all of her tickets so she always knows what to fire next.
"I like to stay really organised, but also work with a kind of intuition," she says. "When you see the restaurant is starting to turn over, or you just sent out a lot of main courses, then you know the pantry station is about to be hit with desserts and appetisers, so you can start doing things to help them move faster."
A good expediter doesn't rush customers through their dinners, but a sluggish meal is no good, either. Kimura observes, checks in with the host and adapts.
"Everything is really circumstantial," she says. "We usually strive to fit into a two-hour dining window and to have the appetisers out in 15 minutes and the protein course on the table by 45 minutes. But the line can get pushed to its limit, especially when we do 200 covers."
While she's expediting, Kimura also provides an extra pair of hands for plating or grabbing ingredients from the walk-in refrigerator.
There are few structured ways to learn an expediter's skills, other than on the job. And though some restaurants train all their cooks in the basics of expediting, chefs say it's a particularly hard role to teach because it requires such a deep understanding of every facet of the restaurant.
Many expediters were thrown into the work by chance, when staff was short, or picked up on it instinctively while cooking, or taking food to tables, simply by observing. If they were lucky, they got to practice during slower, low-pressure shifts before the rush of a big night.
Kimura learned to expedite as a cook by paying attention to the sous-chefs, as well as to Joule's executive chef, Rachel Yang.
"It doesn't matter if it's 200 or more covers, it feels so smooth and calm the whole time when Rachel's expediting," Kimura says. "She has this intrinsic knowledge of how to fire things, how to pace things. And it's her energy, too – she's one of the calmest people in the kitchen."
At Llama Inn, Ramirez knows that a few orders in a row of lomo saltado, the restaurant's popular dish of stir-fried beef with french fries, will throw a wrench into the kitchen's timing: the meat station will be slammed, cooking six thin pancakes for each dish to order.
"It's our takedown dish," he says. He plans accordingly.
Ramirez, 37, learned to expedite while cooking at Nuela and Raymi in Manhattan, and he and his sous-chefs now use a similar, somewhat standard system, firing in blocks, a few tables at a time, then sliding the tickets from a top rail to a second rail.
"But when it's really busy, you've got to go, go, go, and the tables just have to turn," says Ramirez, who serves up to 200 people on a Friday night (and almost 300 when the outdoor seating is open).
Servers are supposed to help time orders at Llama Inn, letting the kitchen know when their tables are ready for the next course. But when they get in the weeds, Ramirez says, they may forget.
So the expediters, like any others, just have to stay on their toes, keep an eye on the ticket board, and be aware, at every moment, of just how much time is flying.
© New York Times
Join our commenting forum
Join thought-provoking conversations, follow other Independent readers and see their replies