Restaurant review
Gunpowder: I'll be back... and this time I meant it
It's been three years since he first went and Ed Cumming finds that diners are still prepared to sit uncomfortably, long after opening, when the hype has long since evaporated. And this can only say good things about the food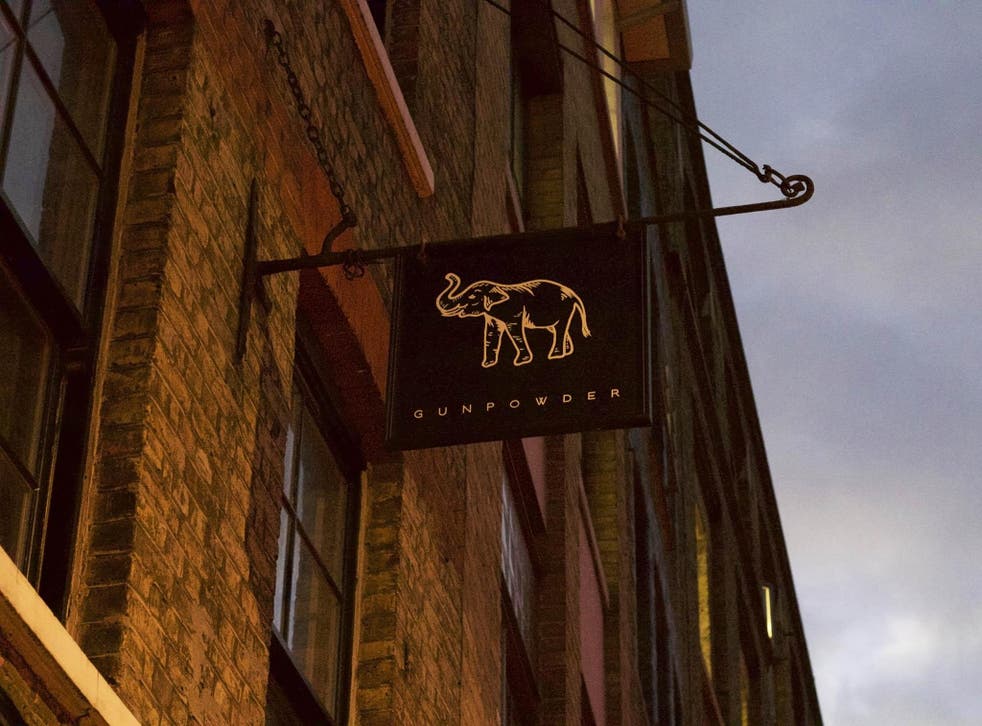 I went to Gunpowder in 2016, soon after it opened, and was impressed. In a tiny room down a Spitalfields side-street, more of a bare-brick cupboard than a dining room, it served dishes from all over India.
The flavours were big, the service was brisk but effective, and the overall impression was being in the home of a supreme Indian chef who had invited slightly too many people for dinner.
"This," I thought at the time, wiping yoghurt and spice from my beard, "is the kind of place I'm going to come back to."
I never did. There's always another, newer Indian restaurant, isn't there? It's not that Gunpowder has been sitting on its hands.
It has a Michelin Bib Gourmand, the award they give restaurants they realise are good but don't fully understand.
There is a second site, at London Bridge, and a recipe book full of dishes you wouldn't attempt in a million years. But for whatever reason I never got it together to go back.
Then, the other day, I found myself in east London with a woman craving Indian food. Specifically, Indian food that was not fancy, but also not not-fancy, the kind of request designed to challenge a sense of humour.
Dishoom has had a curious effect on Indian food in central London. Any theoretical meal out must now meet the DS (Dishoom Standard), a benchmark qualified by the fact that you can never go to Dishoom itself, because there's always a two-hour queue.
This time the solution came to me in a flash: Gunpowder. On a midweek summer's evening it was humming with activity, albeit lit only dimly, like a scene from an old painting. We put our names down and retreated for a pint before we were texted and summoned and shown to two seats in the window, one end of a happy, noisy room, with the punters seemingly unfazed to be packed arse-cheek to arse-cheek along the wall.
It says good things about the food when diners are still prepared to be uncomfortable three years after opening, when the hype has long since evaporated.
Much of Gunpowder's short menu is intact from when it opened. We started with rasam ke bomb, a shot of hot soup, spiced with chilli and mustard and tamarind, with yellow balls of crispy potato sitting on top of the liquid. Then a rich aloo chaat, the potatoes slathered in dark brown tamarind and yoghurt, like two pots of spilled paint.
Order the "spicy venison and vermicelli doughnut" in a place like this and you might expect a parsimonious crispy marble. Not here, where a plump golden tennis ball is put down in front of us, its shell coated in splinters of crunchy noodle, like some hairy fruit that has been plunged into the fryer.
Inside, the meat was rich and gamey and plentiful. While the room is still cramped and noisy, and the service erring on the hurried, everything else felt generous. Ribs came as a Jenga stack of tender meat and bone. The moist flesh of a spiced baby chicken, tandoor-roasted, pulled easily off its spindly frame.
For all this, unarguably not fancy but also not not-fancy, the bill came to £30 a head. I'll be back, again, except this time I mean it. Gunpowder still… bangs?
Would I go back? Yes
Should you go? Yes
Could you take our parents? No
Register for free to continue reading
Registration is a free and easy way to support our truly independent journalism
By registering, you will also enjoy limited access to Premium articles, exclusive newsletters, commenting, and virtual events with our leading journalists
Already have an account? sign in
Register for free to continue reading
Registration is a free and easy way to support our truly independent journalism
By registering, you will also enjoy limited access to Premium articles, exclusive newsletters, commenting, and virtual events with our leading journalists
Already have an account? sign in
Join our new commenting forum
Join thought-provoking conversations, follow other Independent readers and see their replies