45 Jermyn Street, restaurant review: Fortnum & Mason's new place has the pedigree - but it's solely for modern-day dandies
St James's, London SW1, Tel: 020 7205 4545. £150 for two, with wine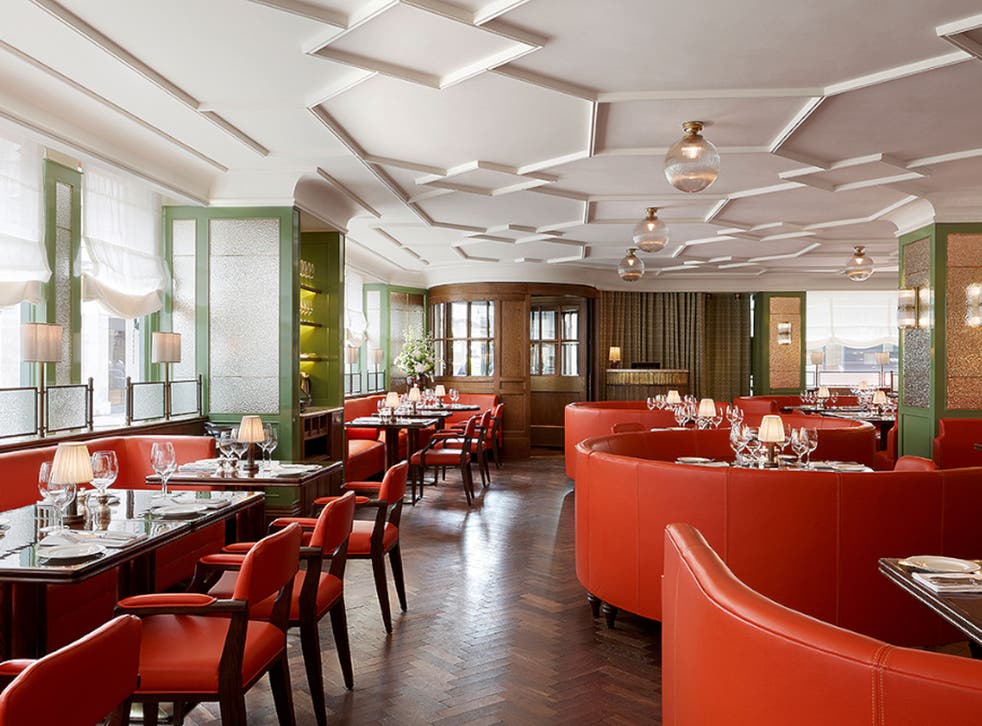 The name George "Beau" Brummell recalls a vanished London. An icon of Regency England, he updated the uniform of Eton with a gold buckle, left Oxford at 16, served in the military, befriended George IV, and then became the toast of posh London society, pretty much inventing modern dandyism along the way.
I say vanished, but actually his class of person seems to be running our country at the moment, and it turns out England is still, in Orwell's eternal formulation, the most class-ridden country under the sun. A statue of Brummell, pregnant with aristocratic pomposity, stands erect in Jermyn Street, part of St James's, the London quarter that – after Mayfair across the other side of Piccadilly – is most inaccessible. Not physically – the transport links are good. But financially. The prices round here are obscene. Quaglino's, Wiltons and L'Oranger, where I once had a memorable time with Ed Balls, are very expensive.
Angela Hartnett's Café Murano is one pocket of resistance. And somewhere in the mid-range between her and the billionaire menus elsewhere is a very welcome addition to the local scene: 45 Jermyn Street. You can guess the address. Just a few metres from that statue (a scintillating cocktail list includes The Brummell – cider, champagne, quince, rose geranium – and a Beau Negroni), it comes from those nice people at Fortnum & Mason, and replaces The Fountain, a brasserie that stood proud here for 60 years.
The inside is lovely. There is beautiful terracotta-coloured upholstery, some of which envelops secluded booths, and a marble-fronted dining bar. It sits 113, and comes from Martin Brudnizki Design Studio, the guys behind the latest Ivy openings, Scarfes and Les Deux Salons, among others.
We are here to eat, and I am sat opposite Lloyd Embley, a modern-day Brummell, who also happens to be editor of the Daily Mirror, Sunday Mirror, mirror.co.uk, and a blog called icookthebestroasts.com, which I just invented, but which he could easily fill with the pictures he's taken of his own cooking (which is very highly rated – and not just by his wife). Which is to say, he is a discerning eater and drinker, and his high regard for the food here should give you an indication that this is a special venue. He chooses an Austrian Riesling, which is excellent value at £26.
There are very good oysters at £2.50 to £3 a pop, from Cornish Natives to Jersey Rock and Fine de Claire, the last of these fattened in knee-deep salt ponds for at least a month, giving a fuller, fruitier, sweeter gulp. There's also a posh caviar tray, but assuming you're not loaded, we steer clear of those. Lloyd has a stunning plate of grilled bone marrow with Parmesan and parsley salt. That's a lot of salt in one dish, with an aftertaste to match. But the sloppy marrow is wonderful, as is my octopus with braised borlotti and chorizo (£9).
It's pleasing to see five vegetarian options listed on the menu, especially coming so soon after the World Health Organisation said each bacon lardon you eat takes a year off your life, or something. Separate to these five life-extending options are five meat dishes and six fishy options.
I have massive scallops with chorizo and neeps (turnips). The scallops are impossible to fault: chunky, chewy, tearing apart in hot strips and beautifully glazed; the chorizo is terrific, too. But the turnip mash is over-seasoned, leaving a long aftertaste that some autumn green veg (£4.25) help to clear. The £25.50 price is a reminder of the postcode we're eating in.
Lloyd goes for fish, too, and his "delicious" pan-fried fillet of sea bass with gnocchi and cockles (£26.50) causes the two of us to emit long purrs of satisfaction. The gnocchi, somehow hard yet soft, are cooked to the nanosecond. He finishes with a glass of 1993 Tokaji (£10), a Hungarian dessert wine that's too richly sweet even for my tooth. So I indulge in a dark chocolate mousse with mint ice cream.
We tend to keep super-fancy central London establishments to a minimum on this page. For what it's worth, this place, right in the shadow of Regency England's foremost dandy, provides good value for money – even in St James's. And that's saying something.
8/10
45 Jermyn Street, St James's, London SW1, Tel: 020 7205 4545. £150 for two, with wine
Four more foodie notes from the past week
Buttered eggs
Whack a knob of butter into a dish, melt in the oven, put two eggs in, and cook until the yolks are done. Unbeatable.
Dhal soup
Of all the Sainsbury's soups less than £3, this must be the best. And at 504 calories, it will fill you up all day.
Belvoir Raspberry & Lemon cordial
We drink loads of cordial at home, and try to mix up the flavours. This is the best yet.
Honey roast cashews
Very much a Christmas indulgence, but for some reason I started early this year. About 4,000 calories a time.
Register for free to continue reading
Registration is a free and easy way to support our truly independent journalism
By registering, you will also enjoy limited access to Premium articles, exclusive newsletters, commenting, and virtual events with our leading journalists
Already have an account? sign in
Register for free to continue reading
Registration is a free and easy way to support our truly independent journalism
By registering, you will also enjoy limited access to Premium articles, exclusive newsletters, commenting, and virtual events with our leading journalists
Already have an account? sign in
Join our new commenting forum
Join thought-provoking conversations, follow other Independent readers and see their replies