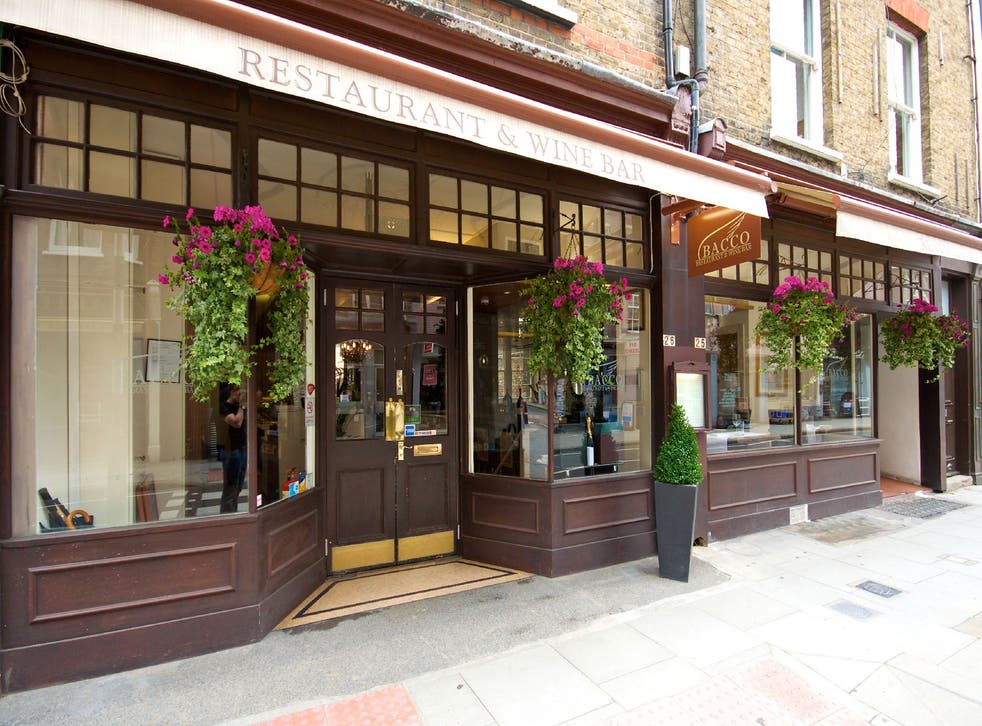 Bacco, restaurant review: 'Why would you dip battered rabbit in cheese fondue?'
25-26 Red Lion Street, London WC1 (020-7242 7900)
John Walsh
Friday 10 April 2015 18:42 Comments
Holborn is not an especially lovely district of London. It used to be just a thoroughfare that linked the old markets and artisan alleys of the East End with the immigrant restaurants of Soho. It all went wildly commercial in the 19th century, and became an elongated slum stretching all the way down to the Strand, before the city planners drove a major new road called Kingsway through the middle. You can understand how Holborn used to be from a letter that Thomas Carlyle sent to his brother, complaining about "the black vapour brooding over [Holborn] ... coaches and wains and sheep oxen and wild people rushing on with bellowings and shrieks and thundering din".
Sheep and oxen apart, that's a pretty good description of the scene at Holborn the day we went to Bacco. An underground fire had broken out just beside the Tube station and 5,000 people were being evacuated into Kingsway. It was a scene of smoke, panic and chaos, from which it was a relief to scarper away up Red Lion Street. The eating houses around here are never special. They're cheap, generic .But Bacco has picked up a lot of praise since it opened. Would it be a cheap and generic Italian, or something special?
First impressions are positive: the frontage looks lovely, the maître d' with the flyaway hair beams through the glass, the waiters crowd round you, Christina from Bergamo takes your coat, the chap behind the well-stocked bar smiles encouragingly. The room is immensely pleasing, despite its slightly incoherent mishmash of style: the walls are white, apart from the brown-painted stippled-plaster bits. The floorboards are oak, but the suspended ceiling is formica-veneered. The décor is interrupted by a big fresco of a rosebud-lipped Julius Caesar over here, and some flock wallpaper over there. Mirrors and painting dot the walls. For some reason, though, it works. It's clearly a romantic place: all the diners are couples, looking relaxed and loved-up. We three gentlemen diners, Harry, Mike and I, look frankly out of place.
The menu is neither generic nor cheap. In fact, it's bloody expensive. Most starters are £13 or £14. Even the bruschetta – toast with tomato and mozzarella – is £10 a slice. Mains start at £13 for rigatoni with cheese and rise to £27 for veal fillet with artichokes. An amuse-bouche arrives – look, arancini, how original, only it's not arancini, it's a croquette of potato purée and is delicious. The first dishes announce a major theme of Bacco – too much cheese. My smoked duck breast, so pale and virginal it seemed rude to check to see how smoked it was, came surrounded by blueberries, raspberry – and a 'duet' of gorgonzola and mascarpone which overwhelmed everything else. Harry's wild boar bresaola was "very rich and bursting with flavour"; beads of pomegranate in rocket salad offered a fruity counterpoint, decorated with pecorino shavings. It was light and excellently spicy. Mike's rabbit bocconcini (deep-fried) arrived with a fennel and fontina cheese dip. Fontina is an Italian cow's milk cheese made in the Alps and is the perfect consistency for a fondue. But why would you dip battered rabbit in cheese fondue? Of the rabbit hiding inside this double-coating there was little flavour.
Christina discreetly poured us gallons of Veneto Chardonnay from a surprisingly reasonable wine list as we tried the main courses. There was some experimentation here, as you'd expect from the chef, Stefano Cavallini, the first Italian to be awarded a Michelin star, at the Halkin in 1995. Pan-fried pork belly was unusual. Instead of the usual slab of brittle crackling, a layer of fat and slithery pork beneath, these were sliced roundels, marinated in wine and spices, cooked for six hours and finished with grain mustard and orange sauce – very delicious, accompanied by slightly over-salty zucchini fritti.
Pan-fried wild sea bass with broad bean purée was delicious, but its attendant lords – twirls of crispy bacon, a black efflorescence of balsamic-glazed onion – seemed irrelevant. "If you're paying for sea bass," said Harry severely, "you don't need these ignorant extras." My braised chicken thighs were baby-soft and tender, and came slathered with a lumpy home-made sauce of tomato, capers, oregano and lemon. It was piquant and tasty but presented in a very old-fashioned way, as if I'd roasted some Waitrose chicken thighs at home and up-ended a jar of sauce over them. Accompanying 'crispy root vegetables' were parsnips and carrots, overcooked and far from crisp.
We finished with an OK semifreddo and a sensational rum baba, the soft cake and cream given a contrasting crunch with a lovely biscuit-and-almond base. I enjoyed the Bacco experience, but it has a slight identity problem: it's stuck in the no-man's-land between fine dining and traditional, hearty trattoria cooking. Simply racking up the prices isn't the answer, even in the heart of Old London.
Food ***
Ambience ****
Service ****
25-26 Red Lion Street, London WC1 (020-7242 7900). About £36 per person, before wine and service
Register for free to continue reading
Registration is a free and easy way to support our truly independent journalism
By registering, you will also enjoy limited access to Premium articles, exclusive newsletters, commenting, and virtual events with our leading journalists
Already have an account? sign in
Join our new commenting forum
Join thought-provoking conversations, follow other Independent readers and see their replies