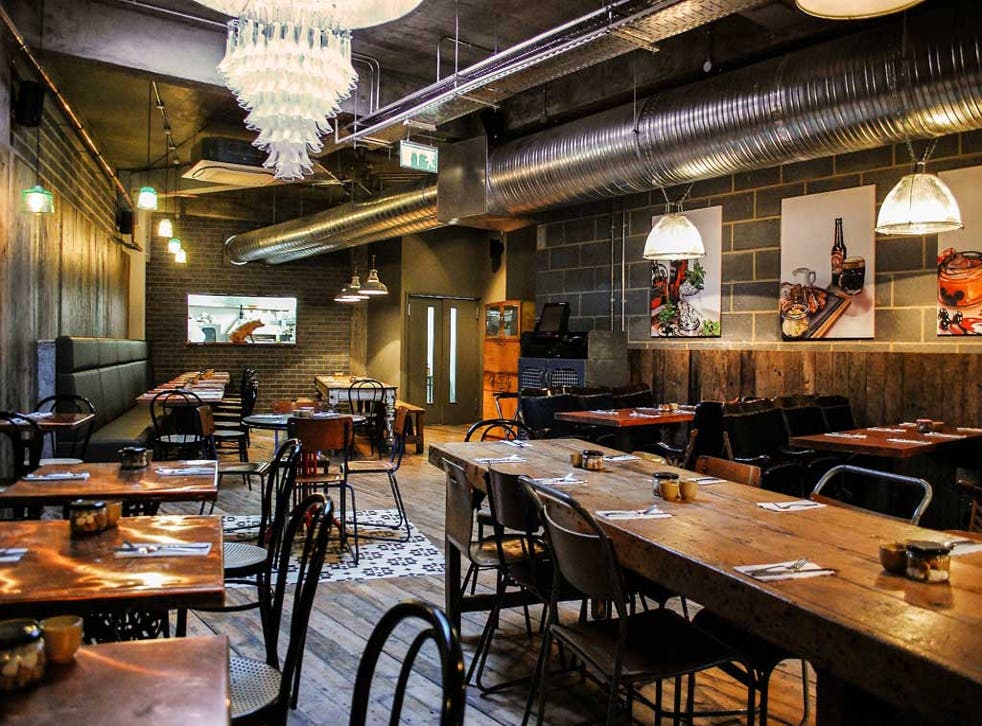 Beard to Tail, 77 Curtain Road, London EC2
Shoreditch was the original home of London's theatreland and, in mid-Victorian times, it positively vibrated with 'penny gaffs' – pop-up, makeshift theatres staged in converted warehouses for audiences of rowdy young people. Sound familiar? You can find the same phenomenon in EC2 today, except the pop-ups are now bars and restaurants. Wherever you look, once-alarming or darkly unpromising side-street gaffs have been re-made as trendy eating houses.
Two of the new impresarios are Richard Wynne and Kate Crutchley, who own Callooh Callay in Rivington Street. The name comes from 'Jabberwocky' and patrons experience wacky scenes: drinks are served in gramophones and you walk through a wardrobe to find a second cocktail bar. (A wardrobe? Are they confusing Lewis Carroll with CS Lewis?)
Wynne and Crutchley are the people behind Beard to Tail, but it's short on japes – except for its name, which seems to be a bilingual joke since it translates, in French, as 'barbe-a-cue'. But 'barbecue' isn't a French word, it's Haitian as everyone knows (at least everyone who's just looked it up in their Chambers dictionary). So that's hilarious. It may also remind you of 'nose-to-tail eating' as invented by Fergus Henderson at St John, but Beard to Tail is even more butch. Their menu is festooned with pictures of carving knives and forks, cleavers, serrated-edge breadknives, and main-course options are signalled as 'INTO THE PIG' OR 'ONTO THE COW'.
Décor-wise, it's serious industrial chic: there's a shed-like feel about the planked and breeze-blocked walls, more than a hint of the factory about the enormous aluminium ventilation shafts running overhead. And a weird noise of grinding machinery behind the music. Remind you of David Lynch's film Eraserhead? The industrial soundtrack, the spooky darkness, the faint undercurrent of alarm? That's Beard to Tail. But it may be a generational thing. Apart from us, there wasn't anyone there under 35. It was packed with trendy, moneyed young Londoners, apparently fresh from a Rankin shoot, fizzing with energy and chat.
I noticed that they didn't bother much with wine. When I fussed over the short wine list the manager said, "We are a cocktail-based restaurant, sir," with Jeeves-like hauteur. So I had a Five O'Clock Shadow, a dark and sexy concoction of rum with Punt e Mes and a touch of pimento, and felt amazingly sloshed.
But then the food itself is alcoholic. You could have barbecue ribs marinated in bourbon, or a steak tartare dripping with Kentucky rye. A house speciality is pig's trotter stuffed with bacon, sage and onions, in which it's no surprise to find the cabbage is pickled. Sadly, the only fishy options (a deconstructed shrimp cocktail, and mussels and bacon in ale) weren't available, and my date was unhappy. "I'm a woman," she said, "and I cannot eat pork ribs or pig's trotter and then a steak." She had a point. With the meat-tastic menu and the tidal wave of whiskey, this is a male carnivore's club. Her compromise salad featured an OK melange of green shoots and watercress, but you could tell the kitchen's heart wasn't in it. My sautéed duck livers were enormous – one the size of a chicken breast – their soft, velvety insides complemented by the triple crunch of apple and hazelnuts on toast.
The main courses sounded like a bunch of cartoon tough guys: Braised Pork Cheeks, Bearded Wild Boar Faggots, Smoked Shoreditch Sausage, Pulled Featherblade. All the restaurant's meat comes from a single outlet, the Ashbridge family farm in North Yorkshire, and very fine it is too. Angie's 28-day-aged rump steak was charred and textured to perfection, the horseradish cream nicely judged. A side order of bubble-and-squeak was soon demolished. Bone marrow and watercress, however, was dry and unappetising. My sweet-cured saddleback pork chop was lovingly cooked, nicely flavoured with sage and cockles (cockles?) and scattered with slices of apple; having already had apple slices with my starter, I'd have preferred a purée, but you don't argue with the management in such a hard-nut environment.
For pudding we shared The Sundae Bible, an overwhelming, lactic monstrosity involving gingernut cheesecake, milk ice-cream and Southern Comfort syrup. It was strangely off-putting, like being suckled by a 20-stone wet-nurse in a Louisiana swamp.
Beard to Tail will, mark my words, be lionised by east London trendsetters for months to come. The food is relentlessly beefy and piggy, but with the new trend for chicken-only or steak-only establishments, that won't hurt. We may even see the coining of a new word for the sensitive young Londoner who frequents the East End in search of whiskey-flavoured steaks: the Meatrosexual.
Beard to Tail, 77 Curtain Road, London EC2 (020-7729 2966)
Around £80 for two, with wine
Food ***
Ambiance **
Service ****
Tipping policy: 'Service charge is 12.5 per cent. All service charge and tips go to the staff'
Side orders: Sticky fingers
The Burger Joint
The meat comes from butcher Ruby and White's; the buns are artisan ciabatta; ingredients are locally sourced – no wonder this is the best place to eat burgers in Bristol.
83 Whiteladies Road, Bristol (0117 329 0887)
BBQ Shack
Make sure you try the sticky, smoky, Texas-style ribs at this outlet in a Brighton pub; it's the place to go for 'dirty' food. Napkins at the ready.
World's End, 60-61 London Road, Brighton (01273 692 311)
Smoke Stack
The succulent 'fat-free' rump steak and the pork ribs roasted with honey and tomato are both popular choices here.
53-55 Broughton Street, Edinburgh (0131 556 6032)
Register for free to continue reading
Registration is a free and easy way to support our truly independent journalism
By registering, you will also enjoy limited access to Premium articles, exclusive newsletters, commenting, and virtual events with our leading journalists
Already have an account? sign in
Join our new commenting forum
Join thought-provoking conversations, follow other Independent readers and see their replies