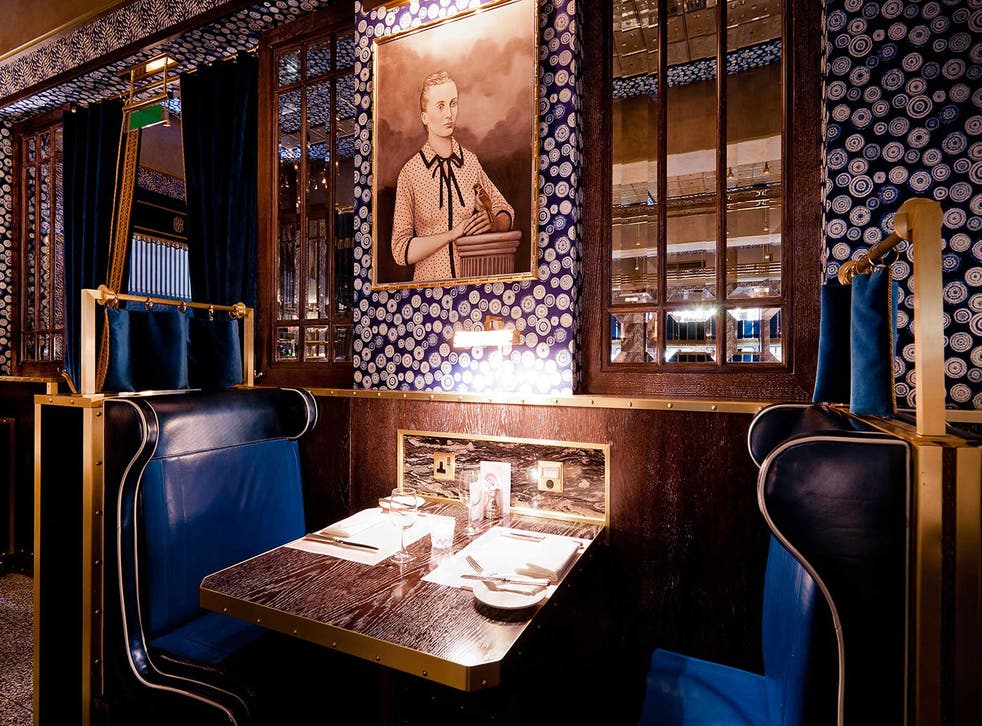 Bob Bob Ricard, restaurant review: Are the good times still rolling at the tweaked Soho hang-out?
Bob Bob Ricard, 1 Upper James Street, London W1, Tel: 020 3145 1000. £140 for two, with drinks
A bloody Mary and a Martini – the most bog-standard of cocktails – are a good way of testing whether a bar/restaurant pays attention to detail. If the Martini is tepid, if the Bloody Mary is tomato juice has a tinny taste, it's safe to say corners are being cut.
So to be presented with a Bloody Mary that is the palest pink and almost clear is a bit of a show stopper. Goodness knows the process involved with that. And what about that Martini with a plump, perfect oyster, still in its shell, breaking the surface of the booze?
The cocktails at Bob Bob Ricard say "we try harder". This Soho restaurant has become the answer, among some of the foodie posse, when asked, "Where shall we eat tonight?". It can be relied upon, I'm told, for good times.
I've been told this but I've never actually been in the five years that it's been open. There are lots of scene-y places in Soho, after all, and guff like "elegant" dress code and a button at every table to summon champagne leave me, well, tepid. But I keep hearing how reliably "good times" it is, and am attracted to the idea of visiting places that are neither old-school classics nor buzzing and new – once the sheen of novelty has worn off, do they still deliver?
The menu at launch was daft (Ribena in milk, jellies), it served Kellogg's Corn Flakes at breakfast and it stayed open till 3am. Now the hours are lunch and dinner and the menu looks a little more restrained.
I've moseyed in in Converse sneakers and a day-two hairdo, having forgotten all about the dress code, but the staff couldn't be nicer. They are as sweet as their dusky-pink uniforms and – hello mama – the tables are all booths. This makes me so happy I could squeal. I LOVE a booth; everyone feels comfy and (sorry to be sexist but these things are important) there's somewhere to put your handbag that isn't the floor. Less aesthetically pleasing, but a terrific nod to our modern ways, a plug socket at every table for those iPhone-battery angsters.
The décor: well, imagine you've travelled to Jay Gatsby's party in an oligarch's yacht with a dotcom billionaire. You get the idea. Where angsters meet gangsters, if you like…
Gosh but those cocktails are good. A salty tang on a Martini is not for everyone, but I think it's a pretty brisk sharpener before a meal. The paley Mary is delicious, with all the punch and savoury joy you'd expect. There's expertly judged seasoning.
But can the food reach the same heights or is this fur-coat-and-no-knickers syndrome? The Martini weighs in at £16.50 (creating as big a gulp as when the oyster went down), so is Bob Bob Ricard a rich person's playground, where pouty girls push undressed salad round a plate while their dates wash down wagyu steak with Diet Coke? (Rather brilliantly, my identirich neighbours are trying to do just that, but the lovely maître d' explains they don't serve Coke. They have Fentiman's instead. It tells me the restaurant cares as much about soft drinks as hard ones; taste is all.)
The prices are not for everyday, that's for sure, but neither is the food. The insanely flattering lighting, the cocktails that bring forth oohs and aahs, that champagne-summoning button – it's all a big old treat, well matched by dishes made with flair and generosity. If you're paying £22.50 for lobster mac and cheese, it wants plenty of the shellfish. Here you get more than enough.
A three-cheese soufflé is stratospheric and uncommonly potent (£8.50). Only slightly dry black pudding with the scallops and pea purée disappoints. (Has chef been on MasterChef? I doubt it.) A dinky pink box of lovely crisp fries accompanies supersized lemon-sole goujons – which they should be for £23.50.
We share an Eton Mess En Perle, which makes us giggle as it's a globe of meringue with raspberry sauce poured over. It's all gloriously gooey, another pink flourish in a rosy night out.
This – steaks, caviar, lobster – is comfort food for millionaires. It has plenty of Russian dishes for today's most prevalent high-end diner but, unlike other showy places where civilians get the Siberia treatment, this is warm and welcoming. You'll need to save up, but Bob Bob Ricard is now a place I'd recommend.
8/10
Bob Bob Ricard, 1 Upper James Street, London W1, Tel: 020 3145 1000. £140 for two, with drinks
For more foodie notes from the past week
La Pâtisserie des Rêves
Astonishingly good (if expensive) cakes and pastries in Marylebone, and now they've gone and improved Victoria sponge and carrot cake with a French twist.
School of Wok
Still going strong after a few years. The classic sweet'n'sour chicken and egg-fried rice recipes I learnt at an evening class have become a family favourite.
Tarte tatin
Made one for Mother's Day, but had run out of calvados so I used the British aperitif Kamm & Sons instead. Worked a treat (although drinking it is also nice!).
A Visual History of Cookery
This lovely book, like a box of chocolates, is irresistible. I keep dipping in and finding gems of information and vintage food photography.
Join our new commenting forum
Join thought-provoking conversations, follow other Independent readers and see their replies