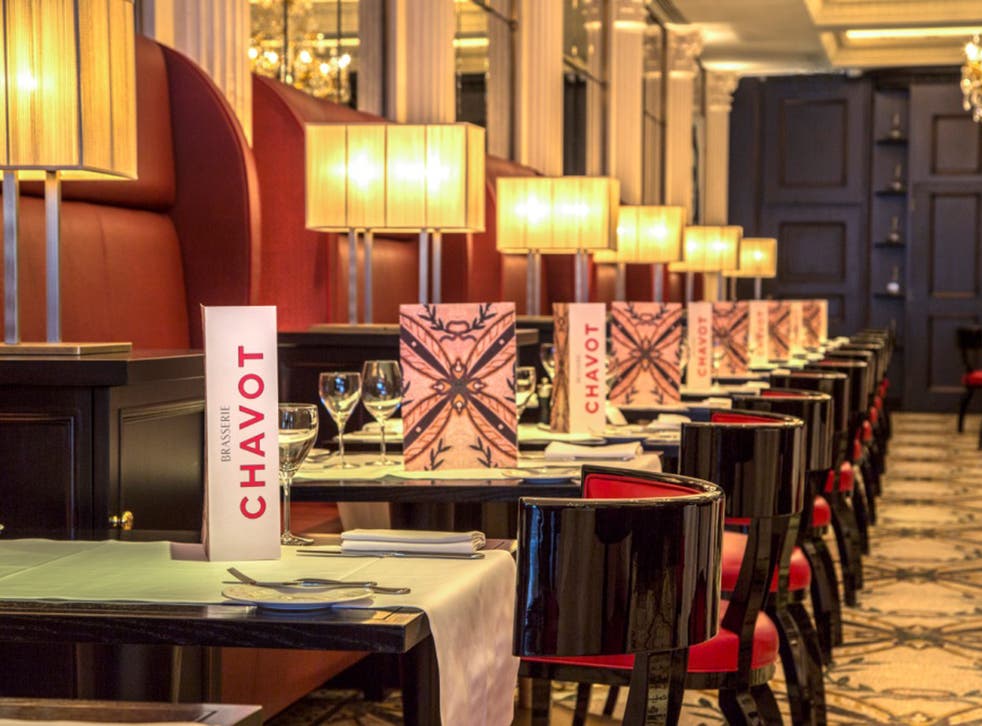 Brasserie Chavot, 41 Conduit Street, London W1
Amol Rajan finds bad upholstery undermines good food at Eric Chavot's newest spot
Several of London's swankiest hotels have restaurants whose atmosphere and design feel like a continuation of the hotel. You can understand the commercial and aesthetic logic behind this: both brands feel like they've got something to gain from the association.
So Alain Ducasse at the Dorchester, Wolfgang Puck's The Cut at 45 Park Lane, and Dinner by Heston Blumenthal at the Mandarin Oriental, for instance, are all in happy harmony. But Brasserie Chavot at the Westbury doesn't fit this pattern at all. It is among the most weirdly designed rooms in London, all opulence without elegance and money without meaning. It feels rather incongruous with the adjoining hotel, the streets of Mayfair, and to some extent itself.
The basic problem is that it is a bad shape. You walk into the bottom of a long "L", with a patterned, tiled floor, stonking great chandeliers, stern rectangular lamps and blood-red upholstery which is in keeping with one of this column's bugbears: over-deep benches. This is no trifling matter. It means that if you want proper support for your back, you have to head deep into the sofa and thereby a long way from your dinner. Two hazards arise from such an arrangement: first, you have to reach way out ahead of you to get your food; second, the chances of spillage increase in proportion to the distance the food travels. You might think the solution is to move your backside forward, towards the table. But this means losing the back support. I hate over-deep benches.
All this is rather discomfiting. But we should be fair to Monsieur Chavot, and point out that this is not his fault. His responsibility is the food, and that is rather good.
Naturally my friend Dominic and I have opted for the two most expensive starters. The deep-fried soft-shell crab with whipped aioli (£11) is pitch-perfect: the batter is light rather than greasy, which allows the crab to express its flavour fully, and the aioli has lashings of garlic and a lovely sprinkling of saffron, which gives it the colour of a French sunset. The ceviche of scallops (£12) is very good and swimming in zesty citrus flavour.
The mains vary from a single vegetarian option – ricotta and Parmesan gnocchi for £16 – to Filet de canette à l'orange with caramelised endives for £19.50. Given that this is Mayfair, those are actually far from horrifying prices. So naturally we order the special beef for two (£56), which comes on a giant wooden board with a load of marrow doused in more butter and garlic than you'd think it possible to fit in France, let alone a single dish. When I say "doused", I mean lashings and lashings, so much so that I couldn't really handle it. The beef, though over-seasoned, was one of the juiciest, tenderest and richest hunks of flesh this part-time vegetarian has ever seen.
Of the sides, the pommes frites (£3.75) are superb: slick and salty and definitely not a chip; and the beetroot salad with blue cheese dressing is a total snip at £4.
There are marvellous if unsurprising cheeses at £3.50 a pop, with walnut bread toasted to within a nanosecond of its life; and a spicy, deliciously granular fig jam. The profiteroles with chocolate sauce are an excellent investment too, at £7.50. There's a Pomerol for £58 which is dear but exquisite with the beef.
Eric Chavot has a fabulous pedigree. He has worked with Pierre Koffman, Raymond Blanc, and Marco Pierre-White, and as head chef at The Capital in Knightsbridge had two Michelin stars for a decade after 1999. He has a charming manner and is keen on talking to customers after wiping some of the tables in their vicinity, an attractive quality in a chef. With us, he talked about sourcing ingredients and the enduring appeal of French food for Londoners.
I'm not sure The Westbury hotel, or indeed Mayfair, is quite the right spot for this passionate Frenchman. He deserves somewhere a little more understated, where the emphasis is on the food rather than the interiors. If you can avoid thinking about them too much, perhaps by sitting in one of the chairs, this place is well worth a visit.
7/10
Brasserie Chavot, 41 Conduit Street, London W1, Tel: 020 7183 6425 £130 for two, including a bottle of wine
Three more French fancies
Café Marlayne
A popular local brasserie offering simple, well-cooked food at reasonable prices, say the reports on this New Town bistro. 1 Thistle St, Edinburgh, tel: 0131 226 2230
Le Columbier
A perfect recreation of a smaller Parisian brasserie, offering one of London's best terraces for sunny days in the city. 145 Dovehouse St, London SW3, tel: 020 7351 1155
Le Café Anglais
Rowley Leigh's brasserie feels like an ocean liner, serving good food at no-nonsense prices. Whiteley's, 8 Porchester Gdns, London W2, tel: 020 7221 1415
Join our new commenting forum
Join thought-provoking conversations, follow other Independent readers and see their replies