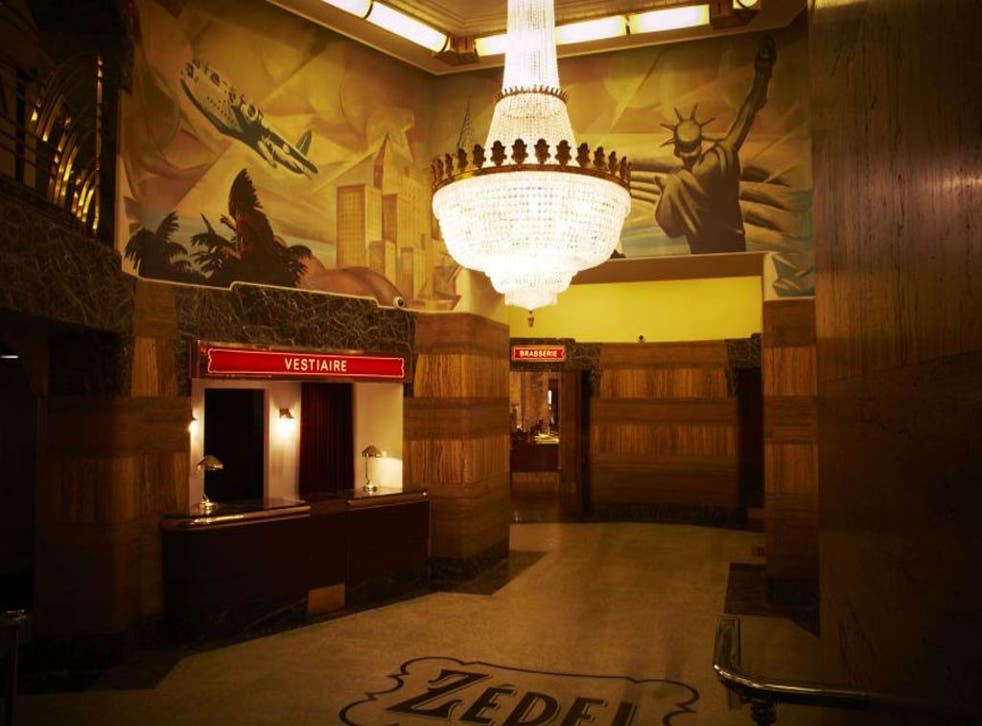 Brasserie Zédel, 20 Sherwood Street, London W1
It's the sheer scale of the place that strikes you first. The subterranean dining room, reached via a staircase larger than most new restaurants, is on a scale so epic, it could well be visible from space. Tables recede into the middle distance. Far-off fields of velvety banquettes command their own microclimates. Even the menu cards are the size of small tables. Zédel, the new opening from London's fêted restaurateurs Corbin and King, is so generously proportioned, it could comfortably accommodate the clientele of their two existing restaurants, The Wolseley and Delaunay.
The big question is, would they want to go? For Zédel (named, like its predecessors, after a discontinued car marque) is a departure for the lords of the restaurant universe; a mid-market offering pitched squarely at what The Wolseley's celebrity diners would refer to as "civilians".
Expensively carved from what was once part of the Regent Palace Hotel, and more recently the Atlantic Bar, it's a loving recreation of the grand brasseries of Paris, the restaurant equivalent of Woody Allen's dewy-eyed Midnight in Paris. But there's many a slip between La Coupole and Lipp. French brasserie food has fallen into enemy hands in this country, debased into cliché by the likes of Café Rouge. The challenge for Zédel will be whether it can rekindle our excitement for the likes of boeuf bourguignon and confit de canard.
The time-capsule menu is vast; crowded with plats du jours, prix fixes and formules rapides. You could easily visit 20 times and never eat the same thing twice. At first glance the most exciting thing about it is the prices, which are competitive – starters rise from £2.25 for soup, and mains from £7.50 (for steak haché and frites) – remarkably so in a lavishly refurbished ocean liner of a dining room in the heart of the West End.
All the expected brasserie classics are here, along with the kind of hard-core, Frenchies-only gear that doesn't make the cut at Café Rouge – grilled andouillette de Troyes (tripe sausage) with mustard sauce, blanquette de veau, lapin à la moutarde. The decision to list starters in untranslated French is a challenging one, given Zédel's come-one, come-all ethos – you have to be pretty menu-literate to know that pissaladière is anchovy and olive tart, or that saumon marine à l'aneth is gravadlax. And you have to be pretty optimistic to order cuisses de grenouille, or frogs' legs, which is what I stupidly did.
As dry and characterless as chicken fillets rescued from yesterday's barbecue, they were just awful, a one-dish repudiation of all the care that has gone into Zédel, all those hand-painted murals, acres of honeyed marble and bespoke faux-vintage tableware. An accompanying sauce, vividly green but elusive in flavour, and some shavings of fried garlic, couldn't repair the damage. Equally drab was a bog-standard prawn cocktail, sweet of sauce and flabby of prawn, plonked in a small bowl rather than a cocktail glass. One thing Corbin and King know about is ceremony, so why they signed off on this canteen-like presentation is the mystery of the Marie Rose.
The main courses were a distinct improvement, and both served with the kind of flourish that lived up to the setting. Choucroute Alsacienne – served in a convincingly huge portion, on a raised platter – was like a holiday on a plate, the heap of cabbage fragrant and not over-salted, topped with a generous selection of porky cuts. Steak and chips, served with a shallot sauce, was also good, and good value at £10.95, the onglet long on flavour, the frites authentically thin and crisp in their mandatory pewter bucket. Only a fillet of sea bream, with a shudderingly acidic head of fennel, didn't quite deliver.
By comparison with the legendary cakes and desserts at The Wolseley and Delaunay, Zédel's offer is perfunctory. But though the list doesn't make particularly exciting reading, the examples we tried were both good of their kind. Profiteroles came with a little jug of hot chocolate sauce for pouring, and île flottante, that lovely combination of custard, caramel and soft, pillowy meringue, was a steal at £2.75.
Those low prices, in the end, are going to be the making of Zédel. It really was quite head-spinning to sit in a room as buffed and gilded as this, eating (mainly) good food, and to come out with a bill that barely grazed three figures for three of us. The three-course prix fixe menu is only £11.25, so it could have been far less. Service whips along with an authentic snap and bustle, and we liked the place enough to linger on for a further hour, even though our meal was done and dusted within 90 minutes.
Zédel probably won't be ousting The Wolseley from the speed-dials of the power lunchers, but I've already found myself recommending it as a venue to several people. Unlike its sister venues, it isn't a place to see and be seen, but a place to eat and eat smugly, in surroundings that would make any occasion feel rather special.
Brasserie Zédel, 20 Sherwood Street, London W1 (020-7734 4888)
Around £35 a head for three courses including wine and service
Food ***
Ambiance ****
Service ****
Tipping policy: "Service charge is 12.5 per cent discretionary; all tips and service charge go to the staff"
Side orders: Brilliant brasseries
Brasserie Blanc
Try the grilled Loch Duart salmon fillet with tomato hollandaise and French fries (£11.50) at Raymond Blanc's upmarket brasserie chain.
Victoria Mill, Sovereign Street, Leeds (0113 220 6060)
Brasserie Vacherin
Malcolm John's award-winning French eaterie serves well-executed classics such as pan-roasted breast of guinea fowl with spring onion mash and black olive tapenade (£14).
12 High Street, Sutton, Surrey (020-8722 0180)
Green Park Brasserie
The food on offer here includes mains such as rose harissa marinated leg of lamb with roast squash, cous cous and mint hummus (£15.95).
Green Park Road, Bath (01225 338 565)
Join our new commenting forum
Join thought-provoking conversations, follow other Independent readers and see their replies