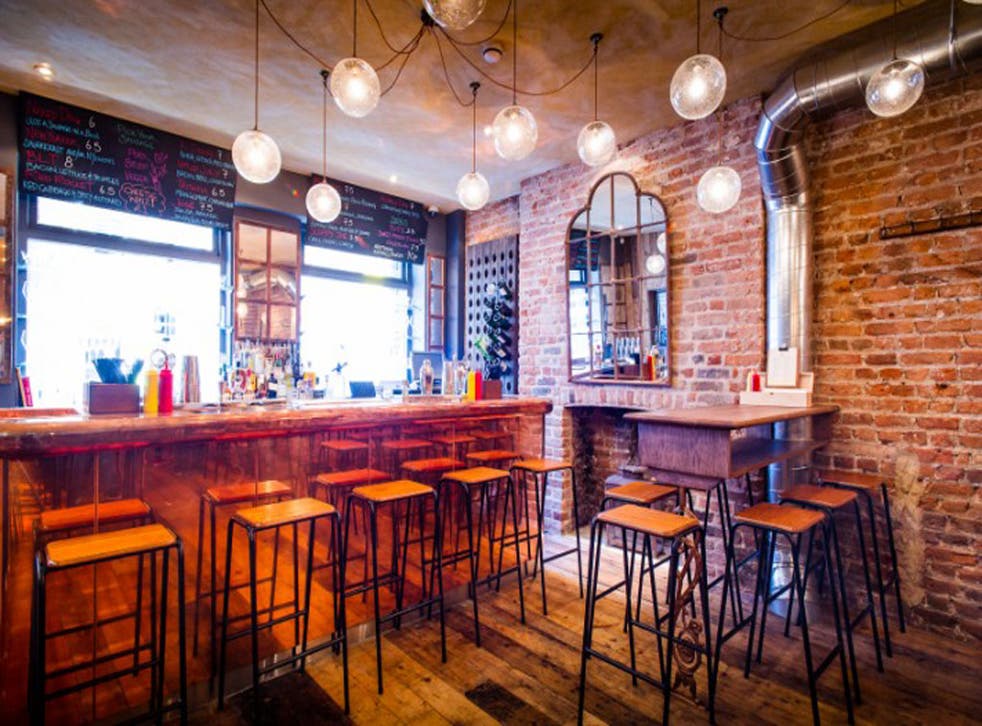 Bubbledogs, 70 Charlotte Street, London W1
Here's the latest from the random restaurant concepts generator. Champagne and hot dogs. Simple, and, on the face of it, brilliant. Who doesn't like champagne – or hot dogs? OK, so you may not necessarily think of eating them together, but some clever people have gone to the trouble of launching a whole restaurant based on the combination, so it's got to work, right?
The name – Bubbledogs – is undeniably catchy. And judging by the buzz, these are the hottest dogs in town. A small queue was forming when we pitched up for lunch, in an increasingly foodie part of London's Fitzrovia still preening from the recent arrival of critics' darling Dabbous. I didn't love Dabbous, but it's impossible to get a table there until some time in the next century. Bubbledogs, by contrast, doesn't take bookings at all, as is the modern way – at least not for parties under six.
Which is why we found ourselves with our backs to a rather fab room, perching awkwardly at a tiny shelf overlooking the kitchen staircase – not a table as such, more a pelmet, about wide enough to hold a menu and a couple of glasses. Behind us, it was all post-industrial coolness – bare bricks and rough planking and reclaimed fittings. In front of us, there was a wall of framed dog cartoons and some waiters running up and down.
We immediately realised we'd made a category error. Bubbledogs isn't a restaurant, and it certainly isn't the place to come for a lingering lunch and a proper chat. It's a wine bar – or, more specifically, a champagne bar – with some rather nice hot dogs attached. The focal point of the intimate room is a splendid copper-topped bar, just visible through a wall of men in suits. Beers and cocktails are served, but the deal here is the 30-odd champagnes on offer, all from independent grower-producers, and good value compared to the grande marques.
I'd invited the writer/performer Emma Kennedy, in part to toast her unexpected – and at that stage top-secret – place on the medals podium of this year's Celebrity Masterchef. If ever there was an occasion for a glass of champagne, this was it. "I couldn't help overhearing that you're celebrating," murmured a voice at my shoulder. We froze. "It's her birthday…" I gasped. Any attempt to drag out of Emma whether she'd actually won gold was soon abandoned, in the face of a blast of waiterly attention so relentless it was like being caught in a leaf blower.
A menu consisting entirely of hot dogs doesn't require a great deal of deliberation. There are 13 varieties on offer, gussied up with on-trend toppings, and all available in pork, beef or veggie editions. Among the more appealing are the Buffalo (deep-fried and served with buffalo sauce), the New Yorker (sauerkraut and onions), and the K-Dawg, (red bean paste and kimchi). Others, such as the Trishna, provoke an involuntary shudder. Whoever looked at a hot dog and thought, "What this needs is some mango chutney"?
Our order arrived at fast-food speed, and in fast-food containers: a red plastic basket for the dogs, and cardboard trays for the sides – an affectation dubbed "chicken-in-the-basket chic", by my other guest, Emma Freud. Cutlery is plastic and so bendy it obliges you to use your fingers. Not easy in the case of the Sloppy Joe, freighted with a mess o'chilli, cheese and onions. We were thankful that the Masterchef cameras weren't on hand to capture the not-entirely-ladylike scenes that followed.
The sausages have an authentic burst and bite to them. But we found the fixings were too insistent to partner well with champagne. A side helping of tater tots – crunchy, hash-brownish potato barrels – proved a better match, but perhaps that's just because of the historic association of champagne and slightly underwhelming finger food.
We finally scored a table just as we'd finished eating – ie, about 30 minutes after arriving – and were obliged to order a second glass of champagne just to prolong things. Bubbledogs doesn't yet offer desserts or coffee. That will come next week, when phase two of the project is due to open, the 19-seat Chef's Table serving a multi-course tasting menu, from chef/patron James Knappett, who has cooked at some of the world's best restaurants, including Noma and Per Se. When that happens, this hybrid concept will be even more peculiar, truly a Frankenstein – or Frankfurter-stein – of a restaurant.
Still, the early adopters from the nearby ad agencies seem to have fallen hard for Bubbledogs. We spotted a suity man phone-snapping the label of his champagne bottle. Banker? Blogger? Or some new species, unique to Bubbledogs – blonker? If the sight of an empty champagne box being used to hold squeezy bottles of ketchup and mayo doesn't cause a storm-the-barricades red mist to descend, you may well like the place. I came away seething, with a garlicky aftertaste and a hefty dry-cleaning bill. And I still don't know who won Celebrity Masterchef.
Bubbledogs, 70 Charlotte Street, London W1 (020-7637 7770)
Hot dogs from £6-£8, champagne from £6 a glass to £99 a bottle
Food ***
Ambiance ***
Service ***
Tipping policy: 'Service charge is 12.5 per cent discretionary. All tips and service charge go to the staff'
Side orders: Hot to trot
Primo's
Gourmet hotdog specialist in Leeds; the Classic Chicago is an all-beef frankfurter with onions, pickles, tomato, celery salt, yellow mustard and a dill pickle (£3.95). The Corn Exchange, Leeds (0113 345 8901)
Dirty Dogs
Popular pop-up serving delicious American-style dogs in the Manchester area – you can currently track them down at the Port Street Beer House. 39-41 Port Street, Manchester (0161 237 9949)
Delaunay
The wieners available at this all-day café in the grand European style include a beef frankfurter (£9.50), a bockwurst (£9.50) and a Nürnberger (£10.75). 55 Aldwych, London WC2 (020-7499 8558)
Register for free to continue reading
Registration is a free and easy way to support our truly independent journalism
By registering, you will also enjoy limited access to Premium articles, exclusive newsletters, commenting, and virtual events with our leading journalists
Already have an account? sign in
Join our new commenting forum
Join thought-provoking conversations, follow other Independent readers and see their replies