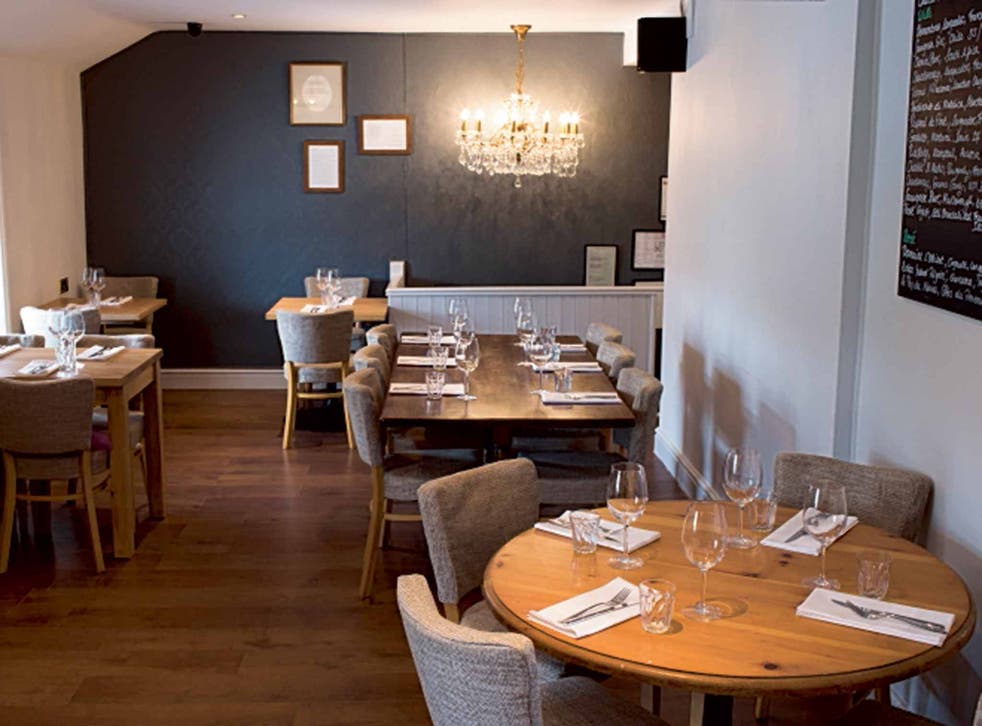 Burnt Truffle, Heswall, Wirral - restaurant review: A Mersey treat
Backed by big-name chefs, this sequel to Sticky Walnut is unassumingly (and rightly) confident, says Lisa Markwell
On a street where there are plenty of restaurants, it can be hard to stand out. So Burnt Truffle takes the opposite approach – it sits back. And because of what the place offers, this unassuming visage is all the more pleasing.
Heswall is one of those parts of the Wirral that it's easy to label "well-heeled" (and to be fair, I did pick up a great pair of boots in one of the town's many well-stocked charity shops). But it's never an easy gig persuading people to abandon the familiarity of chain restaurants, or to come over from a city centre for dinner (Liverpool in this case, across the Mersey).
Happily, Burnt Truffle is the second venue for chef Gary Usher, whose Sticky Walnut in Chester is extremely successful and well respected. So much so that when he crowd-funded the new venture, some big names, including those he'd worked for (Angela Hartnett) and some he hadn't (Ashley Palmer-Watts, Neil Rankin), ponied up pledges straight away.
At this point it's worth pointing out that, a) Usher has a refreshingly candid Twitter account in which everyone from TripAdvisor critics to slacking chefs gets the hairdryer treatment, and b) he's confident enough to allow his head chef at the new place weekends off and not be there himself when he knows that there's a critic in town. (My anonymity has been busted in advance on this occasion.)
So, confident owner, strong pedigree, good location. What about the food? It takes a minute to get my eye in. Carrot soup, pork belly, sticky toffee pudding? Somehow I'd expected a tricksier menu, but it makes perfect sense when we start eating. There's a clarity to the cooking and, yes, a confidence in the produce that is altogether relaxing.
A starter of flamed mackerel and tartare with kohlrabi, capers and samphire (£8) arrives – and it is exactly what it says on the tin, and a harmonious, refined assembly. J's game ragu with pappardelle is just that, silky soft pasta and an earthy, authoritatively seasoned sauce with a snowdrift of breadcrumbs on top for crunch. No tricks, just fireworks.
The whizz-bang quality continues with my haunch of venison with spelt, pancetta, Jerusalem artichoke purée, mustard fruits and chestnuts (£22). The meat (unapologetically ruby) is the perfect foil for the medley of alternately chewy, sweet, rich and salty nubbins on the plate. It's fun to eat, despite being very grown-up. It makes me reconsider those vaguely dusty jars of mustard fruits in my own kitchen cupboard, and that's saying something.
My daughter has played it safe with steak and chips; well, that's how we've spun the Jacob's Ladder with watercress, truffle and Parmesan chips and onion purée (£17). The tender meat is unfeasibly glossy and in a puddle of translucent gravy that muddles with the crisp, rich potatoes.
And because she's young and correctly innocent of dietary panic, she makes short work of a sticky toffee pudding with toffee sauce (more of a lake, really) and walnut semifreddo (£5.50). I manage to sneak one spoonful. Yup, it's good. The cheeses – Tête de Moine, Vacherin Mont d'Or, Sainte-Maure de Touraine and Fourme d'Ambert – elicit a small sigh of contentment.
All of which is to say that Burnt Truffle is an accomplished project. But more than that, it's a loved project. Manager, Emma Underwood has the small, warm dining room and open kitchen humming beautifully. And although this Saturday night they're fully booked, she is never rushed (even, memorably, talking my daughter through her tattoos – a legacy, she says, of her radical feminist youth. She must be all of 25).
Emma absolutely makes the place. She wears her food and wine knowledge lightly and never forgets that people spending upward of £50 a head on dinner require their final moments in the restaurant to be as warm and effusive as their first. She sends us on our way with the last of our wine tucked in my bag, and we get a cheery goodbye from the hard-toiling, youthful team in the kitchen.
When I study my receipt later to quote the prices, I notice the automated information at the bottom includes "Thanks for coming!! Xx." So yes, this discreet, gentle restaurant doesn't physically stand out, but it is in every other way memorable.
More information
Burnt Truffle, 104-106 Telegraph Road, Heswall, Wirral. Tel: 0151 342 1111
£120 for two, with wine
Rating 8.5/10
Four more: Foodie notes
L'Ami Jean
Went to Paris for the day with 50 food folk to support the hospitality trade, including a knock-out lunch at this place.
Caneles
Also in Paris, took the opportunity to raid a bakery for as many of these caramelly, chewy little cakes as we could carry.
Bao
In central London, a midday visit to this Taiwanese I reviewed a few months ago. If anything, even better, despite queues.
Easy peelers
Is it just me who loathes this term? Clementines, tangerines, mandarins… give the fruit a proper name.
Register for free to continue reading
Registration is a free and easy way to support our truly independent journalism
By registering, you will also enjoy limited access to Premium articles, exclusive newsletters, commenting, and virtual events with our leading journalists
Already have an account? sign in
Register for free to continue reading
Registration is a free and easy way to support our truly independent journalism
By registering, you will also enjoy limited access to Premium articles, exclusive newsletters, commenting, and virtual events with our leading journalists
Already have an account? sign in
Join our new commenting forum
Join thought-provoking conversations, follow other Independent readers and see their replies