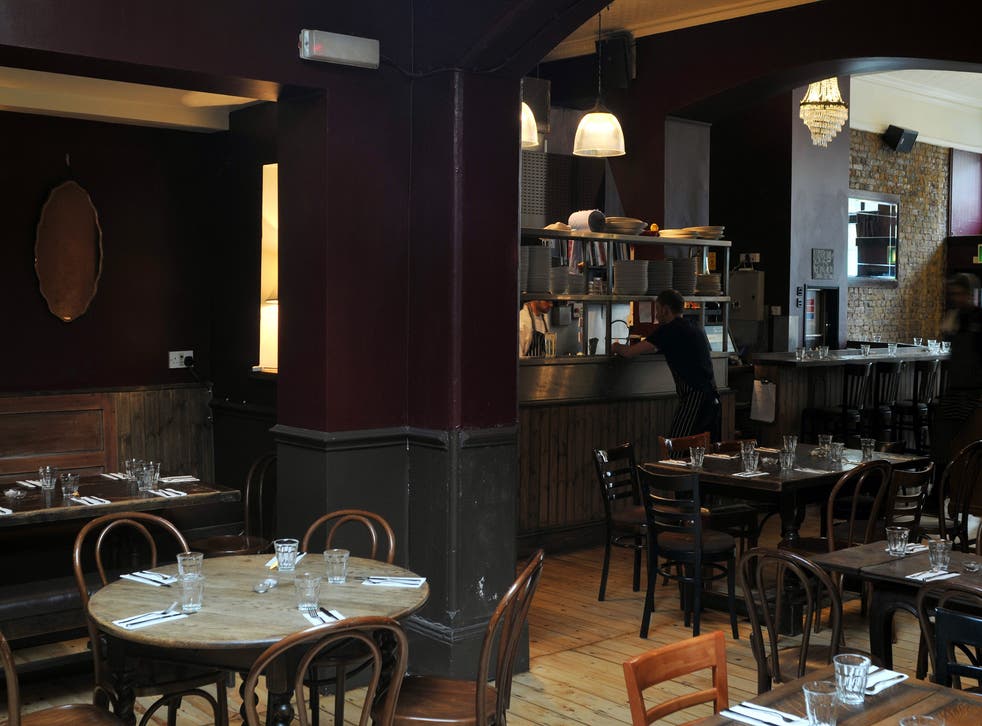 Camberwell Arms, restaurant review: Hearty and comforting food carried off with panache
A few summers ago, the weirdest pop-up restaurant in London popped up on the roof of a car park. Frank's Café, as it was called, was the invention of the Hannah Barry Gallery in Peckham. They commissioned a temporary wooden pavilion from the architects Lettice Drake and Paloma Gormley (Antony's daughter) to go on the roof of Peckham's multi-storey car park, alongside a sculpture exhibition called Bold Tendencies.
The pavilion, a red tarpaulin stretched over wooden struts, offered a refuge from the elements, while a menu promised cheap treats like grilled sweetcorn and smoked paprika, barbecued plantain with hot pepper sauce, and ox-heart kebabs. The drinks menu offered Dark & Stormys and Moscow Mules, London beers and wine at £18 a bottle.
People started to talk about this rooftop thing, with its lovely views of night-time London, its grill-and-barbecue dishes, its increasingly groovy clientele. More punters journeyed to Peckham to ride 10 storeys up a municipal building in search of fun. A party atmosphere developed under the red tarpaulin. It became ridiculously trendy. Long queues formed of diners who'd previously never dreamed of eating ox-heart kebabs. Shoreditch scenesters and edgy Hackneyites made the pilgrimage to see what the buzz was about.
When I learned that new Camberwell Arms, previously The Recreation Ground, had been bought by the team behind the Anchor & Hope in Waterloo (a place that started so many gastropub things, including a no-booking policy) – and that the head chef was Mike Davies, previously ensconced at the A&H and Frank's – my appetite was whetted beyond endurance.
The place lived up to the whetting. This is easily the most attractive pub I've set foot in for months. The décor shows no interest in industrial chic, that blight on restaurant life. The walls are ox-blood magenta. There's a long bar around which you can eat supper, though the dining area is preferable, with its solid wood tables and roaring log fire. There are chandeliers and sconce lights, and Mr Davies and his team work away behind the pass without chef's-theatre dramatics. To my surprise, our party of four got a table straight away; that won't be the case in another month or so, when word gets out.
The service here is unobtrusively terrific. Iced water appears the minute you sit down. Crusty white bread materialises before the menu. Two waiters successively itemised the charcuterie as though reciting Shakespeare. Our hilarious waitress, Siobhan, talked us through every dish as if she'd personally supervised the cooking.
The food here is hearty and comforting, but carried off with panache. Mussels with cider and bacon were lifted by the presence of cockles. "And what's lovely about this," said daughter Sophie, "is that there's a little bit of bacon in each mussel because they've been so well scattered." Purple sprouting broccoli with roasted garlic aioli was richly green, deliciously fresh with crunchy gremolata. 'Poor man's potatoes' (new to me) were new potatoes boiled with fennel, rosemary, onion and garlic to a stew-like consistency, then topped with a fried egg and smoked paprika: wonderfully tasty, and prickly with spice. Among the cold meats, smoked bacon slices stood out – it seems there's a rudimentary smoke-house on the pub's roof.
Other daughter Clementine and I shared a main-course special of chopped rabbit, dished up in joints gleaming irresistibly with that charcoal-grilled sheen. The hapless bunny had been marinated in mustard, red wine vinegar, salt and pepper before being shown the grill, and it tasted divine, as did the chopped cavolo nero in a cream sauce. Sophie's brill was crispy on the outside, supple inside, and soft lumps of smoked salmon enriched the dill-and-cream sauce.
Angie's Herdwick lamb chop was an odd sight, wantonly splayed apart like a diagram showing the location of the fallopian tubes. It was marvellously tender, though, nicely accompanied by white kale in a crème fraîche sauce; such a good marriage of flavours, we thought, had no need for the dollop of olive tapenade plonked on the kale like an incubus.
Homemade baked cheesecake, sharpened by tart poached rhubarb, ended a meal of splendidly crafted dishes, each with unexpected extra touches of savoury magic. What's really good about this place is its warm heart. When Sophie cursed her fate to find that the chocolate and pear crumble tart with butterscotch sauce was off the menu, Siobhan brought her some of the sauce anyway, with wedges of poached pear from another dish. This is a place that does everything slightly beyond the call of duty.
Food ****
Ambience ***
Service *****
Camberwell Arms, 65 Camberwell Church Street, London SE5 (020-7358 4364). Around £90 for two, including wine
Register for free to continue reading
Registration is a free and easy way to support our truly independent journalism
By registering, you will also enjoy limited access to Premium articles, exclusive newsletters, commenting, and virtual events with our leading journalists
Already have an account? sign in
Join our new commenting forum
Join thought-provoking conversations, follow other Independent readers and see their replies