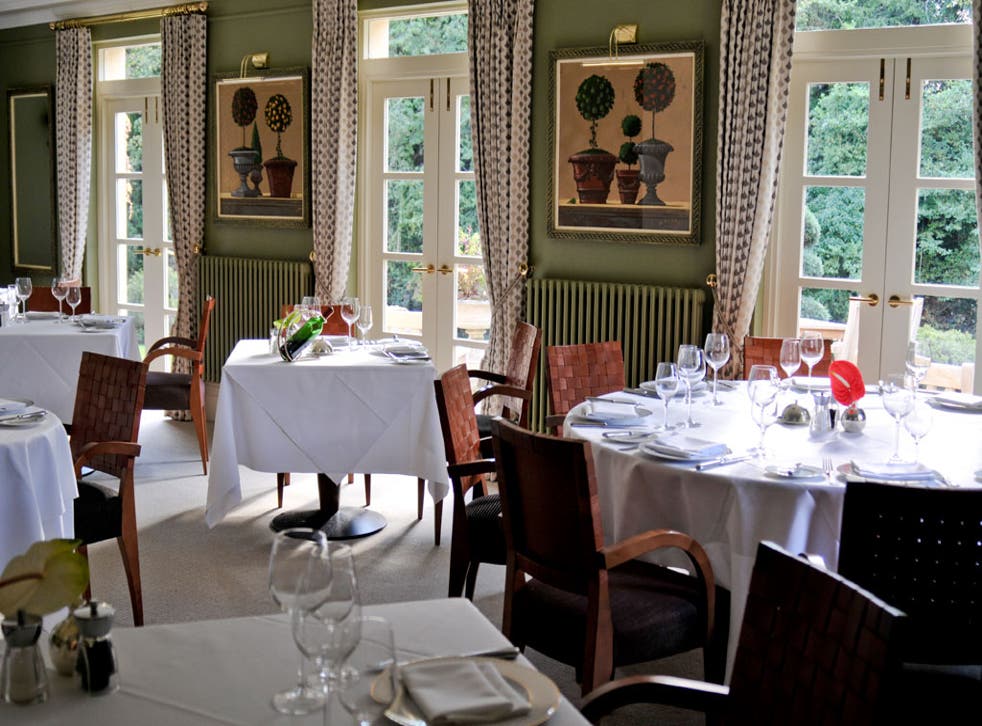 Castle House Hotel, Castle Street, Hereford
Hereford's MP says his constituency has great restaurants; is his campaigning justified?
Shortly before the 2010 General Election the Tory MP Jesse Norman tried to explain to me the virtues of Hereford, where he was standing. The first thing, he said, is that it's not Hertford; though three times as far by train from London, his would-be constituency had greater charm. And the second thing is that it has great restaurants.
I remember thinking at the time that this was probably the usual guff prospective MPs trot out to prove their affections for an adopted home. But I was impressed that Mr Norman, who has acquired some notoriety recently for leading parliamentary rebels over House of Lords reform, should mention food so high up his rankings. So on a recent visit to his constituency, I set about examining his claim by visiting what both reputation and search engines classify as Hereford's finest.
Castle House is a Georgian townhouse hotel within minutes of Hereford's extraordinary cathedral. Head chef is Claire Nicholls, one of the most talented in the West Country. She started out at Hereford Technical College, before going on to Birmingham College of Food and then jobs in Wales and Shropshire, so this is in some sense a return to where it all began for her.
The dining-room is formal, with large, well-spaced tables, taupe-teal walls, lampshades on the wall and art I don't much rate. It has the clinical efficiency of an upper-end tourist attraction, and even if really packed would, I imagine, make you feel guilty for laughing too loudly. I can't tell whether the clientele are rooming here as well as eating, but they are silver in complexion and seem to have a keen appreciation of wine.
There is a seven-course tasting menu for £50 where they don't tell you what will be served. You have to just trust the chef, which is fine by us.
First up is a crab-and-potato tian with quail egg and paprika aioli, all of it excellent. Then there is a broccoli and Shropshire blue soup, which is thick, hot and aromatic; and then there is a ham hock-and-asparagus terrine, with a piccalilli, watercress and apple salad. The little segments of apple are both crunchy and juicy, though the piccalilli could have done with a bit more turmeric. The ham is very good.
Parts of this menu and the à la carte betray the Asian influences Nicholls acquired when her father, who was in the Army Air Corps, was posted to Hong Kong during her childhood. So next, we have a sea trout with Bombay potatoes and a ginger and coriander sauce. The sea trout is excellent: firm and flavoursome. But the Bombay aloo, as they might be called elsewhere, are a little lacklustre: boiled potatoes with a hint of chilli and other spices, in a serviceable sauce. A proper curry – one with a masala made from mustard seeds, garlic, chilli, turmeric and fresh coriander – would pack more of a punch.
There is a clever interruption of rhubarb sorbet; then, loin of local lamb with watercress Spätzle (a soft Teutonic noodle), carrot purée, and asparagus. You'll note the watercress and asparagus are seasonal favourites, turning up for a second time in quick succession.
I had hoped for a spot of chocolate on dessert, but here is a superb pistachio-and-olive oil cake with strawberries and apple parfait. The sweet juices of the strawberries go blissfully well with the cake and, despite appearances, it's not too greasy.
There are fine whites for around £23, and the service is informed and attentive without encroaching. If you don't have the appetite for the tasting menu, there are five starters from £5 to £9, six mains from £12 to £24, four desserts at £7 and cheeses at £8. All those will land you a more affordable dinner – but there is something alluring about eating as a blind endeavour, not knowing what will be next.
It will take another visit or two before I can pass judgement on Jesse Norman's claim that Hereford has great restaurants, plural; but that it has one at least is beyond doubt. Nicholls strikes me as a versatile, inventive chef who deserves greater recognition and respect. A visit from her local MP would be a good start – though somehow I suspect he has been already.
Castle House Hotel Castle Street, Hereford, tel: 01432 356 321 Lunch and dinner daily. About £130 for two, including a bottle of wine
8/10
Best western
Stagg Inn
Titley, Kington, Herefordshire, tel: 01544 230 221
This fantastic inn has the odd blip, but the positive feedback it inspires is impressive; good accommodation at its quirky B&B down the road, too
The Bell Inn
Green Lane, Yarpole, Leominster, Herefordshire, tel: 01568 780 359
Claude Bosi's brother is doing a good job at this small, quiet inn; it is more than a gastropub but certainly not seeking to compete with the family's Mayfair establishment
Three Choirs Vineyards
Newent, Gloucestershire, tel: 01531 890 223
The views across the vineyard are worth the visit alone; but that's not to overlook the food, nor the excellent-value wine list
Reviews extracted from 'Harden's London and UK Restaurant Guides 2012, www.hardens.com
Join our new commenting forum
Join thought-provoking conversations, follow other Independent readers and see their replies