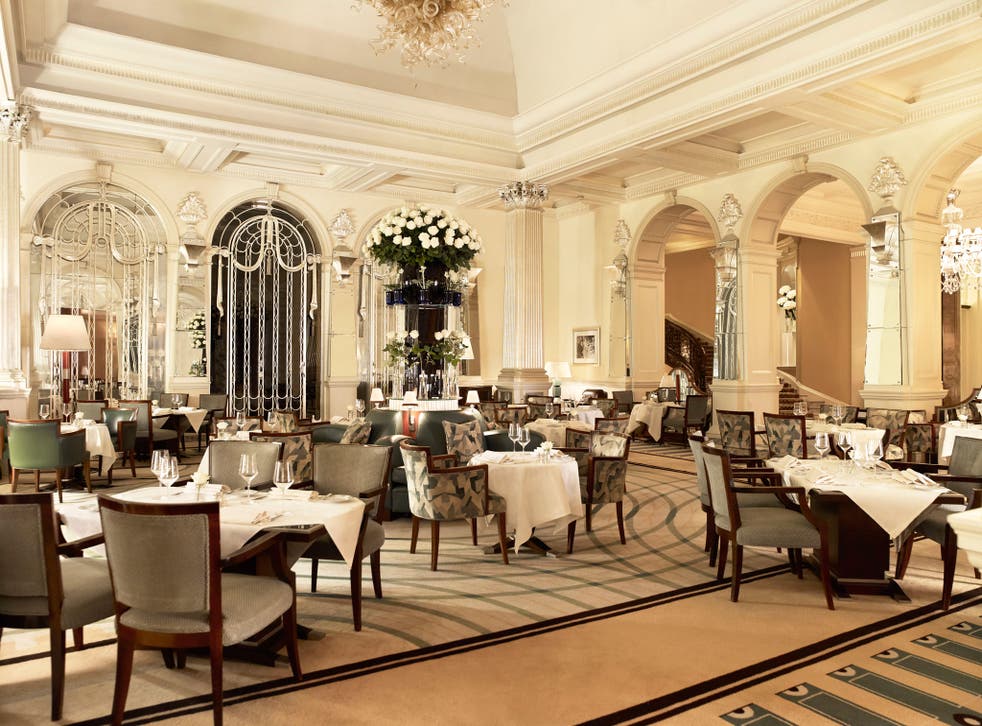 Claridge's, restaurant review: Is afternoon tea at the posh London hotel worth £50?
I know what you're thinking: £50 for tea. Fifty pounds? For tea and cake? But this is one's reality when Auntie Virginia is celebrating her 70th and the One Thing she's always wanted to do is have afternoon tea at a posh hotel in London. Hence the £50 scone.
I did my research: there's the Ritz. There's Browns. There's the Goring. They are all upwards of £40… Perhaps you've done this research, too – there's scarcely a restaurant-going family in the country that hasn't considered this for a staid relation. Waiting lists are common.
Since its fame went to a new level following the BBC fly-on-the-wall series, Claridge's is favourite with my Southampton-based aunt and, to be honest, I've always wanted to have afternoon tea there myself. Still, my warm feelings don't extend to taking the entire family, my largesse restricted by bank balance. So Auntie V and Uncle T, plus my sister Claire and I, arrive at 3pm on a Sunday, which is peak bustle. I might have gone a bit Downton in my excitement, with a pillbox hat and heels, and my aunt might have had a special manicure and made a weekend of it; we are therefore slightly dismayed to see men in (shriek) untucked shirts and quite a lot of jeans and sneakers.
Was I hopelessly old-fashioned to hope for the entire place to be swish, with flashes of drama? I realise I've imagined the price acts as a dress code, which I admit comes off as snobbish – I just love food as theatre. The two can be around the same price, after all, and last the same time. I saw Juliet Stevenson in Happy Days at the Young Vic the other night, and it was astonishingly good – with an interval glass of wine and a taxi, it was the same price.
The theatre at Claridge's is provided by the staff. Every last one of us guests is treated like the A-listers who are never far from the hotel's revolving doors. Diminutive Auntie V has a cushion installed on her beautiful Art Deco chair within seconds of alighting on it; a small table is brought in a flash for my handbag to rest upon. Uh huh, could get used to this…
Then the menu, with a flourish. The tinkling piano, the eau de nil colour palette, the swish of waiters delivering and removing plates of perfectly proportioned morsels is delicious itself. But gosh, the menu – practically a hardback. Who'd have thought sandwiches, scones and tea could be so distracting. The chicken is from Daylesford, the salmon from the Severn & Wye Smokery. That egg mayonnaise? Only Burford Browns will do, darling. Executive chef (yes, for tea) Martyn Nail knows there's nowhere to hide in a finger sandwich. One imagines he has a ruler, such is the immaculate appearance of each plate.
Auntie V, being diminutive, doesn't finish her sandwiches, but we do, and another plate is placed before us without a murmur or glance. But it doesn't do to fill up on savouries, oh no. The scones are warm and light as a feather, with fudgy clotted cream and Marco Polo gelée (a lip-smacking jam infused with bergamot and vanilla). The industry behind this majestic food is astounding.
The menu suggests different teas for each course. I stick – from a menu of 23 – with Claridge's Blend, which is a bit like ordering house white, but, hey, the house is pretty swanky. Claire has Malawi Antlers white tea ("unspeakably rare") because, she reasons, she's unlikely to come across it again.
And so, with our waistbands now uncomfortably tight, to the cakes. There's a vanilla mille-feuille, a raspberry macaron, a dense chocolate cake and a crumbly classic fruit-rich slice. I am beaten, Auntie V looks like she might faint. And with that, our waiter whisks the plate away and returns with the treasures in a cake box, within a Claridge's carrier bag.
"When I die," the actor Spencer Tracy said, "I don't want to go to heaven, I want to go to Claridge's." I don't believe in heaven, so I'd like to go back to Claridge's some time before I die, please. And I was still eating cake two days later (admittedly with Yorkshire Gold).
There are more fashionable restaurants. There are more grown-up meals than nursery fare. But to my mind, and more importantly Auntie V's, it was glorious. If you've ever wondered about afternoon tea at this posh hotel, my verdict is Money. Well. Spent.
8/10
Claridge's, 49 Brook Street, London W1, Tel: 020 7629 8860. Tea for two: £100
Four more things I've been eating this week
Holborn Dining Room
The new restaurant at the Rosewood Hotel is a masterful mix of flattering lighting, great wine list, cosy atmosphere and a comforting menu. It'll be a hit.
Côte
Forgot my order, then tried to rush-roast a chicken. No good, but they speedily apologised and removed it from the bill – and for that I'd give them a second chance.
Cosmopolitan
I hadn't had one for years, but on a cruise recently (of which more anon), it hit the spot as a moreish sharpener – softer than a Martini, less claggy than a piña colada.
Leon
A source of perpetual dismay that this chain isn't open near either my house or office, but its books are ace. Out this week: Fast Vegetarian, perfect for spring's new produce.
Register for free to continue reading
Registration is a free and easy way to support our truly independent journalism
By registering, you will also enjoy limited access to Premium articles, exclusive newsletters, commenting, and virtual events with our leading journalists
Already have an account? sign in
Join our new commenting forum
Join thought-provoking conversations, follow other Independent readers and see their replies