Colbert, 50-52 Sloane Square, London SW1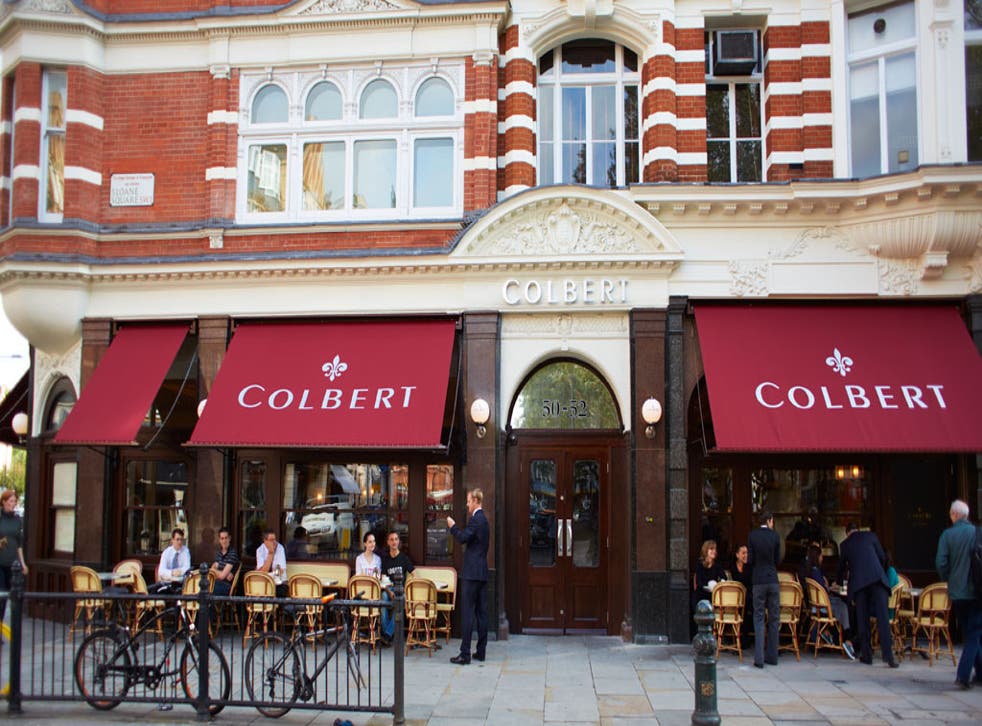 Chris Corbin and Jeremy King are on a roll. In the past 10 months, they've opened three major restaurants in central London. The Delaunay flung its doors wide in the Aldwych in early December; its black marble pillars, station clock and calorific cake trolley shouted Vienna in its heyday.
The 220-seat Brasserie Zédel, just off Piccadilly, opened in June, breathing new life into the subterranean ballroom that was once the Atlantic Bar & Grill; it was a gilt-&-brass-&-marble dream of belle-époque Parisian brasserie, with the unexpected bonus that it was cheap as frites. Last week they opened Colbert, on one of London's key sites: in Sloane Square. Not only are they pitched at the intersection of Chelsea, Belgravia and Knightsbridge, they'll have a guaranteed nightly crowd from the Royal Court theatre, milling in, stage-struck, at 10pm.
First impressions are slightly disappointing: it's nicely old-fashioned but nowhere near as glamorous as The Delaunay, nor as theatrical as Zédel. Colbert is low-key and monochrome, with its 1930s-style Parisian look: lovely chessboard tiles, dark wood décor and red banquettes. The bar is gloomily lit but has a marble top to lean on, and wood-panelled booths in which to discuss Sartre's L'être et le *éant. The first-night clientele wasn't exactly a literary salon, however: they included Jimmy Carr, Tim Rice and one of the original Pan's People dancers.
The menu – well, as a devotee of Corbin and King's retro-Mitteleuropa project, I felt I knew the menu before I opened it. Sure enough, the usual suspects were there, as they might have been in the 1930s: Croque Monsieur, Croque Madame, Croque Grand-mère, Croque Oncle Tom Cobley et ensemble, Fine de Claires oysters, caviar with blinis, oeufs sur le plat done a dozen ways, and the fruit tartes and coups that one greets like old pals. Inexplicably, there was no sign of Choucroute l'Alsacienne, a Corbin-King signature dish.
I couldn't find a starter I fancied (radishes with Normandy salt and butter? Ham with celeriac remoulade? Steak tartare?) and settled for a Salade Niçoise. It's not a manly starter, but it yelped with freshness and looked brilliant: the pungent anchovies laid reverentially over the long, rain-washed beans, the glowing pink tuna tucked inside lettuce leaves, the quarters of boiled egg perfect in their orange-osity. Angie's prawn cocktail was served in a silver chalice rather than the traditional glass coupe, in a 3:2 prawns-to-lettuce ratio, and were coldly refreshing in a decidedly not Thousand Island dressing. Both starters were first-class assemblages, if that's what you want to start an autumnal supper with.
Most of the eight main courses were old favourites: Moules Marinières, Steak Diane, Chicken Paillard with a fennel, rocket, radish and tarragon salad, Escalope de Veau Viennoise, the old breadcrumbed schnitzel escalope de veal Viennoise (God, the number of times I've eaten that at Delaunay), a Côte de Veau Roti, hugely overpriced at £36 (was it to share? The menu was silent about sharing)…
Angie ordered a Fletan Grille, or grilled halibut. It was enormous, like a lump of Moby Dick. You could see it whaling across the restaurant from 10 yards away. Several inches thick, it glowed with health and whiter-than-white, flaky purity. A helping of spinach lay underneath it like an unsuspecting, green-cagouled rambler crushed by a fallen boulder. Béarnaise sauce was served separately and drew raptures, as did the mash ("Jesus, just how much butter has gone into that mash?").
I was less excited by my Cassoulet de Toulouse au Confit de Canard, having only ever experienced cassoulet served in (the clue's in the name) a glazed earthenware pot. It was surprising to find it served in a white soup-plate, which rather took away its peasanty earthiness. Classic cassoulet is that cowboy staple of pork'*'white haricots beans, but the Toulouse variant allows you to add mutton, duck or goose. Here, duck slices were the star turn, perked up by lardons, though the sausage was too thinly-sliced, and the presentation too anaemic, for such a hearty winter dish.
Denied the pleasures of the patisserie section by virtue of being on a Groom's Diet, I shared a Tarte Fine aux Pommes. It was a pathetically small, flat triangle, thin as a Rizla paper and a touch burnt on top: not what you expect from a Grand Café. But then, it's probably an exact replica of a 19th-century tarte fine. Isn't its historic authenticity enough?
Corbin and King have pulled off a brilliant coup in nailing this location, and making it half-convincingly French. As we looked out Colbert's beautiful long window at the lights of Sloane Square and the well-heeled passers-by, we could almost have sworn we were gazing at a painting by Caillebotte. The fact that the food, though extremely competent, conspicuously lacks a wow factor will not, I'm sure, impede its success. Why look for couture if you can be comfortable in vintage?
Colbert, 50-52 Sloane Square, London SW1 (020-7730 2804). Around £120 for two, with wine
Food ***
Ambiance ****
Service ***
Tipping policy: 'Service charge is 12.5 per cent discretionary. All tips and service charge to to the staff'
Register for free to continue reading
Registration is a free and easy way to support our truly independent journalism
By registering, you will also enjoy limited access to Premium articles, exclusive newsletters, commenting, and virtual events with our leading journalists
Already have an account? sign in
Register for free to continue reading
Registration is a free and easy way to support our truly independent journalism
By registering, you will also enjoy limited access to Premium articles, exclusive newsletters, commenting, and virtual events with our leading journalists
Already have an account? sign in
Join our new commenting forum
Join thought-provoking conversations, follow other Independent readers and see their replies