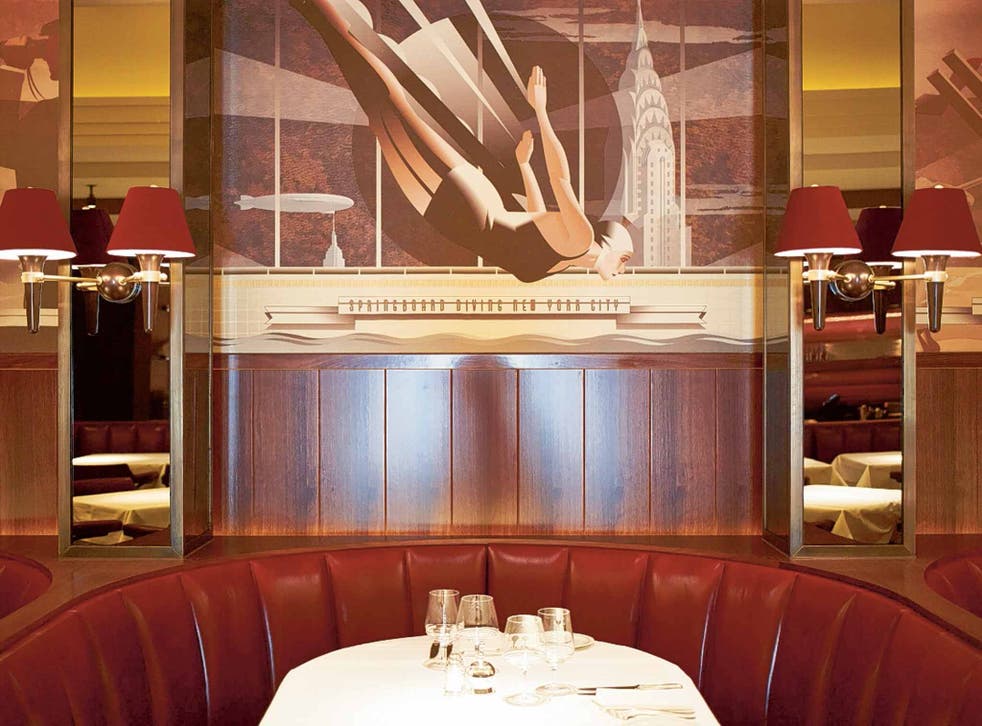 Colony Grill Room, London: Restaurant review
With its conker leather booths and age-of-speed friezes, it's a sepia-tinted evocation of the classic American grill rooms of the 1920s
Here it is then. Unveiled after a three-year build, the first hotel from London's pre-eminent restaurateurs, Chris Corbin and Jeremy King. Their greatest hits compilation, encompassing Le Caprice, The Ivy, The Wolseley and The Delaunay, is pretty much all killer, no filler. Now, with their most recent opening, the gemütlich Fischer's, still finding its feet, they've followed up with The Beaumont, a discreetly swanky hotel in a converted (ie, almost totally rebuilt) 1920s garage, a block south of Oxford Street.
With characteristic flair, they stage-managed a coup de théâtre in the summer, when the scaffolding came down to reveal an Antony Gormley-designed room-cum-sculpture, hanging off the façade like a Lego robot. Seasoned Corbin & King-watchers could be forgiven for wondering what further tricks they had up their immaculate sleeves.
The surprise about The Beaumont's restaurant, it turns out, is that there are no real surprises. The Colony Grill Room is the restaurant equivalent of Normcore. At first glance, it might be a standard-issue dining room in any luxury hotel. Deco-ish, masculine, and distinctly old-school, with its conker leather booths and age-of-speed friezes, it's a sepia-tinted evocation of the classic American grill rooms of the 1920s. It's also windowless; not a problem at night, but at lunch, a little reminiscent of the kind of enormous basement an oligarch might excavate under a Mayfair mansion.
It's almost disorienting to sit in a new restaurant which is so showily, defiantly un-modern, with not a tattoo or filament lightbulb in sight. But it's rather relaxing, too; the dining equivalent of being driven, very sedately, in a vintage Bentley. I piled in to the Colony Grill early, during the soft opening period, confident that things would already be running smoothly.
And so it proved, over the course of two meals a week apart. The dining room may not have the seductive fin-de-siècle glamour of the Delaunay or Wolseley. But nor – and some would call this a good thing – does it serve the same Austrian-inspired food; the menu, like the design, is based on the classic American grill room.
So we get shellfish and grilled meats, including veal chop and New York strip steak. There are hits from the back catalogue, in the form of eggs Arlington and shepherd's pie. There's a few Savoy Grill throwbacks, such as omelette Arnold Bennett. And also a bit of what, in less well-manicured hands, could be called dude food – macaroni cheese, a New York hot dog, and a whole menu of sundaes.
Of the dishes I tried from the long menu, the homelier ones were better, though none was a dud. Chicken pot pie made with thigh rather than bland breast meat is elevated by a glossy gravy rich with white wine and tarragon. Caesar salad is heaped into a split Cos, the creamy blandness spiked with pliable little Parmesan tuilles.
The Colony Club salad is also a good idea: a classic club sandwich re-presented as an American-style chopped salad, though the flavours struggle to register over the dressing. But the kitchen is capable of finesse: wild mushroom fettuccine offering a rush of earth and woodland, and crisp-skinned salmon napped with sweetly-braised peas and lettuce.
In contrast to The Wolseley, the dessert list here needs no translation; baked cheesecake, banana split, knickerbocker glory – puds to please the inner hyperactive child. Baked Alaska, flambéed off-stage, was a flavour bomb of toasted meringue, pistachio ice-cream and framboise, served with a compote of cherries. And sherry trifle was probably my favourite dessert of the year – and I don't even like trifle.
Good though the food is, it's the overall experience of the place that will be the draw. Corbin and King are past masters in creating a special-occasion atmosphere without a lot of fuss and faff. On our first visit, we are seated between Jarvis Cocker and Roxy Music's Andy Mackay, like interlopers on a BBC4 list show. At lunch a week later, the room feels maler and staider. Despite Jeremy King's attempts to create a 'story' for The Beaumont, involving a fictional hotelier, there's a sense that the restaurant still lacks patina, that it's still trying to work out where it fits.
The American bar is another story; its shadowy corners already whispering of assignations to come. There's magic here, and more of that grand old hotel atmosphere that is the stated inspiration for The Beaumont. That said, both bar and restaurant have an old-school grace that's very seductive. There isn't even mobile reception in the dining room, adding to the sense that you've somehow slipped back to the restaurant time forgot. Opening glitch? Or just, maybe, a clever move by Corbin and King to ensure that the Colony is colonised by people who'd rather concentrate on their companions than their phones.
More information
Colony Grill Room, The Beaumont Hotel Brown Hart Gardens London W1 (020 7499 9499)
Around £40 for three courses, before wine
Food ***
Ambience ***
Service ****
Join our new commenting forum
Join thought-provoking conversations, follow other Independent readers and see their replies