Dabbous, 39 Whitfield Street, London W1
You won't forget this taste of Dabbous. Just get there before the Michelin men do...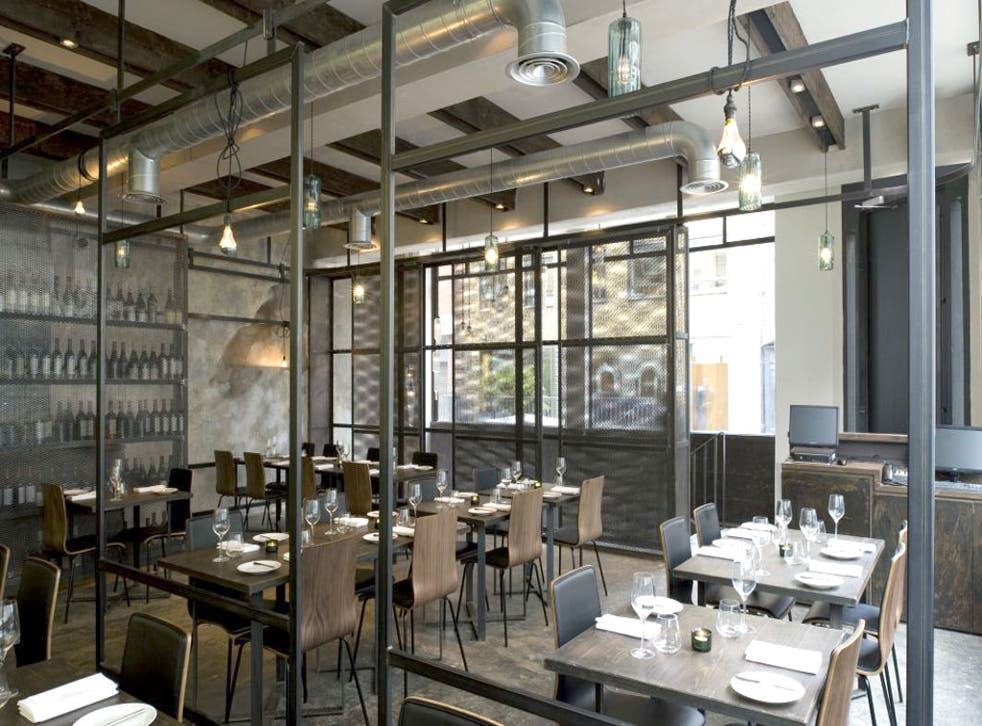 And so we come at last to the Holy Grail for which your correspondent has been searching: an exquisite tasting menu in London for less than £50. It probably won't last; not long after I went to L'Autre Pied for the first time five years ago, it received a Michelin star, and jacked up its tasting menu by £17.50. That is why it is very important that you avail yourself of the earliest opportunity to attend Dabbous, the most thrilling addition to the London scene for yonks.
There are two floors. Downstairs is an excellent cocktail bar with a few sofas and tables both large and small. Upstairs is where they do the food; here it feels like a huge industrial warehouse, with gridiron installations, exposed copper pipes and giant air vents craning their way around the ceiling. Think of the final scene in Terminator 2.
You don't have to get the tasting menu, but you should. First up is a brown paper bag with hazelnut bread, salted butter, and some very juicy olives. All this is marvellous, but while unwrapping the bag is fun, it does cause the bread to sweat slightly, so that it's overly moist.
The seven courses start proper with a salad of fennel, lemon balm and pickled rose petals, served in a dish that looks like a miniature of the media centre at Lord's, or a tiny spaceship. It has a very smooth basil and cheese paste, which complements the fennel and sweet lemon almost unimprovably. The rose petals are intense and fragrant.
Then there is a beef tartare with cigar oil, whisky and rye. There is a tarragon emulsion with the rye, and chunky strips of swede that lovers of the Korean staple kimchi will want to request an extra serving of.
Not long after this, a bowl arrives that is full of straw. And perched like a prince in the middle of it is an egg whose top has been scored off. In it is coddled free-range egg with woodland mushrooms and smoked butter. Now, try to think of the finest scrambled eggs you've ever had, and you won't get near the quality of this dish. The warm egg is tongue-ticklingly smooth; the woodland mushrooms are firm and almost meaty, and the smoky flavour is warming to the soul. For all that, this is neither the best, nor the second-best dish on the menu.
Second place, in fact, goes to the roast king crab with buttermilk, chunks of parsnip and Hispi cabbage. The crab is muscular and flavourful, and the creamy sauce carrying it is a perfect match.
But victory is awarded to the barbecue Iberico pork with savoury acorn praline, turnip tops and apple vinegar. No pig could reasonably expect a better fate than this, other than to live; and the praline is as good a friend as any slice of meat I can remember has had. It's a bit like the best satay sauce, except thicker and richer; and the apple vinegar, with its hint of sweetness, completes a spectacular triumph.
There's a bunch of British cheeses for an extra £9, cucumber and perilla in a chilled lemon verbena infusion (glorified Lipton ice tea, basically), and then chocolate-and-hazelnut oil ganache, with chocolate meringue, basil moss and sheep's milk ice-cream. You might be sceptical about basil and chocolate, but not after you've eaten this, and the reminder of the basil in the opening course is clever.
I have only three complaints. First, the flats over the road make the view horrendous, but that's too bad. Second, the toilets downstairs aren't just dingy; though perfectly clean, they are so achingly trendy and dark as to seem positively Satanic. And third, the waiting staff are just too attractive. Franzi, the main waiter, was born in French Guyana, grew up in Martinique, then spent half his life in Toulouse, before coming here via The Ritz. Every time he popped along was like the moment in Match of the Day when Didier Drogba is giving a post-match interview, and reminding you that your best days are behind you.
Oli Dabbous, the eponymous chef-patron, trained at Le Manoir aux Quat'Saisons for four years, and was then head chef at Agnar Sverrisson's Texture. He is not yet 30. Apart from Brunswick House Café (which, admittedly, is run by a mate of mine), there is nowhere in London to match his outstanding new establishment. I just hope he has the gumption to keep his prices down even after the Michelin men have paid their visit.
9.5/10
Scores: 1-3 stay home and cook, 4 needs help, 5 does the job, 6 flashes of promise, 7 good, 8 special, can't wait to go back, 9-10 as good as it gets
Dabbous, 39 Whitfield Street, London W1, tel: 020 7323 1544. Lunch and dinner, Tues-Sat. About £150 for two with wine
Terrific tasting menus
Sienna
36 High West Street, Dorchester, Dorset, tel: 01305 250 022, £55 for six courses
Russell and Elaina Brown's shop conversion is not much to look at, but the food is so good that they deserve to succeed
Trinity
4 The Polygon, London SW4, tel: 020 7622 1199, £45 for six courses
The food at this dazzling neighbourhood blockbuster just gets better and better; it's a stylish place, too, with a convivial ambience
Aumbry
2 Church Lane, Prestwich, Manchester, tel: 0161 798 5841, £60 for nine courses
The premises may be small and crowded, but chefs Lawrence Tottingham and Mary-Ellen McTague work miracles here, offering sophisticated, refined cuisine
Reviews extracted from 'Harden's London and UK Restaurant Guides 2012' www.hardens.com
Register for free to continue reading
Registration is a free and easy way to support our truly independent journalism
By registering, you will also enjoy limited access to Premium articles, exclusive newsletters, commenting, and virtual events with our leading journalists
Already have an account? sign in
Register for free to continue reading
Registration is a free and easy way to support our truly independent journalism
By registering, you will also enjoy limited access to Premium articles, exclusive newsletters, commenting, and virtual events with our leading journalists
Already have an account? sign in
Join our new commenting forum
Join thought-provoking conversations, follow other Independent readers and see their replies