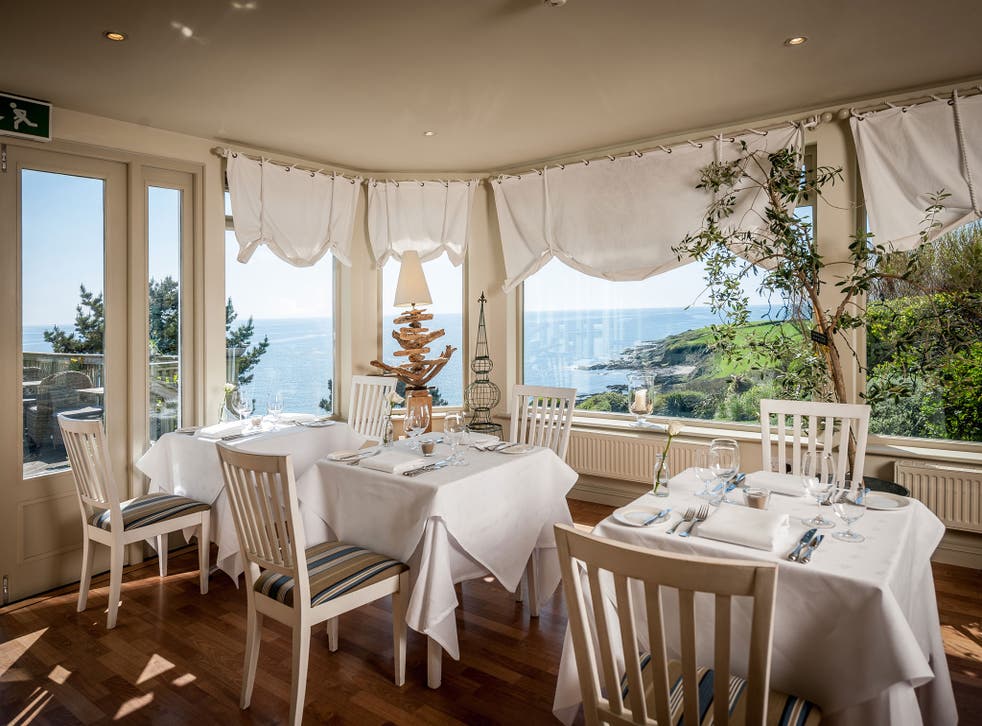 Driftwood Hotel, restaurant review: Five stars for this thrilling Cornish outpost
Rosevine, Nr Portscatho, Truro, South Cornwall TR2 5EW (01872 580644)
John Walsh
Friday 04 December 2015 23:03 Comments
My God, Cornwall's a long way. After approximately 17 hours' drive from London, through cascading rain, enfilading hail, pea-souper mist, blinding sunshine and quasi-Biblical combinations of all four, we found ourselves hopelessly, Dante's Inferno-esquely, circumnavigating the village of Portscatho at 9.30pm, desperately seeking a phone signal so we could ring the Driftwood Hotel and beg them not to (a) give away our table, or (b) go to bed. We were starving, worn out, lost, and (it seemed) 130,000 miles from home.
Eventually we found the way (you have to look out for a turning marked "Rosevine") and all was well. The hotel is small and the bar the size of a shoebox, but the welcome was beamingly authentic and the décor reassuringly cool. The eponymous wood has been pressed into service to construct birds, fish and human figurines, but not in a crass way, while the dining-room lamps have been fashioned from baguette-sized logs. Pale stones and shells discreetly remind you that there's a fishing village and an Atlantic Ocean just down the road.
So does the menu: whole lobster, roasted in its shell with garlic and herb butter, is available at 24 hours' notice (plus a supplementary £25), while crab, salmon, cod, mullet, prawns and mussels all feature strongly. This is to be expected, since the hotel can buy crab and lobster from local fishermen, and fish from the dayboats plying from St Mawes, Mevagissey and Newlyn. But the head chef, Chris Eden (who's been here nine years, after working his passage, so to speak, with Philip Howard at The Square in London, and the Galvin brothers at the Hilton) doesn't leave local produce to speak for itself. He throws an entire shopping trolley of fancy ingredients at the diner.
There were three types of bread – mini-loaves of clotted-cream brioche, hazelnut and malted granary. Then three tiny exquisite mouthfuls: cod brandade with lemon caviar on a puff-pastry disc, a spelt croute with beef tartare and confit egg yolk, and a steamed bun with duxelle mushrooms and a herby flurry of tarragon. And then a superior amuse-bouche, presented as "quail's egg wrapped in kadafi pastry with hazelnut pesto and hog's pudding foam". I raised a sceptical eyebrow at this nomenclatural pretentiousness. "Hog's pudding"? Do they buy it at the same shop as the "lemon caviar"? But it tasted sublime, the savoury soup ("pesto" indeed) bringing an earthy splendour to the egg in its mini Shredded Wheat shroud.
My starter, red-legged partridge, was dramatic: on the plate a roasted breast and an elegant confit leg lay on a spelt throne surrounded by pumpkin puree, crushed pistachios and mead gel; on the side was a slender partridge fillet arranged on a toasted sourdough log with garlic, button mushrooms, celery and truffle. It was a wild, double-gallimaufry of flavours, bonkers but entirely pleasing.
My stepson Albert's Fowey cock crab was much simpler, the sparkling white crabmeat accessorised only by watercress mousse, breakfast radish and apple. Angie's Jerusalem artichoke salad was intriguingly decked out with fresh honeycomb, hazelnuts and cheese (sorry, "aged Talvan Farm Gouda"), but its nutty flavour dominated the plate.
My main course cod was another example of Mr Eden throwing a party on the plate and inviting everyone: together with the brilliantly flaky fish came taramasalata, St Austell mussels, Avruga caviar, Kale crisps, sea purslane and broccoli. Little cod fronds had been "paneed" (breadcrumbed) and fried, like goujons; they brought a nice crunch to the teeny mussels, the long broccoli strand and pungent green strips of purslane.
Albert's 40-day-aged fillet of beef was a livid dark purple, soft as an angel's tongue and lifted by roast bone marrow. Angie's majestic tranche of turbot came with cod's roe and broccoli purée. It was fine, but needed some side dishes, which were typically ambitious – turnips, mandolined and cooked with pancetta, a superb elevation of an uncared-for vegetable; and kale served with toasted almonds, a woodland-tasting treat that counterbalanced the fishy main event.
Amazingly, this bewildering chorus line of ingredients was almost eclipsed by my pudding, "thunder and lightning" tart, a fabulous wedge of clotted cream and saffron gel pudding, festooned with sweetie colours (meringue, golden syrup, raisin puree) and finished off with ginger beer sorbet. An amazing dish, as mouth-fillingly tasty as it was beautiful.
All credit to the Driftwood. Not only did they feed us from 9.45 until midnight but they have a head chef who, despite his apparently scattergun approach to ingredients, brings excitement and generosity to every dish. And the five stars for daytime ambience? It's the view – when the curtains are open, you have the widest Atlantic vista in the whole of Cornwall, right there in front of you.
Food *****
Ambience *****
​Service *****
Driftwood Hotel, Rosevine, Nr Portscatho, Truro, South Cornwall TR2 5EW (01872 580644). Around £55 a head for three courses, before wine and service
Register for free to continue reading
Registration is a free and easy way to support our truly independent journalism
By registering, you will also enjoy limited access to Premium articles, exclusive newsletters, commenting, and virtual events with our leading journalists
Already have an account? sign in
Join our new commenting forum
Join thought-provoking conversations, follow other Independent readers and see their replies