FM Mangal, 54 Camberwell Church Street, London SE5
There has to be good reason to traipse across town for a kebab. And this secret sauce might be it...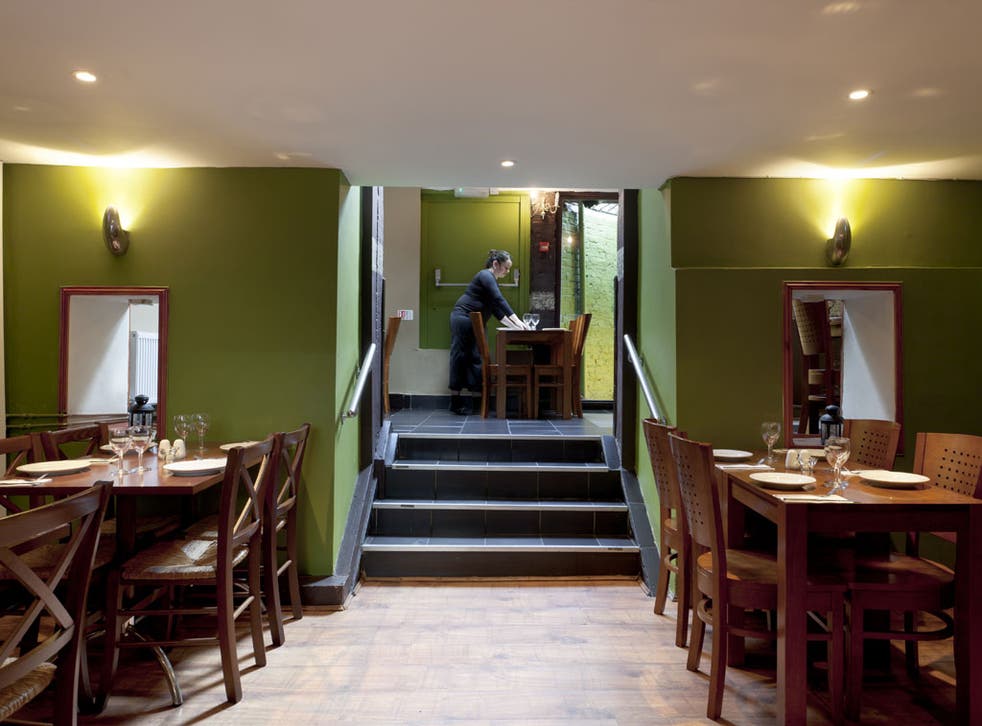 I suppose it was inevitable. We've had the posh burger, the couture hot dog, mac and cheese deluxe – and now kebabs are getting the attention of foodies. Two enterprising young men, Oliver Thring and James Ramsden, writers and bloggers with sharp eyes and a fork into every emerging trend, have started Kebab Kitchen – a roving grill serving lamb and chicken of good provenance with ritzy accompaniments.
I tried their kebabs the other rainy Bank Holiday and what they lack in blistering heat (a wobbly mobile heater) they make up for in zingy flavours (smoked salt, red cabbage with pomegranate molasses...). They admit they're on a learning curve, so before I go back with my critic hat on, I thought I'd remind myself what an old-school, unfashionable kebab is like.
Will, a man of my acquaintance who likes good food and Northern football in equal measure, reckons FM Mangal in south London is the business. Since he lives in north London, I'm listening. Only a real aficionado would cross a city for a bit of grilled lamb in a flatbread. But what's really got him salivating at the mere mention of Mangal is the special pickle juice that accompanies a pre-starter (now, there's posh) of char-grilled onion. The ingredients of this liquid are, apparently, a closely guarded secret. That's piqued my interest enough.
Mr M, a kebab connoisseur himself, takes in the flaming grill pit, the neat stack of prepared raw shish and the quiet bustle of men assembling plump wraps. "Hmmmn, looks all right."
We head for the small mezzanine floor at the back, where the seven tables are almost all full, and – it transpires – everyone's a regular. I expected it to be hot and acrid up here behind the grills, but it's not. Bare tables and plain brown-painted walls are not going to trouble interiors magazine photographers, but it's several notches above the standard-issue strip light and Formica style.
Over ayran (a bracing yoghurt drink with ice), we consider just how much to order. I feel overwhelmed by the sight of a mountain of rice, which often seems to be what I get in Turkish restaurants, but looking at my neighbours' plates, they seem to have the ratio of meat, salads and rice just right.
So, humus, grilled Cypriot cheese and deep-fried vegetables with yoghurt to start. Basics to test the level. They arrive with the fabled onion dish which is, I can report, pretty much excellent. Chunks of black-edged onion and a handful of garlic sit in a large puddle of dark-red juice. It's tangy, almost meaty and delicious.
The starters proper are uniformly good but it's the deep-fried vegetables (£4.50) that win. Oily in a good way, the peppers, aubergine and potatoes are fantastic vehicles for the piquant sauce.
Mr M needs little persuasion to have the FM Mangal Special (£16): a meaty feast of lamb cutlets, spicy minced lamb shish, diced lamb, a chicken thigh and a spatchcocked quail. The heap of blackened delights is accompanied by a grated carrot salad, some juicy pickled red cabbage and a citrussy slaw, as well as a modest scoop of rice, which is fluffy and buttery. Everything is seasoned beautifully, the meat the ideal marriage of charred exterior and tender insides; the quail just edges the prize. If my son was here he'd say they've got mad skills (or something...).
My dish sounds a risk. "Grilled chicken shish with yoghurt, bread, butter and tomato sauce, £9.95." I think if I'd come with a non-kebab eater I might have played it safer. As it is, after two bites I'm calculating how often I can come back before the congestion charge bankrupts me. Soft chicken, of course, but the generous chunks of meat are just one element of the joy. Beneath are small slivers of the same flatbread we'd scooped our humus with, grilled and painted with a delicious marinade. A dollop of yoghurt lies at the bottom, and on top of it all, a thick slathering of fiery, fiery, rich red sauce.
Reader, I muddled it all together and finished the lot; and here's where that "acquired taste" salty yoghurt drink comes into its own.
Fresh mint tea, with complimentary pineapple slices and Turkish delight, temper the accumulated spice.
Now I know why Will, when this place is mentioned, gets misty-eyed and mutters, "I want to go to there." Maybe kebabs don't need a makeover at all...
7.5/10
Scores: 1-3 stay home and cook 4 needs help 5 does the job 6 flashes of promise 7 good 8 special, can't wait to go back 9-10 as good as it gets
FM Mangal 54 Camberwell Church Street, London SE5, tel: 020 7701 6677 About £40 for two, including soft drinks
Turkish treats
Red Mezze
34-36 Leaze Park Road, Newcastle upon Tyne, tel: 0191 261 9646
A cheap, cheerful new Turkish restaurant, already tipped as a place where willing staff serve up a great selection of mezze at excellent prices
Mangal I
10 Arcola Street, London E8, tel: 020 7275 8981
Incredibly good value, fun, no-frills Turkish BBQ in Dalston, which serves the juiciest kebabs; the atmosphere is best if you can sit near the hot coals; BYO
Konak
27a London Road, Alderley Edge, Cheshire, tel: 01625 581 811
In an area full of wine bars and grill-type eateries, this small, welcoming outfit makes for an enjoyable change, offering Turkish staples with a bit more finesse than usual
Reviews extracted from 'Harden's London and UK Restaurant Guides 2012' www.hardens.com
Register for free to continue reading
Registration is a free and easy way to support our truly independent journalism
By registering, you will also enjoy limited access to Premium articles, exclusive newsletters, commenting, and virtual events with our leading journalists
Already have an account? sign in
Register for free to continue reading
Registration is a free and easy way to support our truly independent journalism
By registering, you will also enjoy limited access to Premium articles, exclusive newsletters, commenting, and virtual events with our leading journalists
Already have an account? sign in
Join our new commenting forum
Join thought-provoking conversations, follow other Independent readers and see their replies