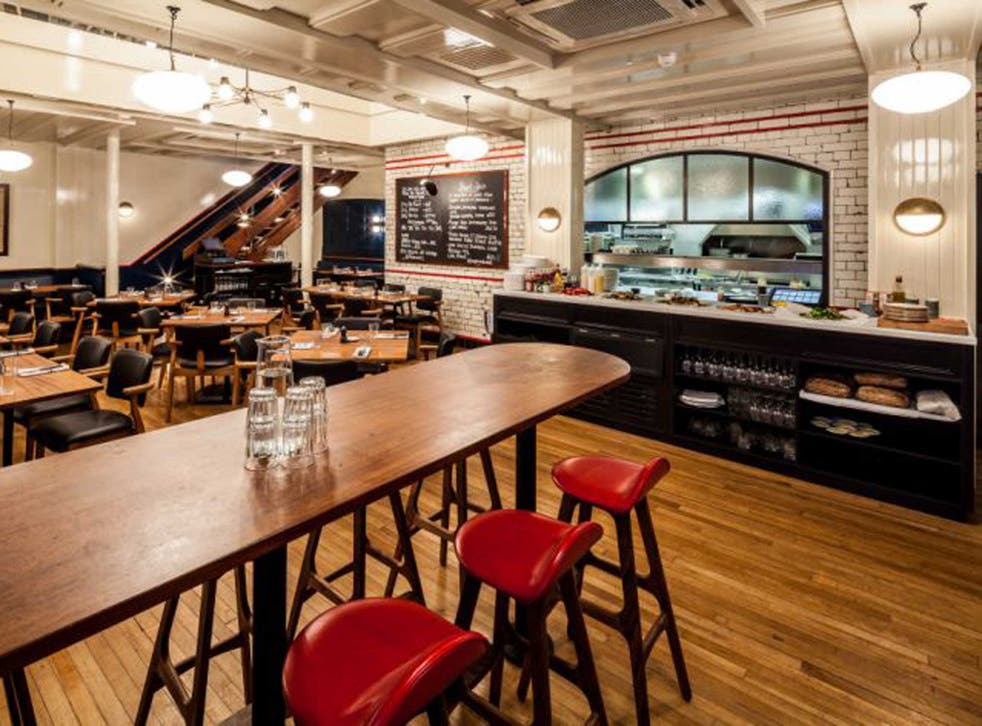 Foxlow/Rextail: Restaurant reviews - It's behind you!
It's pantomime season, so let's embrace the theme, with a cast of traditional stock characters. To cheer for, we have a couple of home-grown food heroes, Huw Gott and Will Beckett, whose excellent Hawksmoor group of steak restaurants recently scored a multi-million-pound investment from a private equity firm, taking the affable duo from bar-owners to moguls in a few short years. Their first opening since the buyout is called Foxlow, a casual neighbourhood eatery in the creative hub of Clerkenwell.
Taking the part of swirly-moustached villain, enter Arkady Novikov, whose swanky, eponymous Asian/Italian restaurant in Mayfair is packing in the international high-rollers, and turning the Moscow restaurateur into a bit of a hate figure for the gastro-commentariat. His new London offering is called Rextail, a faux-casual neighbourhood eatery in the moneyed heart of Mayfair.
Geography and pricing aside, the two restaurants have something in common. Both fetishise fine cuts of meat. Both are done up using the now-mandatory light-industrial tropes of the randomised, reclaimed and upcycled. And both have made-up names with an 'x' in them.
Outside of pantomimes, of course, it's never good to fall into lazy stereotyping, so I approached this brace of newbies with an open mind, even half-hoping for a twist, where prejudice would be overturned. Foxlow (hurrah!) would turn out to be awful, and Rextail (boo!) a glorious surprise. Only that didn't happen.
Act One: Arriving. Weekend lunch at Foxlow. The room is austerely attractive; glossy tongue-and-groove, bare brick walls, and the quirky impedimenta of a disused railway waiting room. We're greeted by a mixed bag of friendly dudes, sporting Little Richard pompadours and acid-washed jeggings, each one exuding easy charm and a relaxed, proprietorial air. Menus and drinks are swiftly offered, and the room fills with customers apparently sourced from a catalogue of people you'd really like to be friends with.
Midweek dinner at Rextail. The long narrow room, hidden in a doorman-patrolled basement opposite Browns Hotel, is a Harrods-showroom version of upcycled chic. Exposed ducting, faux-reclaimed wood floor, salamis swinging artfully over a rough-planked bar hung with enough pendant lights to send the place into orbit. As soon as we sit down, we're introduced to a roast suckling pig, then talked through a platter of raw steaks, shrouded in black linen like Sicilian widows. The clientele consists of people you wouldn't want to be friends with, even if they were your friends.
Act Two: Ordering. Foxlow's menu is a short but lovely thing, widening focus from Hawksmoor's famous Ginger Pig rare-breed steaks to include dude-foodish tempters like slow-smoked bacon ribs, and a salad bar which draws heavily from the Ottolenghi cookbook. An off-menu kids' option is magicked up, in the form of a salmon fishfinger. Starters are mainly around the £7 mark, mains from £10-£16.
Rextail. The menu is overfacingly huge, with some Italian and Asian gear among the wood roasts and grills. Staff lurk like Bond villains, but still forget to offer us bread or a wine list. Loud music blares, like a Balkan brass band falling down a nightclub staircase. Starters are £10-£18, mains rise from £14.50 for a cheeseburger to £85 for Wagyu fillet steak.
Act Three: Eating. Foxlow's salad-bar selection is abundant and Harvester-shamingly fine; a sharp, Nordic slaw; vivid roasted veg tossed with toasted seeds and dukkah. Deckle steak, the fattier end of rib-eye, is full of rangy, developing flavour. Slow-smoked beef shortrib is huge in every sense, its sweet, smoky expansiveness pulled up short by the sour, pungent blast of kimchi. Skinny fries come smothered in bacon salt, recalling smoky bacon crisps. Puddings, including soft-serve sundaes and cherry pie, are simple and fun.
Rextail. Scallop ceviche goes from briny to oily without passing zing. A barely-dressed salad of cauliflower and beetroot would be perfect for a 5:2 fast day. Braised beef short rib is smaller, less complex and, at £24, £8 pricier than the Foxlow version, though the smoked marrow bone is a nice touch. There's a decent facsimile of Nobu's famed miso black cod. Puddings, including bog-standard chocolate souffle and lavender-infused crème brûlèe, are simple and dull.
We left Foxlow in a rosy glow – it's hats-in-the-air good. If this is the template for a roll-out, I bloody well hope they roll one out near me. We scurried out of Rextail – a creaky pantomime dame dressed up to look like a principal boy – with a vague sense of outrage. Is this restaurant equivalent of a gated community the way to experience the vibrant, messy, good-eating London that lies out there, a culture the Hawksmoor guys have done so much to help build? Oh no it isn't.
Foxlow, 69-73 St John Street Clerkenwell, London EC1 (020-7014 8070). Around £40 a head including glass of wine and service
Food
****
Ambience
****
Service
*****
Rextail, 13 Albemarle Street Mayfair, London W1 (020-3301 1122). Around £70 a head including glass of wine and service
Food
***
Ambience
**
Service
***
Register for free to continue reading
Registration is a free and easy way to support our truly independent journalism
By registering, you will also enjoy limited access to Premium articles, exclusive newsletters, commenting, and virtual events with our leading journalists
Already have an account? sign in
Register for free to continue reading
Registration is a free and easy way to support our truly independent journalism
By registering, you will also enjoy limited access to Premium articles, exclusive newsletters, commenting, and virtual events with our leading journalists
Already have an account? sign in
Join our new commenting forum
Join thought-provoking conversations, follow other Independent readers and see their replies