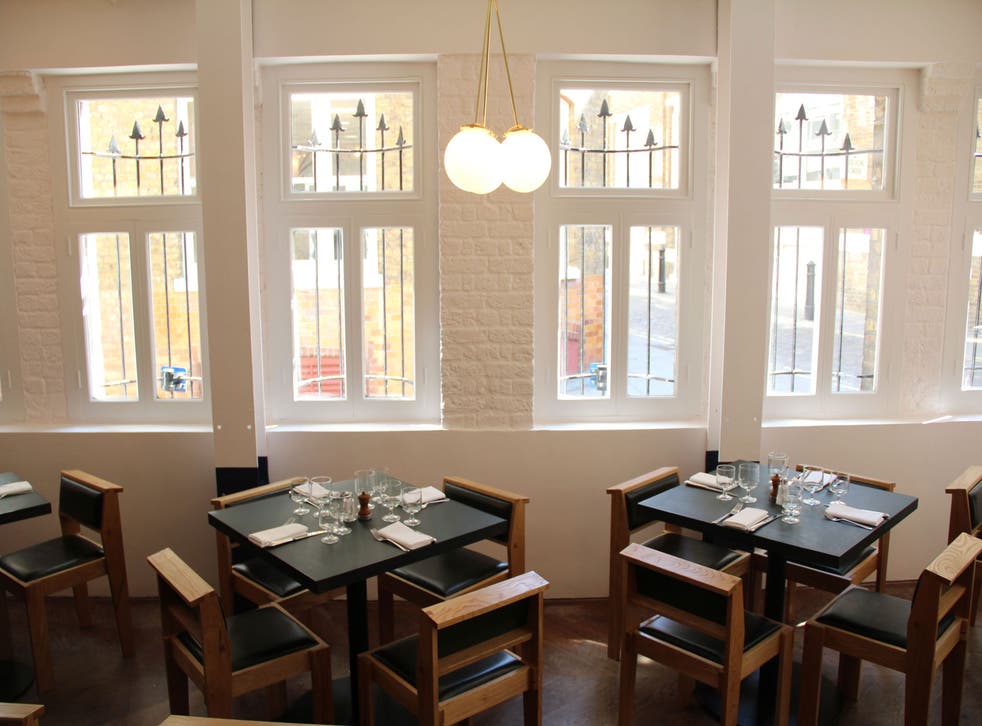 Heaton, Butler and Bayne, Floral Street, London
Could this former stained-glass factory become a theatreland favourite, asks Amol Rajan.
Heaton, Butler and Bayne is named not for the restaurateur behind it – that's Robert Siegler, who also owns the excellent Market Café in Broadway Market, east London, and nearby Le Deuxième – but the manufacturers of stained-glass windows whose factory was here from 1855 onwards.
Clement Heaton, James Butler and Robert Turnill Bayne eventually became influential far beyond London, having inserted their work in Westminster Abbey among other places. Something of their early workshop has been retained in the sparse white brickwork and minimal furnishings of the restaurant that has now opened here. The site used to be known as The Forge, also owned by Siegler, and is part of a renaissance of sorts in the area: Polpo, Opera Tavern, Meat Market and Mishkin's have all opened up around Covent Garden in recent years to a warm reception.
This is a spacious, very slightly dingy room with spherical yellow bulbs, a candle on every table, and a stylish and higher-than-usual bar. The tables are square and snugly packed, and though it is empty tonight, the location should guarantee a decent crowd, as will the smart hiring of Haley Forest, formerly at Polpo on Beak Street, to run the front-of-house operation. Said operation includes an Australian, stubble-adorned waiter called Jordan who must be among the most charming men in London; and Swede Jonas Karlsson – who used to be at the 5th Floor Restaurant in Harvey Nichols – to run the kitchen.
I hope it is simply that the immensely talented Karlsson is on a night off, because the food this evening is poor. Not shocking, disgusting or inedible; just poor, and unforgivably expensive to boot. There are six starters, six mains, five sides, five desserts, three cheeses and 10 bar-menu options. There is also a set menu from midday to 6pm each day, which is three courses for £19.50. The starters range from £6 to £11 and at the cheaper end is a fennel soup with garlic crisps that is extremely limited in fennel and garlic flavour.
Felicity, who I am with, has spent three decades as a wine merchant, and has a nose like a gastronomic Sherlock Holmes. She nails it when she says, "If you did a blind-taste test you'd think it was leek and potato soup." Exactly right: thick, hot and starchy, but not well flavoured at all.
The beetroot-cured salmon with horseradish cream (£7.50) murders an already dead bit of fish, so you can't taste the salmon at all. Nor is there any heat to the horseradish. Four quail croquettes (£6) are too cold and don't have nearly enough filling. The crab croustade with avocado salad (£6), a little parcel of pastry, is forgettable. Four globules of chorizo with a bit of honey (£4) are overpriced and the meat is of poor quality.
You'll have noticed that my tentative conversion to vegetarianism, documented recently in this magazine, is not going very well. And who can blame me, frankly, when the consequence of such a conversion is that you order an asparagus and spring-onion risotto (£7.50 for a small portion) in which the two star ingredients are over- and under-cooked respectively.
The duck breast (£19.50 – ouch) is too dry, and comes with a rosti that is more vegetable oil than vegetable, and also a glazed beetroot that is fine. The rump of lamb (£17.50) is tender and has a warming hazelnut jus, but the grilled courgettes are a test case in how to ruin this surprisingly delicate fruit (it's not a vegetable): over-oiled, under-cooked, and under-seasoned.
The cheeses – Blacksticks Blue, Westcombe Cheddar, Stinking Bishop (three for £9.50) – are much better, but my set-cream with rhubarb and caramelised breadcrumbs (£6.50) is send-backable. The cream isn't set, the rhubarb has no punch, and the breadcrumbs are thick and stodgy rather than sweet and crispy.
It is possible to spend a honking sum of money on food in London, and not get decent value. Covent Garden has long convinced the ignorant and the visiting to part with too much cash, and if you're coming to theatreland on a normal family budget, my advice would be to take a look inside – then head up the road.
5/10
Heaton, Butler and Bayne, Floral Street, Corner of Garrick Street, London WC2. Tel: 020 7379 1432. £100 for two, including A bottle of wine
Three more former industrial settings
Last wine Bar
This former shoe factory is now a vibrant venue with a formal restaurant and various bar areas
70-76 St Georges Street, Norwich, thelastwinebar.co.uk
Wapping Food
The setting – a former hydraulic power station – is the key reason to seek out this restaurant/gallery
Wapping Power Station, London E1, thewappingproject.com
Café Fish
Overlooking the harbour, this fish restaurant in former ferry-company offices really impresses
The Pier, Tobermory, Isle of Mull, Argyll, thecafefish.com
Reviews extracted from 'Harden's London and UK Restaurant Guides 2013', www.hardens.com
Register for free to continue reading
Registration is a free and easy way to support our truly independent journalism
By registering, you will also enjoy limited access to Premium articles, exclusive newsletters, commenting, and virtual events with our leading journalists
Already have an account? sign in
Register for free to continue reading
Registration is a free and easy way to support our truly independent journalism
By registering, you will also enjoy limited access to Premium articles, exclusive newsletters, commenting, and virtual events with our leading journalists
Already have an account? sign in
Join our new commenting forum
Join thought-provoking conversations, follow other Independent readers and see their replies