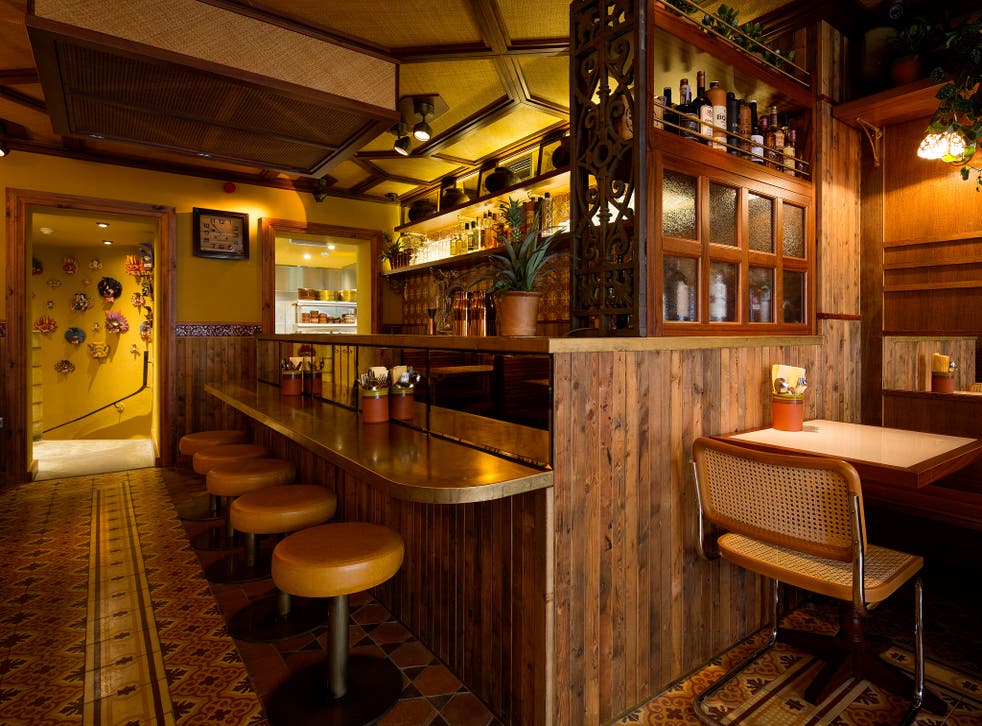 Hoppers, restaurant review: 'Love at first taste as I'm transported to Sri Lanka'
Hoppers, 49 Frith Street, London W1 (No bookings). £45 for two, without drinks
I fell in love in Sri Lanka. It's been 24 years now, but my love endures. If anyone asks me where they should go on holiday, I invariably say Sri Lanka. Not because they'll end up marrying the person they go with (as I did), but because they will form an ardent, lifelong love for the food (as I did).
I only have to flick through my photo album… That early morning train journey rattling through tea plantations, punctuated by hot, sweet chai and egg hoppers. Following a stream of workers to a canteen above the bus station and discovering the joyous taste explosion of cashew nut and pineapple curries. Sweet, soft idlis handed round as we sat in a tiny village, surrounded by the entire population, while their questions – What are you doing here? Why are you not married? – were translated by Mr Gamage, the local teacher. Over the years, how I've longed to have a Proustian moment with one of those hoppers – light pancakes made with a batter of fermented rice and coconut milk. Well, reader, now I have…
Hoppers is the latest in a run of excellent openings from the Sethi family, who own Bao and Gymkhana, both of which I gave rave reviews. They also back Lyle's, which I think is one of London's best restaurants. Their love and enthusiasm for hospitality, and their canny business approach (haute Asian food: what's not to love?) suggest the hits will keep coming.
Hoppers suffers the reputational nightmare of all the capital's hot new places: a bloody long queue. So quite a few times I've considered it, then given up and gone to Antidote or Zelman Meats or Dishoom. But yet another "Shall we go back to Sri Lanka this year?" conversation with my husband led to us grabbing our warmest coats and arriving at Hoppers at the ridiculous hour of 11.45am. This time, lunch would not elude us, queue be damned. We would have our remembrance of curries past.
The room is small, adorned with pictures of old Ceylon and modern Sri Lanka. The curved wall down to the loos has those bright coloured masks familiar to anyone who's brought home a souvenir wrapped up in an old T-shirt. Most clever, the coloured glasses, brown crockery and tiled table-tops that ape the never-been-tarted-up canteens of Colombo and Galle.
The menu comes with a charming glossary of Tamil food, which both informs and makes the mouth water: "Gotu kola sambol is pennywort relish with coconut, Maldive fish and onions."
It's love at first taste, of course. Fried plantain strips and cashews with a rich, sour-sweet chutney (£3) fire up the taste buds, which we slake with black pepper cream soda (£2.50). This is from the "short eats" bit of the menu, from which we are also tempted by hot butter devilled shrimps and mutton rolls. We add a string hopper (vermicelli with a mildly spiced coconut gravy to tip over it, and a topping of shredded coconut with the pungent kick of dried, crumbled Maldive fish).
I'm already transported back to Hikkaduwa beach when along comes the – yes – haute version of an egg hopper. A wafer-thin "bowl" of pancake, with a just-set fried egg within, generously strewn with pepper, is picture-perfect; the sweet onion relish, that coconut and fish medley in sambol form, and an eye-poppingly fresh coriander chutney. It's a steal at £3.50 – I could eat at least three. We've added a fish kari for £5.50 and the white fish in another russet curry tastes of long, slow cooking by a true expert in Tamil cuisine.
Do we need the Ceylonese spit chicken as well? Perhaps not, but I want to cover as much of the menu as possible in case I can't get back for a while. It's £17.50, the most expensive item, but oh, it's great. A whole bird, fantastically tender inside a crisp, spicy carapace, with a sharp knife rudely skewering its breast. There are two grilled coconut rotis and that pennywort relish, which is just divine, with a slick of sweet tamarind sauce to stir in.
It commands our attention for some time, during which I can feel the eyes of the queue outside burning a hole in my back. This, and the inherent richness of the food, makes me wonder whether I might prefer to come back at night, and make some inroads into the amazing-sounding list of "hard" drinks.
Hoppers is not London's, or the UK's, only Sri Lankan restaurant, of course. But with that pedigree and that quality of cooking, it might single-handedly push up the numbers booking flights to Colombo.
8/10
Hoppers, 49 Frith Street, London W1 (No bookings). £45 for two, without drinks
Four more foodie notes from the past week
Day 31
Last day of my sugar ban to raise funds for Great Ormond Street. It's been gruelling, but I've picked up some great tips from chefs.
The Ivy Brasserie
Impeccable Dover sole at the new branch of the West End classic in Kensington. It might become an escape-the-office lunchtime treat.
Guinness
A raucous reception thrown by the Irish ambassador for the Journalists' Charity, guests greeted with trays of tip-top Guinness.
Happy birthday
Such fun choosing a cake for my daughter from Jemma Wilson's brilliant crumbsanddoilies.co.uk. (There's a shop in Soho, too.)
Join our new commenting forum
Join thought-provoking conversations, follow other Independent readers and see their replies