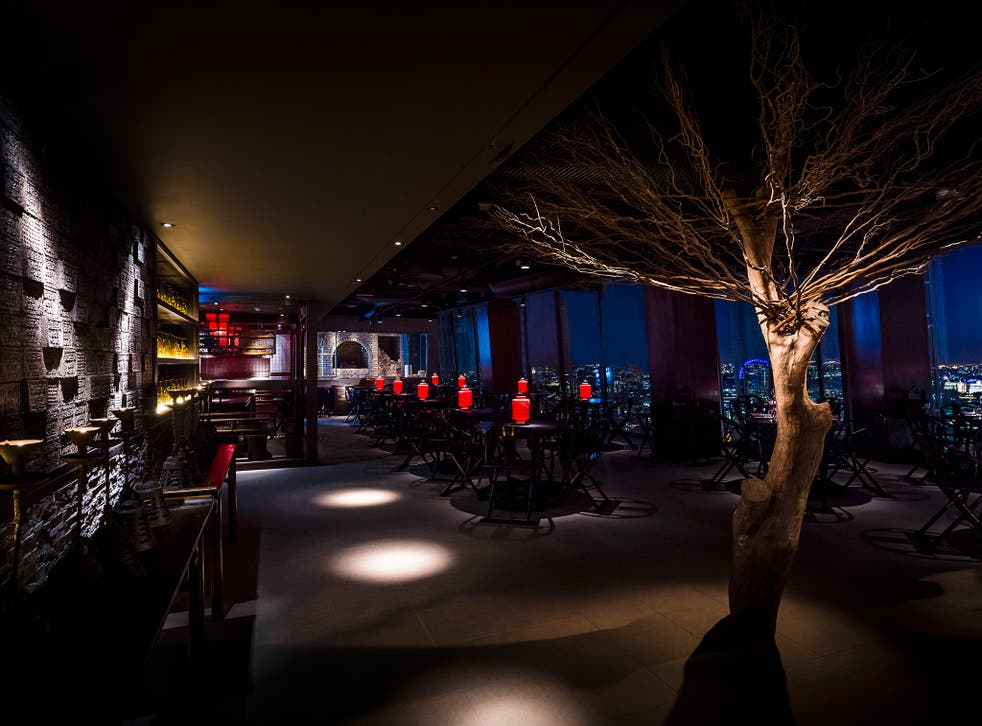 Hutong, restaurant review: Stunning sky high setting and intense, dramatic dishes
Level 33, The Shard, 31 St Thomas Street, London SE1 9RY (020 3011 1257)
I didn't actually want to go to Hutong. I knew it existed; I'd been to the Shard when it opened two years ago, to check out Oblix on the 32nd floor, the new restaurant from German maestro Rainer Becker (co-founder of Zuma), and I'd found the food weep-makingly pricy. Did I want to go back to the same vertiginous location and try the Chinese equivalent, one floor up? No way.
But we had Americans in town. Four of them, from Long Island, and they wanted to see London properly. There was no fobbing them off with Brick Lane, Portobello and the Pig and Whistle. They wanted the London Eye, Clapton at the Albert Hall, theatre at the Aldwych, supper at the Delaunay. It all had to be big. They asked about the giant glass phallus that loomed across the Thames as they stood by the Tower of London. It was so pointlessly tall and imperious, it made them feel right at home. Could they go inside? And get some lunch?
What, eat in there, we laughed. Come off it, everyone knows all the restaurants are laughably flashy and ruinously expensive. But the Yanks insisted and prevailed. So we rang all the Shard eateries. No dice anywhere (didn't we know it's the start of the tourist season?) except for 2.30pm in Hutong. With sinking hearts, we booked.
You take the express lift to the 32nd floor and walk up two metal stairways to access this opulent simulacrum of Ming-dynasty bling. Inside Hutong, it's all sexy gloom, with dark-wood panelling lit with red lanterns, and a wishing tree festooned with desires hung up by punters. Our eating area - seven chairs around one table - wasn't strictly a room, but a pair of massive, free-standing wooden doors were trundled over to make it so. It was like being on a film set, the film being Enter the Dragon.
Three of the Americans crowded at the window to exclaim at St Paul's, seen from 33 floors up. The fourth, a vegetarian called Glenn, sat rooted to his chair. "I have vertigo," he groaned. So had I, on seeing the menu. Barbecued rack of lamb for £34! Deep-fried turbot for £44! (Deep-fried in what? Virgin's tears? Unicorn sweat?) Once the meal began, though, my mood improved.
We started with two platters of mixed dim sum: two rose champagne shrimp; two scallop and pumpkin; two crystal crabmeat; two bamboo pith with assorted vegetables. I'm not a connoisseur of bamboo pith, but the seafood dumplings were bursting with excitement, their wrappers of wheat flour so thin as to be transparent. They seemed the exact same colour and consistency as the dumplings at Shikumen in Shepherd's Bush, but that must be coincidence.
All the starters, bar the spring rolls, were cold - but all were delicious. Scallops were finely sliced, zested up with grapefruit segments. Braised cuttlefish, a slithery pappardelle texture, was blinding in its pristine whiteness and prickled my tastebuds with chilli heat. The Yanks pronounced it "the best squid we ever tasted". Wilted spinach was a moulded green cake, tricked out with juicy ginger sauce and given some serious umami heft with toasted sesame seeds, while shredded chicken came with homemade butterfly buns, which were so white and soft it was like eating bits of cloud.
Hutong is "inspired" by a namesake in Hong Kong - but the original hutongs were the narrow lanes of old Beijing. The cooking is a hybrid of Shandong seafood and Sichuan flavours (which explains the ubiquity of chilli.) We ordered five dishes to share, but as they began to arrive and fill the table, everyone started ordering more, for fear of missing out.
We bodyswerved the £56 house speciality of roast Peking duck, but the aromatic beef braised in lotus leaf was shredded at the table in the same style, and utterly delicious it was. Cod fillet had been fried in the lightest tempura batter, cut into squares and served with string beans and chilli; it was fought over. Grouper fillet came braised with black bean sauce, which enfolded it with love rather than overwhelmed it. In a banquet that was notable for wicked spicing, the fried chicken fillet stood out, as a hundred snippets of Sichuan dried chilli floated like piranha in its mild orange sauce.
Even the fried rice was something special, topped with spring onions and crushed conpoy. Oh, and it cost £7.50. The rice cost £7.50… It's hard to ignore Hutong's exorbitant pricing strategy, but by God it seems worth it, so intense, dramatic and multiflavorous are its dishes, so charming the service. The Yanks were impressed, even the vegetarian with vertigo. By the end, he was standing by the window, gazing at the view, nibbling the last of the aromatic beef, gleaned from someone else's plate. Talk about having your convictions overturned.
Food ****
Ambience *****
Service ****
Level 33, The Shard, 31 St Thomas Street, London SE1 9RY (020 3011 1257)
About £75 a head, before drinks and service
Join our new commenting forum
Join thought-provoking conversations, follow other Independent readers and see their replies