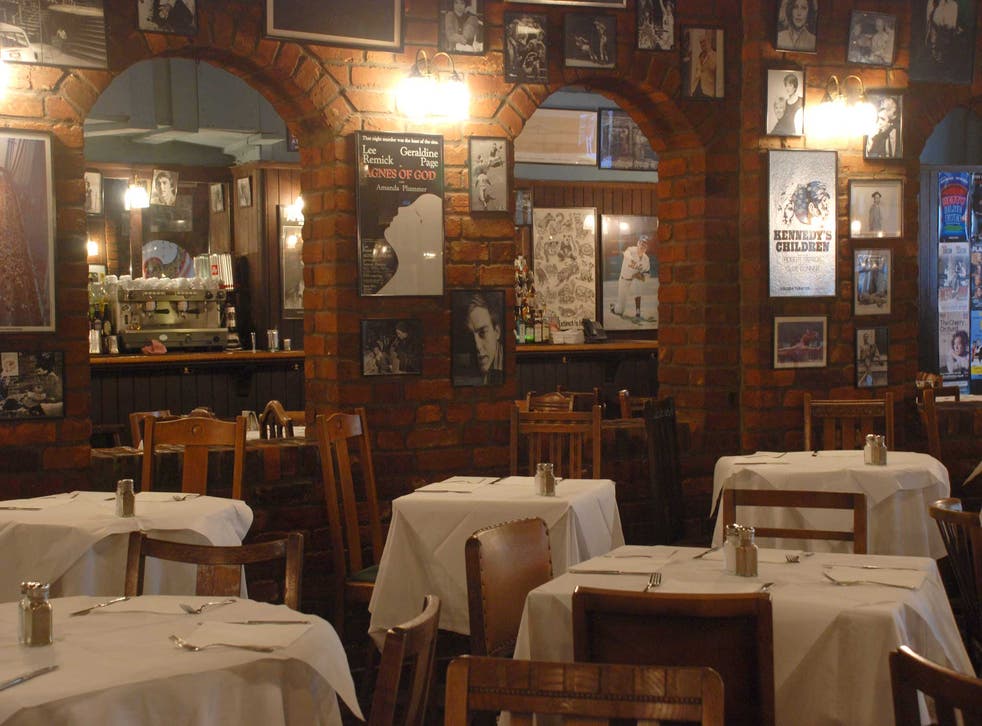 Joe Allen, 13 Exeter Street, London WC2
Can theatrical hang-out Joe Allen – barely changed in decades – still put on a show?
Oh, the twin emotions of horror at the fuss and pleasure at the attention. My mother has smuggled a birthday cake into the restaurant – again – and now the waiters are gathered around the table, singing that song, lit by 13 candles.
The memory still makes me squirm, (ahem) 30-something years later. And now I'm in the same restaurant, at the same table, looking at the same posters on the wall and listening to what looks suspiciously like the same pianist. Jimmy Hardwick, is that you?
I am at Joe Allen, the Covent Garden institution which has aged, it's fair to say, far better than I. Why revisit? Because the theatreland favourite might not have changed its aw-shucks no-fuss menu or its décor much since 1977, but outside its wilfully anonymous entrance, a great deal has changed. The past couple of years have seen an explosion of new restaurants nearby, whether your desire is to eat an engorged dirty hot dog at Mishkins surrounded by "creatives" or an altogether more elegant Viennese version at Delaunay, surrounded by "money".
Best of all is the mini iberico-pork and foie-gras burger at Opera Tavern around the corner, where everyone just looks (rightly) smug about getting a table.
Ah yes, the burger. While all around it menus are falling over themselves to include this modern talisman, Joe Allen famously doesn't have one on the menu – but will make you one if you ask for it. It's all very faux in-the-know. The sale of the restaurant by original owner Richard Polo to Carluccio's chairman Stephen Gee and experienced restaurateurs Tim Healy and Lawrence Hartley hasn't yet resulted in any changes. The burger's still (not) there, just like the Liza Minnelli Live! poster.
The place is rammed, properly bustling on a Thursday night at 8.30pm, even after the theatre-goers have gone and before the late shift of actors and their acolytes arrive. Couples bathed in the flattering low lights stand out from the bare brick walls and raucous groups make the centre of each dining area buzz. Waiting staff are just the right side of harried. Just.
One bite of the food and I'm struck by something: people are not here for the food. While diners elsewhere are posting Instagram pictures of their plates and tweeting their verdicts, inside Joe Allen, the food is almost a side-order.
We've missed the rather-good-sounding pre-theatre set menu and instead stick to what Joe Allen (an outpost of a New York institution, lest we forget) does best: cheeseburger, fries, mac and cheese, Caesar salad and a crabcake slider with shoestring fries and old-bay mayonnaise – a presumably recent addition that makes a small nod to the current fad for sliders.
None of it is stellar. The fries have the uniform shape and size that suggests a visit from the 3663 catering juggernaut and the mac and cheese is singularly lacking in cheese flavour. I happen to like Caesar salad drenched in dressing, but this soupy combination almost defeats me. And that burger. I'm sure in the old days you were asked how you want it, but whether it's the result of Westminster's famous new meat-cooking edict, or because the kitchen no longer "does" preferences, but it comes out with the merest blush at its centre, not quite what Mr M had hoped would be a Proustian experience (years before we met, he used to come for a solo Sunday evening blowout after working at the market).
None of it is a deal-breaker – a carafe of 2011 Gamay from Beaujolais soothes and the bonhomie of our fellow diners is infectious – but that slider could be. The crab patty is pappy, with chunks of flavourless red pepper within and whatever old-bay mayonnaise is, it just tastes old. The shoestring fries make me feel sad – perhaps if I'd never eaten April Bloomfield's exemplary ones at the Spotted Pig in New York it might not have been such a crashing disappointment.
Our waitress clears the barely touched plate with no reaction and asks if we'd like dessert. Cheesecake seems fitting, but it has none of the faintly sour tinge and crumbling texture of the real thing.
Yet… we still come away feeling jolly. The £75 bill is a shocker – I'd thought this restaurant more keenly priced, and what happens later this month when Keith McNally's offshoot of his New York brasserie Balthazar opens in Covent Garden will be interesting – but I suspect Joe Allen will still be pleasing the crowds, and the foodies can go hang.
Joe Allen 13 Exeter Street, London WC2, tel: 020 7836 0651 Lunch and dinner daily. £75 for two, including wine
6/10
SCORES: 1-3 STAY AT HOME AND COOK, 4 NEEDS HELP, 5 DOES THE JOB, 6 FLASHES OF PROMISE, 7 GOOD, 8 CAN'T WAIT TO GO BACK, 9-10 AS GOOD AS IT GETS
Pre-Theatre haunts
Bistro La Barrique
31 Barton Street, Bath, tel: 01225 463 861
With its brilliant list of more than 50 wines by the glass or pitcher, and its interesting French small plates, this really good tapas bar/bistro near the Theatre Royal is a handy stand-by
Kendells Bistro
St Peter's Square, Leeds, tel: 0113 243 6553
Low-lit, with candles everywhere, this city-centre bistro does the "very French" thing very well and there's a great pre-theatre menu
The Oppo
13 Sheep Street, Stratford- upon-Avon, tel: 01789 269 980
Always reliable and good value, this lovely spot does a very good pre-theatre meal, but the à la carte menu is reportedly very good, too
Register for free to continue reading
Registration is a free and easy way to support our truly independent journalism
By registering, you will also enjoy limited access to Premium articles, exclusive newsletters, commenting, and virtual events with our leading journalists
Already have an account? sign in
Register for free to continue reading
Registration is a free and easy way to support our truly independent journalism
By registering, you will also enjoy limited access to Premium articles, exclusive newsletters, commenting, and virtual events with our leading journalists
Already have an account? sign in
Join our new commenting forum
Join thought-provoking conversations, follow other Independent readers and see their replies