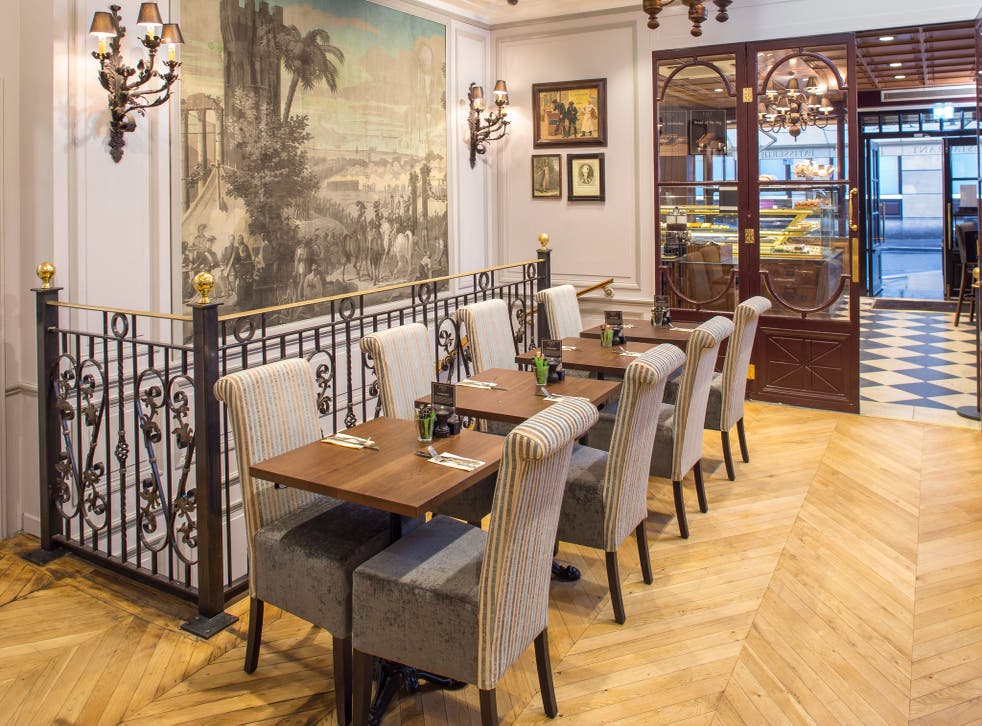 Le Restaurant de Paul, review: The dining room is tucked away like an embarrassing relative
29 Bedford Street, London WC2 (020-7836 3304). Around £30 per head, without wine
John Walsh
Friday 19 September 2014 00:30 Comments
You all know Paul, don't you? Not Paul Hollywood, the bearded lothario from The Great British Bake Off, but Paul the très chic French boulangerie chain that arrived in British high streets in 2000. The chain has a long pedigree. It started life in 1889, when the wonderfully named Charlemagne Mayot and his wife opened a bakery in Croix, near Lille. Their granddaughter married Julian Holder, whose parents had taken over a patisserie called Paul. The families merged and kept the name.
Julian opened a new establishment in Lille, installing a wood-fired oven so that punters could watch the bread and cakes being made. This was a marketing masterstroke; there's no more potent an emblem of innocence, decency and virtue than freshly-baked bread.
After 1985, they started opening bakery-cafés abroad, rocking the honest-to-God artisan stuff in Spain and Japan. It's still a family business (the guy in charge is Maxime Holder, great-great-grandson of Julian) but the extended family now numbers 10,000 employees in 29 countries and extends as far as Shanghai, Turkey, the Philippines and Azerbaijan. Along the way, the Holder Group bought Ladurée, whose huge pink and green macarons festoon the chain's windows, jostling for place with fruit tarts and irresistible ham-salad baguettes.
Something they haven't ever done, in 125 years, is try running a restaurant as well as a café and tearoom. But now they're having a go, inside their flagship shop in London's Covent Garden – and a very tentative job they're making of it.
Walking past, in the howling tourist throng only a harlot's cry from the piazza, you'd hardly know the restaurant existed. All you can see is the cutely pretty interior of the café. When we arrived, at 8pm on a Friday, the place was half-empty. Though we'd booked for dinner, we were shown to seats in the tearoom – and, at the risk of sounding precious, one cannot dine with any seriousness in the environs of a tearoom. The seats are too soft, the tables too low, the atmosphere too cosy.
The actual dining room is tucked away at the back of the building, like an embarrassing relative. Attempts have been made to give it some modish starkness – whitewashed brick walls, stone-flagged floor tiles, an elderly photo-print of a Paul restaurant in the 1920s, and a dramatically black pass behind which the chefs labour away. But it's small and unimpressive, like dining in a scullery.
The menu is strangely insubstantial. You can have snacks and salads, tomato tarts, croque-monsieur, smoked salmon on bread, cured ham on bread... Lunchtime stuff, in other words. Hot starters comprise soup, potato cake or an omelette, but nothing else. Cold starters, sorry, 'cold small plates to share' (what a gloomy phrase) feature charcuterie, crudités and cauliflower à la mode Basquaise. It's hard to detect anything here, apart from the soup, that involves actual cooking.
Angie and I shared a charcuterie platter. It was excellent – meatily pungent coppa, or Italian cured ham, French rosette salami, garlic saucissons, jambon cru, smoked duck breast, pâté de campagne – but there was enough to feed a regiment of squaddies. We had to ask for un sac de chien to take home the last kilo. Perhaps we shouldn't have attacked the marvellous Paul bread (olive bread, cheese bread, six-cereal bread...) with such gusto.
The wine list is small (eight whites, eight reds) and aimed at the small spender: no bottle costs more than £26.95. Also well-priced is Crémant de Bourgogne kir (with peach or blackcurrant) for £6.95, although if you want the full Inspector Maigret experience, it must be a slug of Ricard pastis at £2.95.
Main courses were over-familiar regional favourites from the Relais Routiers rather than the Michelin end of the catering scale: coq au vin, blanquette de veau, entrecôte, papillote de saumon... Café Rouge fare, but in more elegant surroundings. My confit de canard aux olives was wonderfully tender inside, though the skin was insufficiently crisp. Buttery mash with olives bolstered this quintessential comfort food. Angie's loup de mer sea-bass was nicely cooked, reeking of herbs, perched on generous tranches of braised fennel and sauce vierge.
Puddings at Le Restaurant de Paul were exactly what you'd expect: macarons, tartlets, eclairs, French toast with crème anglaise. Lovely to look at, tasty as anything – and usually consumed at teatime. I don't think the Paul management have tried very hard with their first restaurant. What they're offering is a classic Paul café with a few feeble gestures towards actual cooking, nervously offered to the passing trade. I think they should have the courage of their convictions, hire a large garlicky chef from Lille, give him carte blanche over the menu, and open a proper, full-sized restaurant, devoted to truly regional French dishes. As Diaghilev almost said to Cocteau, "Étonnez-nous, Maxime!"
Food ***
Ambience **
Service ****
29 Bedford Street, London WC2 (020-7836 3304). Around £30 per head, without wine
Register for free to continue reading
Registration is a free and easy way to support our truly independent journalism
By registering, you will also enjoy limited access to Premium articles, exclusive newsletters, commenting, and virtual events with our leading journalists
Already have an account? sign in
Join our new commenting forum
Join thought-provoking conversations, follow other Independent readers and see their replies