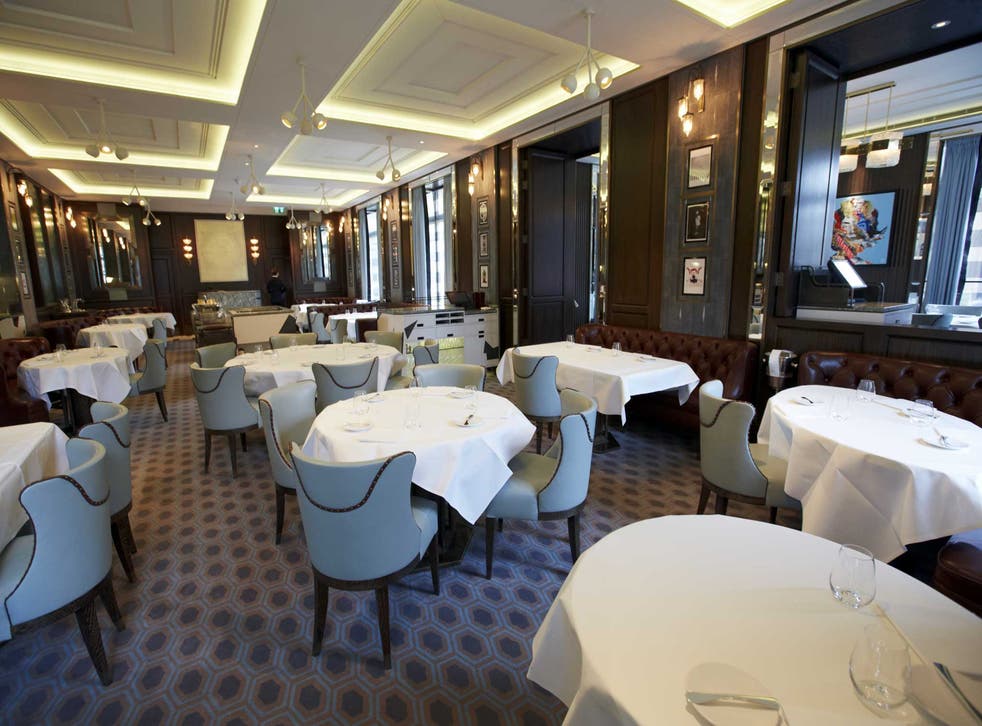 Marcus, restaurant review: Horrible lighting but a splendidly simple menu
Marcus Wareing's two-Michelin-star eating-house at The Berkeley has reopened after a £1.4m redevelopment. But will John Walsh be able to see past the ugly downlighters, dark shutters and corrugated-metal backdrop?
John Walsh
Friday 04 April 2014 00:25 Comments
Promises, promises. When Marcus Wareing announced in January that he was closing his two-Michelin-star eating-house, Marcus Wareing at the Berkeley, for a £1.4m redevelopment, he delivered some breezy undertakings. "My number one priority is ending the stuffiness," he told the press. "People want to come to relax and not sit there while the waiter talks you through the 10 different ingredients on the dish." He wanted to create an atmosphere that was less intimidating, he said, something akin to "a really good dinner party". He'd noticed that fewer people were ordering the tasting menu (£115 a head) and spending less. He further promised that the staff would be encouraged to be "more American and less French" – more "folksy" even.
One shudders with horror, quite frankly, about such assurances. A two-star Michelin joint in a grand Knightsbridge hotel has an innate, ironclad resistance to relaxation, levity and (God help us) folksiness. Trying to impose relaxation and dinner-party chatter on a foodie shrine, hoping to engender more "scoff and banter" (the terrible name for a bar in Seven Dials) sounds a dreadful idea. It's like dining at the Dorchester and finding Alain Ducasse coming to play the trombone at your table.
The proof of the pudding though... We pushed open the heavy swing doors of what's now called 'MARCUS' (does that seem less stuffy, or actually more Roman-imperial?) and were instantly swamped by attentive staff. Half a dozen charming, if hardly folksy, men and women milled around us. A small mix-up about the booking prompted a flurry of nervous half-jokes about where we should be seated. It was all very good-natured but it was as if the waiters were humming a tune that went: "Be informal/ Be relaxed/ Be folksy or/You might be sacked".
The big turn-off, though, was the lighting. It's horrible. The designers, Robert Angell Design Studio, were part of the Savoy refit, but they've lost their touch here. From the ceiling, outcrops of ugly downlighters cast a sickly pall that made the diners look like jaundice victims. The room is darkly shuttered and bleakly laid out. A kind of side-chapel with a corrugated-metal backdrop housed three glum Chinese businessmen in lonely isolation, as if they'd been sent to eat their supper in a garage. Is that what you get for £1.4m these days?
The menu is splendidly simple, though, with four dishes each under Starters, Fish and Meat. I noticed there's still a tasting menu, but it's now £120. We were starving. The fennel bread with salted Irish butter was an aniseedy dream. My wife's starter was a treat: warm crab stuffed inside zucchini flowers, with artichoke hearts, strips of zucchini and crenola leaves, tempura-ed like Communion hosts. It was a concert of brilliant harmonies. My starter resembled a miniature Gothic swamp and tasted spectacular: Dorset snails lolled in the green wild-garlic veloute like savoury raisins. Frogs' legs, trimmed to resemble lollipops on sticks, tasted sublime. Stars of the show were cubes of veal, glazed with smoked garlic butter and roasted to a dark caramel; their layers of softness and crispiness were out of this world. I devoured the vestigial, snail-haunted, soup-sauce veloute with chunks of fennel bread, purring with greed.
Anjou pigeon was done two ways: the legs were breadcrumbed and fried to resemble potato croquettes; a pointless deception, since they tasted like goujons of chicken. The roasted breasts were served with a wine-and-offal sauce that included the heart, liver and pigeon blood. The breast was shockingly underdone. This was practically flapping in my mouth. The combination of breast with the gibletty sauce was mildly emetic.
Angie's Herdwick lamb suffered from a similar complaint. She asked for it to be cooked medium. It arrived rare, and was sent back. A substitute emerged, barely medium rare. "This is spring lamb and hasn't had time to acquire any character," she said. "And the beetroot sauce is overpowering." A side order of Pomme purée with Lincolnshire Poacher sauce was hilariously overpriced at £10. Ten quid for potato, over-puréed until it resembled soup, with runny cheese!
A lovely pudding of pineapple, coconut milk sorbet, pain perdu and nipples of meringue (a sort of deconstructed pina colada), along with a refreshing slug of sweet riesling and an elaborate demonstration of superior cafetiere management by the charming Scottish manager, Daniel Greenock, ended a meal of some remarkable highs but a disastrous commitment to under-cooking. If this is a trend, it's one I'm not keen to join.
Marcus Wareing has just signed another 10-year contract with the Berkeley Hotel. I hope, amid the great man's gastronomic triumphs, he'll have a re-think about the lamb – and the lighting.
Food ****
Ambience **
Service ****
Marcus, The Berkeley Hotel, Wilton Place, London SW1 (020-7235 1200). Around £250 for two, including wine
Register for free to continue reading
Registration is a free and easy way to support our truly independent journalism
By registering, you will also enjoy limited access to Premium articles, exclusive newsletters, commenting, and virtual events with our leading journalists
Already have an account? sign in
Join our new commenting forum
Join thought-provoking conversations, follow other Independent readers and see their replies