Medlar, 438 King's Road, London SW10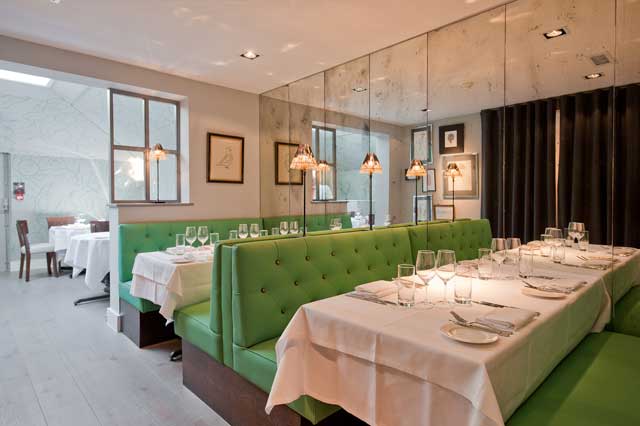 Since it opened its doors in April, the new Chelsea eating-house Medlar has picked up reviews that are the gastronomic equivalent of high fives and punches on the arm. It's a welcome addition to that dog-leg section of the King's Road where World's End twists into Bibendum-land; its neighbours are a shop with a clock that goes backwards and a fine example of that dying species, the second-hand bookshop.
Its cooking pedigree is impeccable: the chef-patron is Joe Mercer Haines, an Old Etonian who until recently ran the kitchen at Chez Bruce, the Savoy of Wandsworth Common; he seems to have brought a few staffers with him from there and from Bruce's sister restaurants, Ledbury and The Square.
I'm not sure about the name, though. I first came across the word medlar in a novel by Candia McWilliam, who likes to use old-fashioned, Victorian constructions: "bletted medlars," in her book, turned out to mean "rotting apples." My spies in the fruit world tell me it's a kind of apple that's best when slightly decayed. And, had the owners consulted Wikipedia, they'd have found that, in literary circles, the medlar has been employed as a metaphor for premature age, and also, I regret, as a bawdy medieval term meaning "open-arsed."
At first sight, there's something positively tight-arsed about the place. The frontage is grey – grey railings, grey awning, grey door – with the name picked out in an acid-green hue that's a feature of the interior décor. Green banquettes, grey raffia wall-coverings, artfully distressed mirrors and peculiar green lamps that resemble avant-garde steering wheels... it's rather effortfully chic. My dinner companion (and daughter) Clementine, a connoisseur of fine dining at 16, wasn't sure about the atmosphere. "It's a bit unnerving," she said, "all these people standing around whispering..."
The service at Medlar deserves a mention at the start. Everyone seems to have undergone strenuous training in butler-like discretion, murmurous reserve, sotto voce reticence. The waiters speak very quietly, ask for your order as though concerned that they're being a bit cheeky and forward, and hover nervously behind your chair until you've finished speaking. As one who's had the punchline of a hundred stories ruined by intrusive waiters, I should welcome this development; but it seems a little bloodless and distant. One can take formality too far.
Even the menu has a tightly-controlled feel about it, its starters, mains and puds ranged in what look like three paragraphs from a very serious novel. But I liked being required to eat three courses for a £38 fixed price – and the food really is remarkably good. Home-made foccaccia was moist and saltily delicious. My crab raviolo disgorged a lovely fondue of buttery leeks, to join a tender ensemble of samphire and brown shrimps. There wasn't, sad to say, enough bisque sauce to justify the extra spoon, but that's just greed talking. Clementine bravely ordered the deep-fried calf's brain with gribiche sauce (a denser variant of tartare with extra egg yolks.) I've tried the dish at Bibendum – it's been a favourite there for years – and never much liked its resemblance to a savoury marshmallow. "The breadcrumbs are a nice contrast with the gooey insides," my daughter said, "but it's just a teeny-weeny bit disgusting. And I think the sauce is meant to be the main flavour."
My main-course lamb came in three styles, heftily flavoured with a Nicoise sauce of sliced black olives and balsamic peppers. The rack cutlets were phenomenally tender, the sweetbreads glowed and glistened, a softly-fried dream. Only the "confit shoulder" disappointed; it had been braised into a fibrous cake, and any lamb essence had fled. Clementine's roasted halibut came with a smear of lardo colonnato, roast baby gem lettuce, peas, Jersey royals and slightly too much garnish of mandolined radish (those powder-pink circles are becoming a bit of a cliché.) "It's all very light and summery," she said, approvingly, "and the halibut's chewy but delicious." We both wondered why her main course was served in a soup dish when no sauce was involved; but we didn't like to upset the waiters, who tended to look (discreetly) aghast if you failed to finish everything on your plate.
The pudding menu is full of irresistible things – croustades and tortes as well as sorbets and fruits – and we gave in without a fight. Clementine's lemon posset with raspberries and shortbread was utterly gorgeous, a symphony of yellow and red, the raspberry jus insinuating its way into the insanely creamy lemon. My buttermilk pannacotta was probably fine, but was served under such an avalanche of strawberry bits, juice and crushed pistachios, its wobbly tenderness had turned to liquid by the time I reached it.
Medlar is easy to admire for competence in every department – meat cooking, sauces, flavour combinations, pudding techniques – but a little hard to love. There's something constrained and buttoned-up, dainty and polite about its dishes, where you'd like an occasional suggestion of blood and guts, gore and derring-do. Chelsea-ites are lucky to have it on their doorstep. But they may find themselves wishing for more a flavour of the Football Club than the Flower Show.
Medlar, 438 King's Road, London SW10 (0207 349 1900)
Food
Ambience
Service
About £120 for two, with wine
Tipping policy: "Service charge is not included in the bill; alltips go to the staff"
Side Orders: Great modern Europeans
Auberge du Lac
Phil Thompson uses great local produce to great effect in dishes such as slow-roasted Dingley Dell Pork with scallop & black pudding.
Welwyn, Hertfordshire (01707 368888)
The Kitchin
A starter of bone marrow and snails is typical of Tom Kitchin's innovative cooking at this popular local.
78 Commercial Quay, Leith, Edinburgh (0131 555 1755)
Gidleigh Park
Mains include Brixham turbot and scallops with leeks, wild mushrooms and chive butter sauce at Michael Caines's West Country outpost.
Chagford, Devon (01647 432367)
Join our commenting forum
Join thought-provoking conversations, follow other Independent readers and see their replies