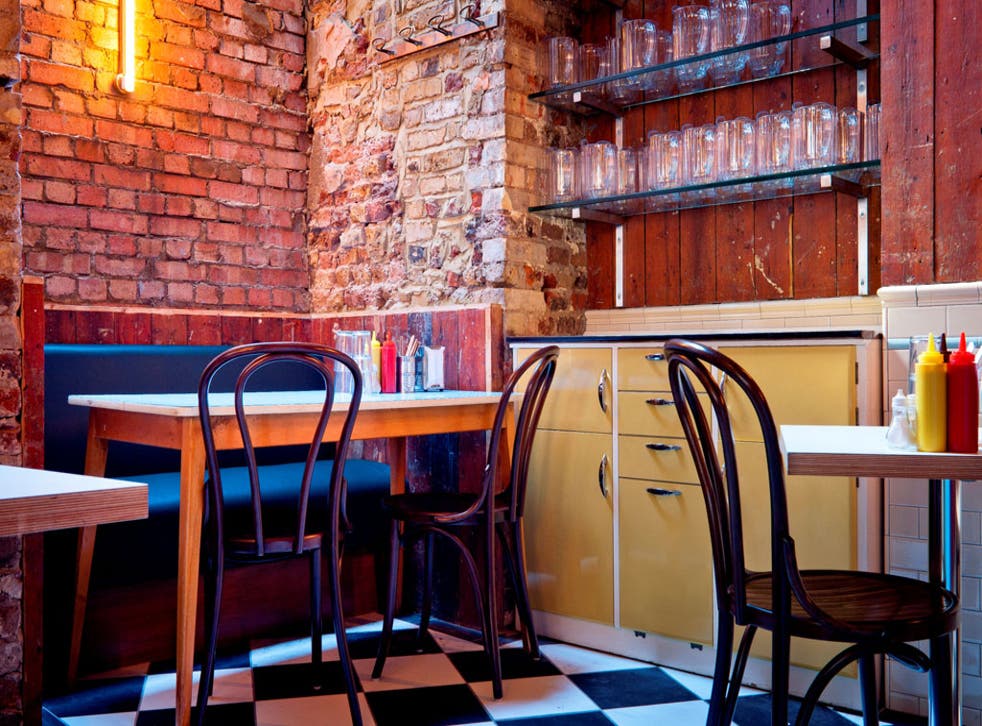 Mishkin's, 25 Catherine Street, London WC2
The cable channel Dave famously got its name because the marketeers believed everyone had a friend called Dave. Mishkin's, a new Jewish(ish) diner in Covent Garden, has a similarly ersatz provenance – named for its owner, Ezra Mishkin, who sounds like the kind of mensch who'd feed you good chicken soup and bad jokes, but who doesn't actually exist.
The real owners of Mishkin's are those men with the Midas touch, Russell Norman and Richard Beatty, whose fun and funky openings in Soho have brought such a buzz to central London's restaurant scene.
Two years ago, Norman and Beatty opened Polpo, an updated Venetian bacaro whose menu of cicheti and small plates proved such a hit that the concept is now appearing at a Zizzi near you.
Having launched two further school-of-Polpo restaurants, and the dirty diner Spuntino, Norman has professed himself "over" that whole small-Italian-plates thing. He describes his latest opening, Mishkin's, as "a sort of sexy, fun version of a Jewish deli". Which, if you've ever eaten in one, you'll know is a bit like saying a sexy, fun version of Arthur Mullard.
From the street, Mishkin's looks like it's always been there, with its net curtain and sober black and gold frontage, somewhere between an undertaker and a pie and eel shop. Inside, though, the look is absolutely 2011, a cool, shabby-chic mix of reclaimed wood and scrubbed brick, a huggable bar counter, and slouchy red leather booths, much more comfortable than anything yet seen in the group's other restaurants.
My friend Sheree, whose love/hate relationship with the food of her heritage was forged in Bloom's, was staring wild-eyed at the menu when I arrived. "They've got a hot dog on the menu and it's made with pork! Not a Vienna beef frank – pork! I'm in a state of turmoil and confusion..." This bold bit of unorthodoxy is a deliberate signal by the owners that Mishkin's is not a kosher Jewish deli in any sense of the word.
Still, there's plenty on the all-day menu to please the traditionalists; chopped liver, chicken matzo ball soup, oxtail cholent and a classic Reuben sandwich all appear, alongside fashionable gastro-Americana such as sliders and macaroni and cheese.
As at Polpo, group head chef Tom Oldroyd has had some fun in riffing on tradition, rather than following it slavishly. Cod cheek popcorn, a heap of crunchy battered morsels garlanded with loops of chilli, offers a sassy update of the fried fish tradition; everyone around us seemed to be ordering it. Latkes, fried cakes of grated potato, are here rarefied to the point of delicacy, a filigree of oil-less crunch. Partnered with smoked eel, apple sauce and sour cream, they were a real high point of the meal.
Crucially, the chicken matzo ball soup was also first-rate, the cloudy broth delicately flavoured, the dumpling light and fluffy rather than the usual rubbery puck. Some of the soup's haimish, soul-feeding properties may have been robbed by the presentation – in a small Pyrex bowl, almost entirely filled by the dumpling – but it was still good enough to provoke an "ah, ah, ah!" from my rapidly converting friend.
Portions are generally small, and will probably strike American visitors as risibly so. What kind of meshuggener would apply the small plates concept to Jewish comfort food, which is all about abundance and appetite? Still, prices are low, and the sandwiches are a decent size. You're given the option of 'supersizing' the burger; a succulent patty which is steamed, rather than fried, over the vapour from cooking onions, along with its bun, and larded with stringy Swiss cheese and a smudge of sweetly caramelised onion.
The salt beef sandwich was less successful, thanks to nose-clearing amounts of Colman's mustard which made every mouthful a battle. Our waiter asked us whether we want it "with or without fat", a rather unappetising borrowing from Bloom's, and we opted to go lean, which was probably a mistake.
Another important lesson learnt from our Sunday brunch was that when booking, make sure you get a booth. We were tucked away at the back of the room, in a brick and plaster cubby hole that might recently have been a chimney. Now I'm not fussy myself, but some of my best friends are. "I think they've forgotten to finish this bit off," complained Sheree, unfamiliar with the group's spartan aesthetic. Mishkin's also contains what must be the world's tiniest private room – an old BBC sound booth, containing just one table for four. Perfect for a tryst, or a noisy family; when you press the call button, an ON AIR sign lights up.
The puddings list is perfunctory; we tried a blintz, or pancake, folded over spiced apple, and bananas Foster, the fruit baked in a spiced syrup, and found both a bit... studenty. But Mishkin's isn't trying to be a three-course, fine-dining kind of place. It's the kind of place you can pop into at any time of day. Indeed, I returned for supper a few nights after my first visit. Turns out that this Jewish deli-meets-rackety bar is just the place London has been crying out for. Who knew? Clever old Ezra.
Mishkin's, 25 Catherine Street London WC2 (020-7240 2078)
Food ***
Ambience ****
Service ****
Around £25 a head before wine and service
Tipping policy: "Service charge is 12.5 per cent discretionary, of which 100 per cent goes to the staff; all tips go to the staff"
It turns out that this Jewish deli-meets-rackety bar is just the place London has been crying out for
Side Orders: Kosher cuisine
Beigel Bake
The oldest bagel stop in London still serves the best salt beef in the city 24 hours a day from an unassuming café on Brick Lane.
159 Brick Lane, London E1 (020-7729 0616)
L'Chaim's
Choose between salt beef, steak, latkes and chopped liver at this popular and strictly Kosher restaurant.
222 Fenwick Road, Giffnock, Glasgow (0141 638 6116)
JS Restaurant
This long-established restaurant serves its pickled brisket sandwich on white rye bread with coleslaw.
7 King's Rd, Prestwich, Manchester (0161 798 7776)
Join our new commenting forum
Join thought-provoking conversations, follow other Independent readers and see their replies