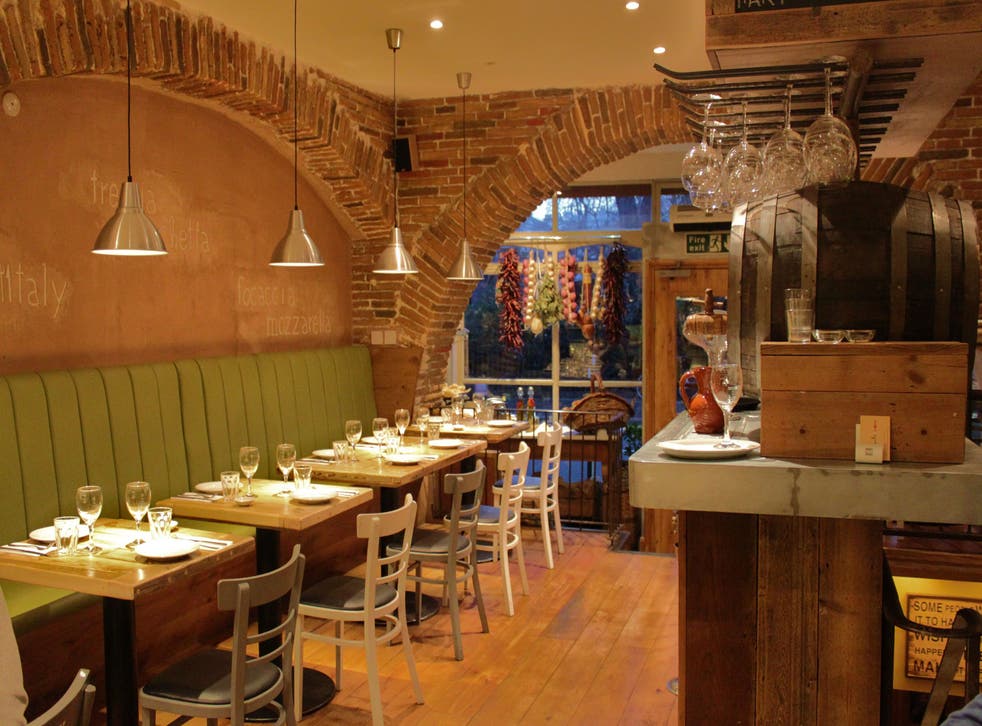 Mozzarella and More, 257 King's Road, Chelsea, London
How Italian do you like your Italian restaurant? Do you enjoy the full theatricals of gesticulating padrone, chequered napery and yard-long pepper grinder? Would you prefer the Milanese chic of L'Anima? How about the small-plates-of-something-from-Liguria connoisseurship of Bocca di Lupo?
Mozzarella and More offers something different from all these – the Italian restaurant from Central Casting, designed with authentic and plausible props without managing to seem real. You come in from the King's Road, past a window display of long garlic strands, dangling salami and a cornucopia of artisanal pasta, pass under a brickwork arch as if entering a castle dungeon, and gaze at rough plaster walls. In places, the plaster is inset with a bricky Catholic shrine featuring a Madonna. Bottles of vino rosso stretch through the room to a medieval-looking stone kitchen.
Words indicative of Italian cuisine have been carved into the plaster – 'bruschetta' and 'focaccia' and 'caffe' and indeed 'pasta' – in case you laboured under the impression that you were about to be served Irish stew or prawn biriyani. All this place lacks is a black-clad widow with a vast bosom and a rosary to give it that vero-Italiano feel. But as cries of "Buona sera!" greet new arrivals and you're shown to the minstrels'-gallery table, you can bear this egregiously kitsch set-dressing.
This is the newest venture from Made In Italy, a company owned by the Sicilian Corsaro family. They've been in Chelsea for 20 years. The original eaterie is a few doors away in the King's Road, but they have five other outlets. Since they sell pizzas, and make their own mozzarella in Battersea, it made sense to start a restaurant devoted to the stuff. The owner Rosalio Corsario's four children – Sarah, Angelo, Giuseppe and Valentina – run the place, and aim to bring Sicilian-Neapolitan flavours to Chelsea palates. They certainly bring conversational flavour – one of my guests, Pia, was born in Sicily, and each sibling came for a chat about her relatives, personal history, Mafia connections; the usual stuff.
The menu is printed on shiny recycled brown wrapping paper and promises lots of homemade stuff – stone-baked focaccia, Malfatti pasta, home-rolled arancini. I've never encountered a 'mozzarella bar' before, so I insisted we try it; Luca, our waiter, offered to regale us with a selection of dishes. Burrata with aromatic ricotta, Parma ham, walnuts and fig reduction was fine, the burrata supple and not too milky. Grilled octopus salad with cannellini beans was pretty average, the octopus velvety in texture but on the hard side of al dente. Parmigiana with aubergines (surely a north-Italian classic?) lacked density of flavour. A seafood melange of calamari and mussels was yelpingly fresh-tasting and lifted by a squish of lemon.
After the cold starters, we ached for some warmth. Two of us tried the evening's special dish, chicken stuffed with pancetta, breadcrumbs and herbs. It was the last word in Italian home cooking – rather short on presentation, a little pale and as-made-by-your-grandmama, but amazingly rich and toothsome. I've had sage-and-onion stuffing a million times but never thyme-and-bacon, and it was good. Sea bream was beautifully cooked and presented, but a little boring, accessorised only by balsamic vinegar and a wholly irrelevant slice of orange.
Angie ordered linguine with lobster and, expecting to see white lobster meat on the pasta, was startled to find half a full-grown crustacean lying on its side with its legs pathetically extended. All the edible bits were delicious with garlic and tomato, but the linguine was offputtingly slimy – it's that Neapolitan habit of adding oil to pasta just after straining it.
I was puzzled that the restaurant didn't think to provide any implements for cracking the crab claws. But then, while friendly, the siblings are a bit lax at waitering. They don't offer bread when you arrive, don't top up water glasses, don't clear away empty wine glasses, don't bother with a dessert menu. Perhaps they feel it's a bit beneath them.
Puddings were interestingly elaborate. I ordered rum baba, and was surprised to find it crammed with slices of strawberry, fruit compote, chocolate buttons (hello?). "If you ordered it in Sicily," said Pia, loyally, "it would come like this." A plate of homemade cannoli pastries filled with cream were lovely. Presumably out of gratitude for our having brought Pia along to entertain them, the siblings bunged us a free bottle of Zibibbo – Muscatel-ish raisin syrup. More a gesture at a liqueur than the real thing.
This was a perfectly OK, simple, down-home Italian supper, but the bill (£260 for five people) seemed to have strayed in from another establishment. Made in Italy seems to be suffering from a touch of Made in Chelsea.
Mozzarella and More, 257 King's Road, Chelsea London SW3 (020-7351 2417). Around £100 for two, including wine
Food ***
Ambience ***
Service **
Tipping policy: 'Service charge is 12.5 per cent discretionary. All tips and service charge go to the staff'
Side orders: Nuovi Italiani
Cucina Asellina
Try the tagliata (sliced steak) with seared ceps or pasta at this super-slick New York-Italian-style newcomer. Like a real Uptown joint, only friendlier.
336-337 The Strand, London WC2 (020-7395 3445)
San Carlo Fumo
Nibble on small cicchetti plates while you sip cocktails or excellent wine, in a buzzy atmosphere with modern-marble décor.
1 Waterloo Street, Birmingham B2 (0121-643 8979)
Coppi
Named after the great Italian cyclist, choose from tasty cicchetti or serious contenders such as monkfish wrapped in Parma ham with grilled fennel (£18).
2 Saint Annes Lane, Belfast, BT10 (07563 302 367)
Register for free to continue reading
Registration is a free and easy way to support our truly independent journalism
By registering, you will also enjoy limited access to Premium articles, exclusive newsletters, commenting, and virtual events with our leading journalists
Already have an account? sign in
Join our new commenting forum
Join thought-provoking conversations, follow other Independent readers and see their replies