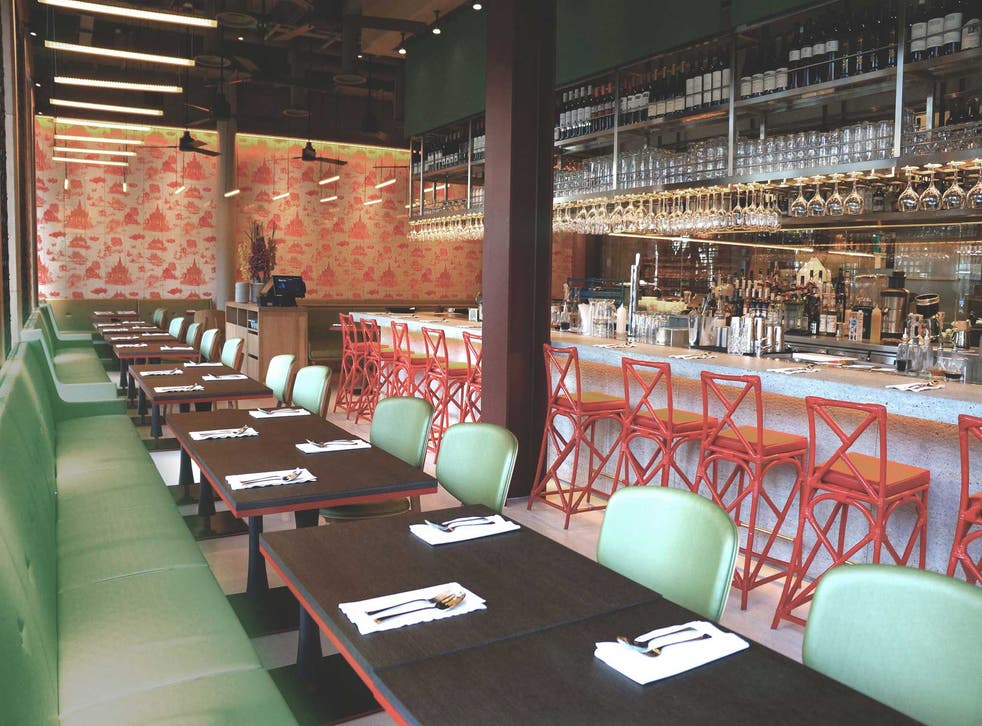 Naamyaa Café, Angel Building, 407 St John Street, London
Alan Yau's latest transports our reviewer back to a magical memory of Thailand
When, about a decade ago, my mate and I found ourselves in Bangkok goodness knows how, a funny thing happened on the first night. It was 6pm and we went in search of oxygen in a local park, trying to get away from the smog and stink of the main roads, and eventually alighting on a park bench. There, my friend extricated some tobacco and crumpled Rizla from a pocket, and started to roll a cigarette.
Hardly had he applied the sealant lick when – Gong! – a giant bell was struck, and the loudest sound I've ever heard reverberated through the whole city. Everything stopped. Joggers jogged no more; cars halted and switched engines off; even mad dogs obeyed the prevailing peace; and then, rather beautifully, the national anthem played.
It was like that moment in The Shawshank Redemption when Tim Robbins' character plays "Duettino Sull'aria" from The Marriage of Figaro to a courtyard full of prisoners: elevation and epiphany amid the chaos and crackle. And it was possibly the most transcendent and memorable moment of my life – so much so, in fact, that I feel teleported back to it while sitting in Alan Yau's latest venture.
What a beautifully designed restaurant this is. It has a very high ceiling, populated by gently whirring fans, and to the back is a vast wall, covered in shining-white tiles with blood-red-and-gold depictions of scenes from an ancestral, Oriental life. The kitchen – managed by the excellent David Thompson, founder of Nahm – is visible and the bar is attended to by glistening crimson bamboo chairs. Charming staff hovercraft between tables; there's a gentle hum to the conversation; and the streets of north London are within sight but out of mind. You could almost be in a park in Bangkok.
Born in Hong Kong, Yau is established as one of London's leading restaurateurs, founding Wagamama in 1992, Cha Cha Moon in 1997, and Busaba Eathai in 1999. He's responsible for the success, too, of Hakkasan and Yauatcha. That's some CV. This time, he's going for middle-class punters, rather than the corporate raiders who can afford lunch in the latter. And he's basically pulled it off.
The menu is elegantly designed with helpful pictures. More menus should have pictures. It's split into 10 sections, ranging between one and nine options in each of Naamyaa set (noodles with soup and boiled egg – better than it sounds), snack, small plate, rice set, soup set, noodle and pasta, burger and sandwich (now obligatory in London), salad, suki, and grilled. The most you'll pay for anything is £24 for the suki – and that's for two. Some of this is positively a bargain. The banana chips (£3) snap deliciously and have reasonable flavour, and the baby cucumber wedges (£3) come with a tangy and fresh coriander, basil and chilli soup, as well as separate sprigs of coriander, mint and basil.
The stir-fried soft-shell crab with curry powder and coconut is a bit, well, meh: the crab lacks punch, is overly soaked in sauce, and too limited in size, given the large bowl of rice that accompanies it. The Naamyaa goon (£9.50) is better: a spicy coconut prawn curry with rice noodles, that boiled egg, and Thai herbs, which have a kind of all-spice zing about them.
Much of the trade done here will, I imagine, come from people sharing small plates, which are generally worth the money – dishes such as chicken satay (£5.50), jasmine-tea-smoked baby-back pork ribs (£8.50), Thai calamari (£6.50) and mussels with chilli jam and basil (£7.50). The cocktail list, meanwhile, is flamboyant: a wan puff (£8.50) is vodka, sake, kalamansi (Chinese orange) and a hunk of dragon fruit which, if you had to spend a night with a single fruit, would be the one to go for. Desserts include strawberries and Thai basil with mascarpone ice-cream, caramelised pineapple with the same, which I had and didn't really work, and cakes including pistachio, almond, and chocolate.
This place is not startling or revolutionary, and won't disrupt the London food scene. But it shows that Yau has a sharp eye for what your average punter considers good value, and in bringing some of the snatched calm of a Bangkok evening to Islington, he's done residents far beyond there a service.
7/10
SCORES: 1-3 STAY AT HOME AND COOK, 4 NEEDS HELP, 5 DOES THE JOB, 6 FLASHES OF PROMISE, 7 GOOD, 8 CAN'T WAIT TO GO BACK, 9-10 AS GOOD AS IT GETS
Naamyaa Café, Angel Building, 407 St John Street, London EC1, tel: 020 3122 0988 Lunch and dinner daily. About £60 for two, including drinks
More Thai treats
Bangkok Brasserie 33 Jewry Street, Winchester, tel: 01962 869 966
Popular, for good reason; thoroughly enjoyable Thai food (including some unusual dishes) and bright service inspire many upbeat reports on this very busy destination
Chaophraya
19 Chapel Walks, off Cross Street, Manchester, tel: 0161 832 8342
A cracking city-centre Thai, occupying a recently glammed-up setting, is praised to the skies by locals and visitors alike for its brilliant cooking and lovely buzz
Sukhothai
17-19 Cheltenham Parade, Harrogate, tel: 01423 500 869
Easily the best of the local Thais, the fare at this slightly glitzy place is said to be awesome by hardcore fans
Reviews extracted from 'Harden's London and UK Restaurant Guides 2013' www.hardens.com
Join our new commenting forum
Join thought-provoking conversations, follow other Independent readers and see their replies