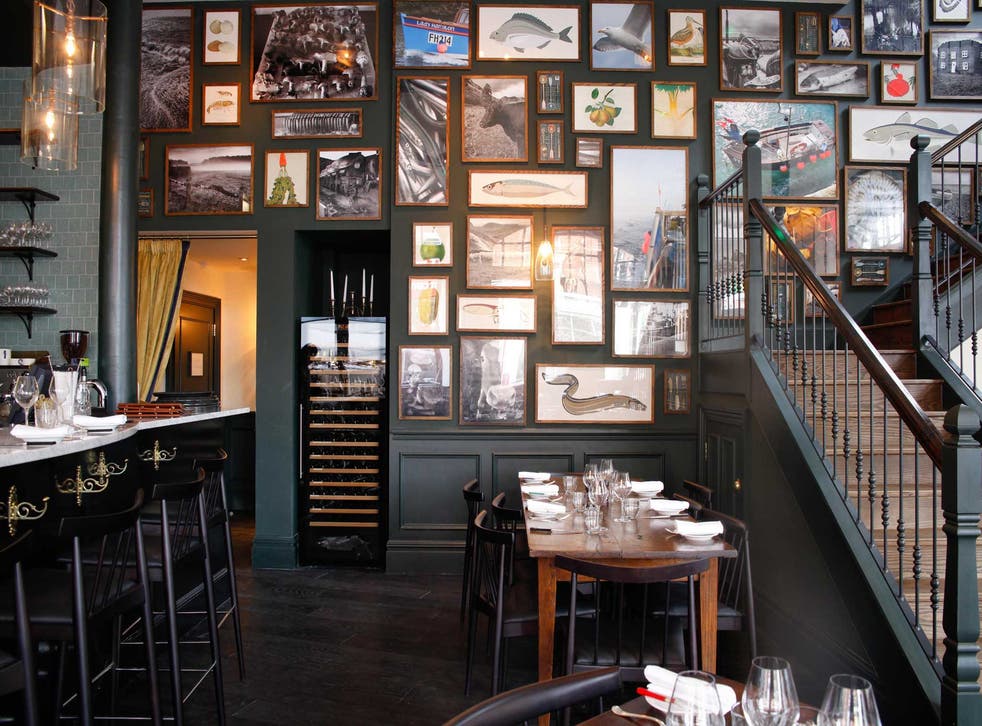 Newman Street Tavern, 48 Newman Street, London
It's a tavern not a gastropub – and if you don't know the difference, you soon will
When does a "gastropub" become a "tavern"? When the owner wants to boost sales. That was my initial, cynical feeling when preparing for this visit to Newman Street Tavern, and the discovery that it lives on a site once occupied by a Ping Pong dim-sum factory only fortified that opinion.
People who say tavern instead of gastropub belong in the same class as those who use "quotidian" when they mean "everyday", "fuchsia" when they mean "pink" and "pulchritudinous" when they mean "beautiful" – frauds, the lot of them.
Well, so much for cynicism. Taverns are inns that travellers stay in; pubs are houses open to the public. Obviously there is a huge amount of crossover, but because of the overnight element, the former put a greater premium on comfort and domesticity. I should think that nobody but the very drunk or the very mischievous will ever stay overnight at Newman Street Tavern, but many more visitors will wish they could, because a more comforting place than upstairs here would be hard to find in London.
Much like GrEAT British in Mayfair, the venue I wrote about earlier this month, the emphasis here is on seasonal produce, patriotically sourced. First built in the late Victorian period, the walls sport portraits of scenes from coastal life. Images of trawler boats, fishing nets and swollen waves make the sea seem close, as does a board listing the seafood platter and extensive range of oysters and crustacea on offer.
The man behind this venture is head chef Peter Weeden, previously of The Boundary in Shoreditch, Paternoster Chop House near St Paul's, where he worked for eight years, Coq d'Argent and Quaglino's. He's also reportedly collaborating with chef Matt Reuther at the reinvigorated Princess Victoria in Shepherd's Bush.
His latest is a split-level offering: 90 covers in a raucous, packed and very yuppie downstairs bar, and a further 50 covers in a much more refined and quiet upstairs arena.
Thankfully, the menu is short and elegantly laid out on a single beige sheet. Of the starters, hot cockles and laver are fiddly and a little limited for £8, but full of aroma and well seasoned. The coddled duck egg with London chorizo is superb for £6, and comes in a sweet vinaigrette that cuts through the fatty meat beautifully. You can also have British classics such as a Devon crab salad (£11), Crown Prince squash soup (£4.50), and smoked ham terrine with parsley salad (£6).
When it comes to ordering the mains, I can't eat enough monkfish at the moment, and I suspect I'll never have it cooked as well as the monkfish-and-leek gratin here. Though too dear at £22.50, it is such a wonderful marriage of juicy, muscular white flesh and buttery sauce that I'd call it divine if only I believed in divinity.
My mate Francis, meanwhile, has a choice cut of Middle White pig with beer onions, again not cheap at £19, but beautifully done.
A bunch of sides are predictable if solid – carrot and fennel (£4) and January King cabbage (£3) best among them – but the desserts show real culinary class. A blood-orange and Campari granita (£5) is icy and delicious, while an Original Bean's chocolate mousse and ice-cream (£6.50) bounces around the walls of the mouth, releasing constant cocoa goodness along the way.
The wine list is more affordable and better value than the food, while there are cheeses from places such as Colston Bassett and Dorstone and St Gall. In other words, if you called this place, I don't know, something like GrEAT British, you'd have a menu that was true to the title.
Instead, "Newman Street Tavern" combines location – a mile north of Soho – with ethos; and if you leave unsure of the difference between a tavern and a gastropub, you can't have been paying much attention. I generally find that when I have the misfortune to head into an All Bar One, say, I want to leave within seconds. Here, in the heart of town, on a grim winter evening, I never want to leave. Now that – that's what a tavern does to you.
8/10
SCORES: 1-3 STAY AT HOME AND COOK, 4 NEEDS HELP, 5 DOES THE JOB, 6 FLASHES OF PROMISE, 7 GOOD, 8 CAN'T WAIT TO GO BACK, 9-10 AS GOOD AS IT GETS
Newman Street Tavern, 48 Newman Street, London W1, tel: 020 3667 1445. Lunch and dinner, Mon-Sat; brunch and lunch, Sun. About £120 for two, including wine
Spectacular seafood
The Mistley Thorn Hotel
High Street, Mistley, Manningtree, Essex, tel: 01206 392 821
It's not just the lovely setting, overlooking the Stour, that makes this gastropub of note – it's long been popular for its excellent seafood selection, too
The Oystercatcher
Main Street, Portmahomack, Tain, tel: 01862 871 560
Short of being on the boat itself, this is as fresh as seafood gets, and it's beautifully cooked with passion at this harbourfront place
The Wensleydale Heifer
Main Street, West Witton, Leyburn, North Yorks, tel: 01969 622 322
This country pub may be in the middle of the landlocked Yorkshire Dales, but it's acclaimed for its wonderful fish
Register for free to continue reading
Registration is a free and easy way to support our truly independent journalism
By registering, you will also enjoy limited access to Premium articles, exclusive newsletters, commenting, and virtual events with our leading journalists
Already have an account? sign in
Register for free to continue reading
Registration is a free and easy way to support our truly independent journalism
By registering, you will also enjoy limited access to Premium articles, exclusive newsletters, commenting, and virtual events with our leading journalists
Already have an account? sign in
Join our new commenting forum
Join thought-provoking conversations, follow other Independent readers and see their replies