Omar's Place, restaurant review: Bridging roads and countries
It's a bold move to put your name above the door, albeit faintly. But this design-led restaurant is able to match the quality of its avant-garde menu with its beautiful Moroccan-inspired interiors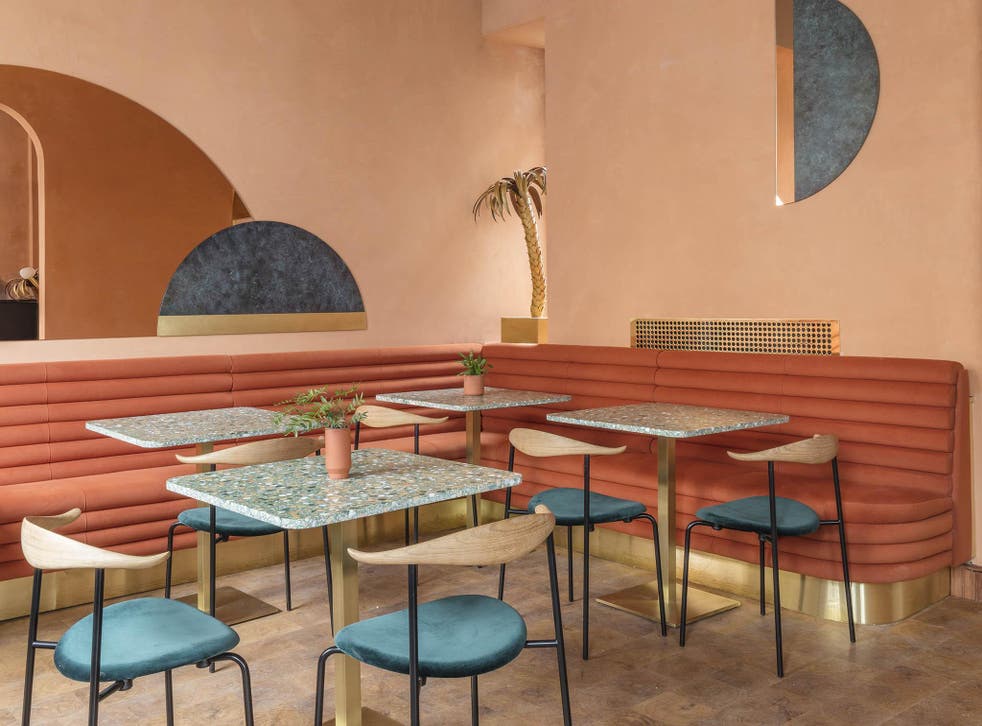 I walk up Hugh Street as my friend walks down Cambridge Street – both trying to find a restaurant. What we don't realise is that it's on the corner of both.
But with no obvious sign and little else to go by, it's not as easy as it sounds. After a little detective work, we notice a newly painted building, and lastly, a faint gold outline of the namesake, Omar's Place. We've made it; albeit a little embarrassed after walking up and down numerous times, no doubt with staff watching us from the huge windows.
The cuisine covers a huge variety of locations with – wait for it – more than 20 countries featured, according to the website; many more than the number of streets that manage to successfully confuse me. But when it comes to the plates (small, of course), it surprisingly isn't as confusing as getting to the restaurant.
A page of cold tapas is followed by hot tapas on the menu, and then a handful of mains. It's clear the food is Mediterranean-inspired, which is a far less overwhelming way of describing it than attempting to convey the apparent 20 countries whose food it serves: "From Majorca to Istanbul", as it says on the website.
The concept comes from Majorca-born Michelin star chef Vicente Fortea and owner, Omar Shabaan from Egypt. And the pair are essentially the geographic goal posts that the food comes between, considering the official definition of Mediterranean spreads from Gibraltar to northern Africa, across to the Levant and up to France. In short, it covers a lot and that's evident from the menu.
Shabaan comes from a family that's been working in hospitality for more than 60 years. But he's the first one to branch out to the UK.
But Pimlico was not his first choice, more like the overlooked little sibling; the first choice was Chelsea. Until he spent an age looking for somewhere and realised it was never going to be quite right. He wanted to create a neighbourhood restaurant, and there isn't really much of a neighbourhood in Chelsea anymore. "It's all empty houses and people using them when they want, not people living in them long term," he says.
Surrounding Omar's Place are flats; ones that people live in, and a few other restaurants. People are starting to know Shabaan by name – something he's clearly used to – and drop in for a drink and a bite.
The nine best restaurants in the world (2017)

Show all 9
The interiors of the Grade II-listed building are, I hate to say, rather Instagram-worthy, and are the work of Sella Concept studio. It's a modern Moroccan feel with dusty terracotta coloured walls, gold palm trees, geometrically shaped mirrors and brass pendant lights with contrasting shades, like a deconstructed version of Moroccan-style tiles. When it comes to the furniture, it's all about the textures. A large bench-style seat of peachy velvet runs around one side of the restaurant; the table tops are made from terrazzo (an eye-catching mix of marble, quartz, granite and glass); chairs have Scandi-style smooth curves with emerald green velvet seats; and there's low club chairs in the same fabric. A far cry from the pub it once was, The Greyhound (never a good pub, in my experience).
The first dish comes out. At first glance it looks like it's served on a remnant piece of material taken from a house refurbishment, like a huge lump of marble.
But when I see it up close, it's clear it's more than that. Each serving dish – which certainly cannot be called a plate – is handmade in Spain. It feels far more sincere than the incredibly annoying trend to serve food on anything but a plate. This is innovative, where real design is at the core. Plates range from a rounded concave dish to a large plinth and are made of polished pale stone.
Standout cold tapas dishes include the beetroot and green pea hummus rolls (£7), which come brightly coloured on a corrugated piece of stone, the burrata with home-cured salmon (£14) and the squid tartare on lemon with a sea water foam (£8).
From the hot tapas, the traditional Moroccan lamb and aubergine pie (£15) is wonderfully spiced with warming North African flavours enclosed in a thin pastry casing, and the tortilla with black pudding (£8) is rich and deliciously comforting.
It's as avant-garde in its interior as it is in its menu. But at its heart is well designed and beautifully cooked food. It just happens to have great interiors too. And this can sometimes drown out the food, but here, that's not the case. It passes, with flying colours, the "would you go back" test.
Dinner for two, plus a cocktail each comes to around £80.
Omar's Place, 13 Cambridge St, Pimlico, London SW1V 4PR; open daily from 11am; omarsplace.co.uk
Food: ****
Service: ****
Value: ****
Register for free to continue reading
Registration is a free and easy way to support our truly independent journalism
By registering, you will also enjoy limited access to Premium articles, exclusive newsletters, commenting, and virtual events with our leading journalists
Already have an account? sign in
Register for free to continue reading
Registration is a free and easy way to support our truly independent journalism
By registering, you will also enjoy limited access to Premium articles, exclusive newsletters, commenting, and virtual events with our leading journalists
Already have an account? sign in
Join our new commenting forum
Join thought-provoking conversations, follow other Independent readers and see their replies