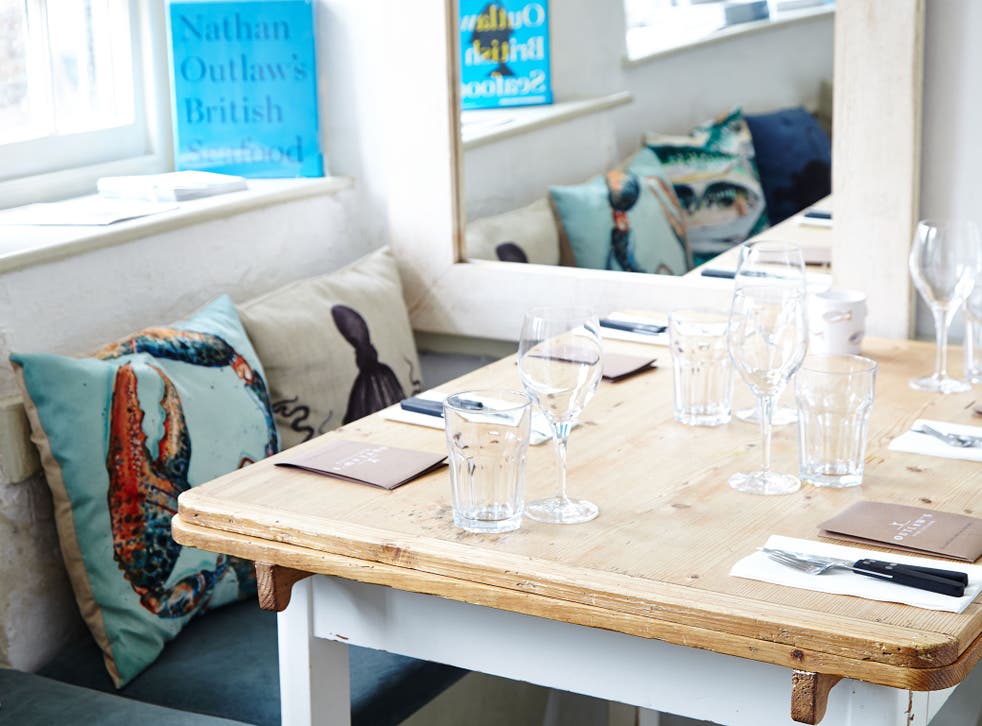 Outlaw's Fish Kitchen, restaurant review: Can the chef really rival Rick Stein's south-western empire?
Outlaw's Fish Kitchen, ​1 Middle Street, Port Isaac, Cornwall, Tel: 01208 881 183
Almost out of nowhere, Nathan Outlaw has entered the first rank of chefs from the south-west, jostling the likes of Rick Stein and Michael Caines for the status of top dog. He has restaurants in Rock (in Cornwall) and London that have won recognition from the Michelin men, and now a couple of places in Port Isaac, the quaint north Cornish outpost made famous most recently by Martin Clunes and Doc Martin. One is a very posh establishment simply called Restaurant Nathan Outlaw, about 100 yards from the annex where my wife and I are getting away from it all (there's almost no reception on the coast here). Alas, prices there are beyond the reach of most folk, so we have come to the other place: Outlaw's Fish Kitchen, right in the heart of the harbour.
If I wasn't so happy to be here with my brother-in-law Paddy and his fiancée Jenny, I'd say the place is pretty claustrophobic. Anyone over 6ft tall (alas not applicable to Paddy and me) may have to crouch; and bare, white-brick pillars add to the sense of encroachment. Several paintings of small boats lolling on the local waves are an admirable, if predictable, touch, and actually our table for four, tucked in the corner, feels intimate rather than crushed.
There is a playful side to the menu, too, which comes on brown parchment paper. On the front it reads: "You shall have a fishy on a little dishy…" and on the back: "When the boat comes in." This sets you up for a selection of eight seafood plates that form the backbone of the menu.
Before we get to them, the starters, which include a grilled Porthilly oyster with fennel and orange that is magnificent, if expensive at £4. Certainly go for this over the smoked cod's roe dip with flatbread (£6.50); this take on taramasalata would be infinitely improved if the bread weren't so underdone. I never, ever understand why people serve dips with warm, soggy bread, which adds nothing except pointless calories. Stick it under the grill for another couple of minutes and you get the contrasting texture of crisp against smooth.
Most of the seafood plates are technically accomplished, but there are a few niggling nuisances which, once rectified, could make this place as much a destination restaurant as the posher sibling up the hill. A plate of raw salmon with chilli and spring onion dressing next to ginger yoghurt (£8) is nearly perfect. The salmon has that exquisite, oleaginous texture of high-quality fish, and there is just the right amount of dressing – that is, not too much. But where's the ginger, dude? I suck in vain upon the yoghurt, searching for a kick of flavour that never comes. Easily rectified, thank goodness.
A different ailment afflicts the crispy squid with lime and fennel salad and roasted garlic mayonnaise (£10). Here, the sauce companion has a strong flavour, but as my esteemed relation across the table put it, "You just can't taste the squid." I don't even know if it is crispy, because it is lost in a forest of fennel. Again, this can be quickly sorted, and luckily most of the other main dishes don't need any such alteration.
A cured bass with roasted pistachios, anchovy and tarragon mayonnaise (£8.50) is spot on; crab fritters come with well-curried mayonnaise and salty soy dressed salad (£8.50); and best of all, a stunning plate of smoked mackerel with beetroot ketchup (it really works) and apple dressing (£8). Sides of chunky chips (£2.50) and tenderstem broccoli with chilli and garlic oil (£3.50) are ideal, too.
The desserts, though, are a little curious. There are two options: raspberry-and-almond sponge with lemon curd and poached peach (£7); and orange-and-cinnamon cheesecake with honeycomb and orange-and-cream cheese ice cream (£8). Both look awful, though they taste OK. The former looks simply like Ardennes pâté on honeycomb; the latter falls apart too easily, and looks an unforgivable mess. Try the plate of cheeses instead (£9), which include a Cornish Yarg that's super-soft, having been left out of the fridge.
A weird one, this: despite a few misses on the menu, with its fantastic, bustling service, a lively wine list and a lovely setting, this is a restaurant that will only improve; I already can't wait to come back.
8/10
Outlaw's Fish Kitchenm ​1 Middle Street, Port Isaac, Cornwall, Tel: 01208 881 183. £90 for two, with wine
Four more foodie notes from the past week
Sashimi
My food fad of the month is protein-tastic. Daily lunch is all the salmon and tuna I can get for £5, with lashings of wasabi.
BBQ chicken
Also an option if you're off the carbs: little packets from M&S are ready to eat, cheap and about 250 calories. Win, win, win.
Reindeer
I put the final nail in the coffin of my vegetarianism with this stuff in Norway. Somewhere between beef and duck in texture.
Diet Coke
I used to think it a pale imitation of the full-sugar version that destroys your teeth. But drink enough and I forget I'm hungry.
Join our new commenting forum
Join thought-provoking conversations, follow other Independent readers and see their replies