Park Chinois, restaurant review: Indulgence and the return of the dinner-dance at Mayfair 'lifestyle project'
17 Berkeley Street, London W1, 020 3327 8888. Afternoon tea: £45 a head. Dinner: around a £100 a head​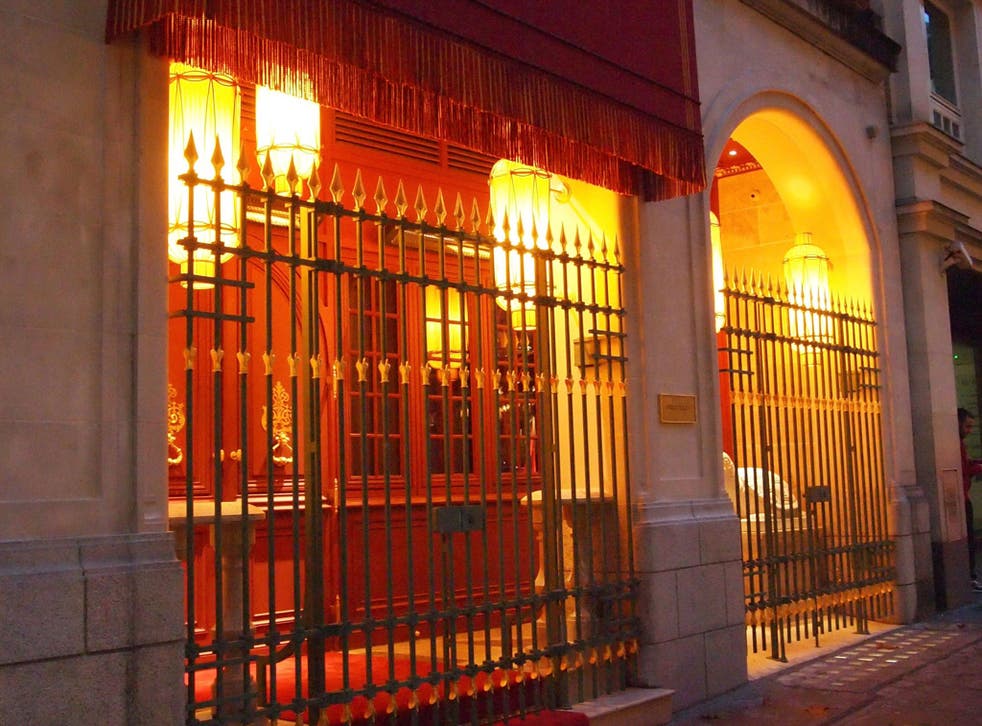 The lady next to me is very excited. "This is faaabuuulous!" she squeals as she wriggles on to her banquette, a seat so fathomlessly padded and quilted that she's in danger of losing her Chloe clutch in it. A Hot Club-style jazz band is vamping through "Fly Me to the Moon", while couples sway gently around the dance floor. And it does feel like we've landed on a different planet: London's first – and I would hazard last – swanky Chinese restaurant inspired by the jazz clubs of 1930s Shanghai.
From the moment the red velvet curtain is pulled back to reveal a dining room so gloriously camp it makes Blackpool's Tower Ballroom look humdrum, it's clear that Park Chinois is different. It isn't a restaurant, according to its prime mover – serial concept-launcher Alan Yau – it's "more like an entertainment lifestyle project". Whoever's lifestyle it aspires to enhance, it probably isn't yours or mine, but more of that anon.
Park Chinois marks the apotheosis of Yau's journey from minimalism – the pioneering all-white canteen look of Wagamama – to flamboyant maximalism. The old Automat site, on the same Mayfair stretch as Novikov and Sexy Fish, has been opulently pimped up into a fantasy speakeasy – a tycoon-friendly version of the Red Room in Twin Peaks.
The walls of the long, two-level room are swagged with peekaboo curtains, draped like a can-can dancer's skirts, and the lamps and chairs are saucily tasselled. "It's a bit brothelly," as one of my guests puts it, not disapprovingly. But there's a magic about it too, a patina of glamour. We could be extras in a movie, albeit hidden in a corner because they haven't been to hair and make-up.
The menu is huge and uncanonical, the cutting-edge Chinese dishes sprinkled with curveball borrowings from Italy and Japan. At first sight, it's impossible to make sense of, not least because the prices short-circuit any attempt at rational thought. The big story here is the roast duck, served Cantonese-style at £75, and available with eight different grades of caviar, rising to Imperial Beluga commanding a £200 supplement. We take ours au naturel and it's wonderful, the lacquered skin and just-pink meat folded into chiffon-delicate pancakes from our own individual steamer.
Prices may be high, but dishes are generous and designed for sharing. A heap of rustlingly crisp salt and pepper squid loaded with a sharp green papaya salad, and jasmine tea-smoked rack of ribs, soft and smoky-sweet – both from the "commence" selection – are main-course sized.
Budgetary concerns dictate a focus on vegetable dishes and they don't feel like a compromise: a sultry braise of Japanese sweet potato and lotus root, twanging with black bean sauce; plump, silken rice noodles, mushrooms and tofu in a clove-scented broth. We're less keen on an Asiatic riff on spaghetti carbonara which marries udon noodles, pancetta and sea urchin; beautiful to look at, under a corona of petals and shiso leaves, but stalked by the insistent briny note of the urchin. It's worth it for the theatre, though, as our waiter stirs through the vivid orange egg yolk and deftly spins it into individual portions.
If there's a staff crisis in top London restaurants, that's because they're all working at Park Chinois. A roster of hostesses, bus boys, waiters, suave maître d's, all immaculately costumed, whir around, so pukka and attentive that they only just stop short of offering a hot towel facial and a foot massage.
The staff-to-diner ratio, the complexity of the dishes, and the huge scope of the menu leaves my guests – both in the restaurant business – gasping in awe. That complexity is the downfall of the desserts. A wispy coconut foam strewn with chocolate rubble and dried raspberries evaporates on contact, conceived more for the eye than the palate.
As the band strikes up for its second set, couples move back on to the dance floor: some of them look like they've been hovering over Mayfair since the late 1970s, waiting for the dinner-dance to come back into style. It's rather sweet, but I suspect these swaying snow-tops aren't quite what Yau had in mind when he was working on the concept. He's here tonight, discreetly monitoring the show he's created, and no doubt already planning his next production.
Having democratised Asian food with Wagamama, Yau has done the opposite with Park Chinois: this is unashamedly a niche proposition. Gracious, theatrical, preposterous, memorable –it's a special-occasion indulgence like no other. Faaabuuulous, indeed.
Food ****
Ambience ****
Service ****
Park Chinois, 17 Berkeley Street, London W1, 020 3327 8888. Afternoon tea: £45 a head. Dinner: around a £100 a head
Register for free to continue reading
Registration is a free and easy way to support our truly independent journalism
By registering, you will also enjoy limited access to Premium articles, exclusive newsletters, commenting, and virtual events with our leading journalists
Already have an account? sign in
Register for free to continue reading
Registration is a free and easy way to support our truly independent journalism
By registering, you will also enjoy limited access to Premium articles, exclusive newsletters, commenting, and virtual events with our leading journalists
Already have an account? sign in
Join our new commenting forum
Join thought-provoking conversations, follow other Independent readers and see their replies