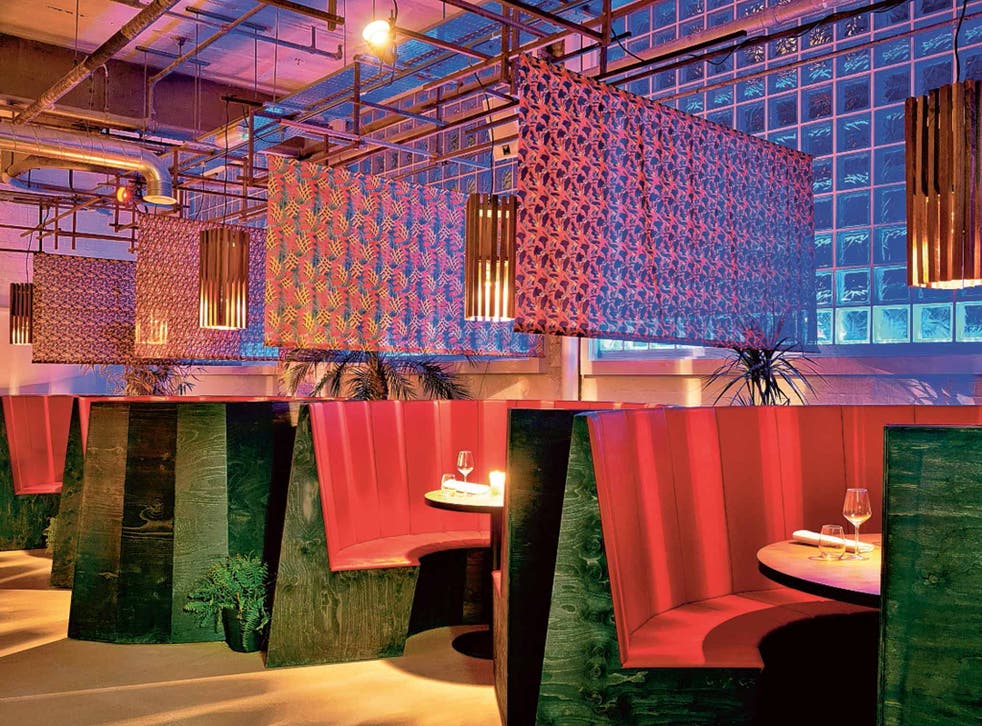 Pond Dalston - Restaurant review: Aloha, aloha
A Victorian warehouse has been smartly converted to 21st-century light-industrial chic
Authentic Hawaiian food, known to the locals as, er, Local Food, is not a madly sophisticated smorgasbord. According to the food historian Alan Davidson, the first inhabitants of the islands would have found nothing to eat except a few mangy birds and some ferns. The first settlers lived on raw fish and poi, or fermented taro paste, which is both vile and deadly boring. Later arrivals, in the wake of Captain Cook, brought breadfruit, sweet potato, sugar cane and coconut, and a creole cuisine gradually emerged.
This summer I was on Kauai, the westernmost of the islands – eating out wasn't high on the priority list. Local Food takes two forms. Every supermarket offers counters of poke – raw fish, chopped into red and orange chunks, lightly spiced. In small eating-houses, locals devour a Plate Lunch, which means two scoops of sticky rice on a plastic platter with chicken, duck, prawns or vegetables cooked in teriyaki sauce. Oh, and Hawaiians are the world's most devoted fans of Spam. There's Spam sushi, Spam wonton, Spam musubi, you name it.
When I heard that a new 'Hawaiian cuisine' place was opening in London's Dalston, I sped there like a 20-foot surfboard with waxed fins. It's an unusual milieu. You turn off Kingsland High Street and find yourself in Gillett Street, an edgily grotty open space with a late-night market, a queue for the Vortex jazz club, and several men in puffer jackets discreetly surveying new arrivals for sales opportunities.
You have to negotiate your way past huge recycling bins and a muggers' alley to find Pond. Inside, however, you relax. A Victorian warehouse has been smartly converted to 21st-century light-industrial chic: concrete floor, ventilation pipes, metalwork, brickwork, red lights. The restaurant features half a dozen red booths, shaped like scallop shells and lit by stylish wooden lamps, and tubs of exotic fronds, in a pleasing hotchpotch of styles.
The bar is a shining mile of multi-lacquered wood, behind which two jolly dudes in Hawaiian shirts dispense excellent £9 cocktails: Kona Storm was a heady burst of rum, ginger, velvet falernum and cardamom bitters, with a lump of crystallised ginger impaled on a stick; Luscious Lanai, a blend of elderflower liqueur, pineapple sorbet and Prosecco. The first sighting of Spam was as a bar snack: Spam chips, 'fried in shrimp and served with yuzu mayo'. It doesn't taste bad, but you know it's just plain wrong to be eating it.
The owner, Byron Knight, came to say hi. He greets new arrivals as though throwing a nightly party. A serenely cheerful American, he started cooking at the Shiro Japanese restaurant in Pasadena, LA, while in his twenties, before re-locating to London where he gave trendy Londoners Duke's Brew & Que ribs joint in Hackney, and the Off Broadway bar in Broadway Market.
The menu is strongly Japanese with Hawaiian influences, rather than the other way around. You start by choosing from sushi (sashimi, nigiri, or maki) or small plates of poke. Angie had tuna nigiri, substantial slices of plump red yellowfin, shiny as raspberry jam, with wasabi jelly on the side, beautifully presented on a long banana leaf, and absolutely delicious. My Poke Pines was a trio of tuna, salmon and scallop with flying fish roe, seaweed – and passionfruit sorbet. It had never crossed my mind to twin fruit sorbet with morsels of raw fish, but it worked just fine.
From the choice of five hot dishes, my wife had Maui Charcoal Avocado, a complex mix of salmon poke tucked inside a whole charred avocado, surrounded by surf clams, which are like slices of crab claws. The avocado was unimprovably ripe and firm, the attendant scallops perfect, a peanut dressing crunchily welcome. Only the sauce of salted coconut cream was unwelcomely sweet.
My tonkatsu beef rib was an astounding sight – a rib the size of a dug-out canoe covered with black-glazed meat that came away in heavenly fibrous chunks – but a bit of a fraud. It was a rib taken straight from the Duke's barbecue menu, apparently given a 'grape tonkatsu glaze' but about as Oriental as George Clooney. No matter – I devoured it, revelling in its smoky sweetness off-set by potato mash until I could eat no more. "I've seen people lick the bone," said our sparky waitress, Millie from Birmingham, approvingly, "and some who can't finish more than half of it."
Millie stood in for the pudding menu, while the written-down version is being finalised. We managed to share a panna cotta with a deconstructed piña colada, and were charmed to find the bill arriving in an old Spam tin. Pond isn't ideal for anyone who doesn't like raw fish, but it does Japanese-Hawaiian with flair and bags of charm, for which one can only say "Mahalo!"
More information
Pond Dalston, Stamford Works, 3 Gillett Street, London N16 (020-3772 6727)
Around £40 a head before cocktails and wine
Food ****
Ambience ****
Service ****
Join our new commenting forum
Join thought-provoking conversations, follow other Independent readers and see their replies