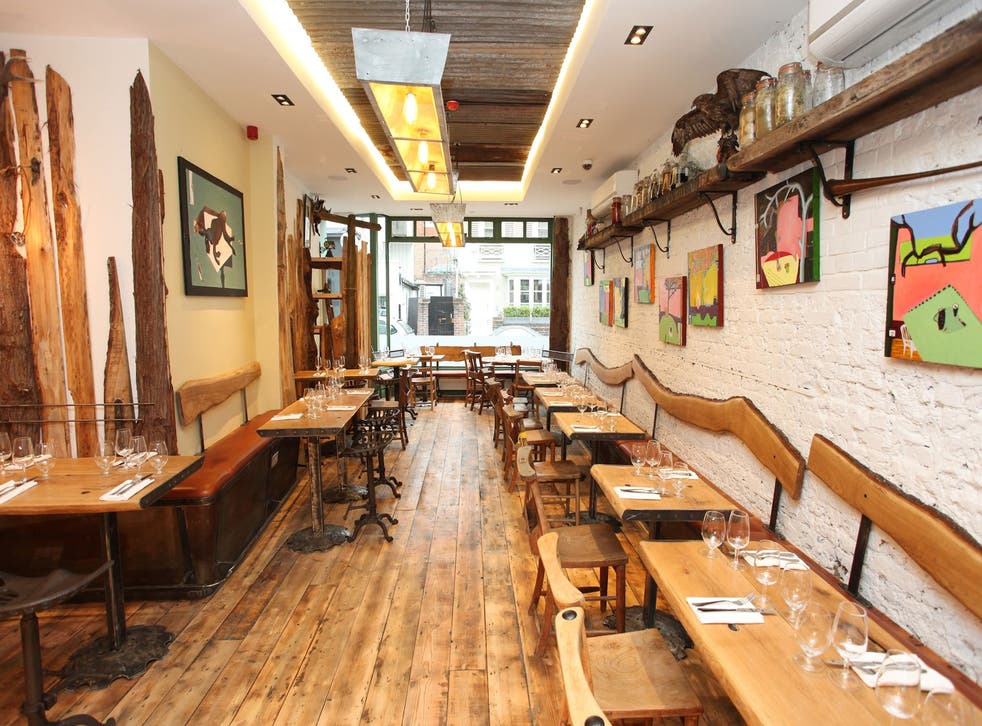 Rabbit, restaurant review: The Gladwin brothers are bringing ingredients direct from their Sussex concern to west London
172 King's Road, London SW3. Tel: 020 3750 0172
You must remember that bit right at the end of Cider with Rosie, when Laurie Lee loses the last shred of his innocence by drinking, well, cider with Rosie. As Lee himself puts it: "Never to be forgotten, that first long secret drink of golden fire, juice of those valleys and of that time, wine of wild orchards, of russet summer, of plump red apples, and Rosie's burning cheeks. Never to be forgotten, or ever tasted again."
This is the sort of passage often given to GCSE or A-level English literature students, not only because they're fantasising about losing their own innocence, but because the metaphors are so accessible, the senses so easily tickled, that even their addled teenage brains can grasp what Lee is getting at. Sex apart, it's about nostalgia for childhood and the enchantment of rural England, which add up to a bucolic scene.
That is exactly what the Gladwin brothers – farmer Gregory, chef Oliver and maître d' Richard – have set out to recreate at both The Shed in Notting Hill, their first restaurant, and Rabbit, their second, in Chelsea. "Sustainable ingredients and wines from the family farm in Sussex are served in a bucolic space," their website declares. The whole place reeks of nostalgia, country bumpkinery – and cider with Rosie. Chairs are made from tractor seats, tables from oaks blown down in a storm, and rural paraphernalia is dotted around the room. It feels like an invitation to the Gladwins' childhood home – and if this is how it was, I'm jealous.
I imagine they ate splendidly, too, because the food at Rabbit is varied, skilful, comforting and memorable. There are four mouthfuls to start, each £1.50. The mushroom Marmite éclair with confit egg yolk wins over even a Marmite-hater such as me, because the egg is so rich and full of iron flavour; the "brown crab bomb" comes with a dulse mayo – dulse being a purple sea lettuce – which is marvellous; then there's endive with goat's cheese, pear jam and hazelnut. But better than all the others put together (not literally) is a woodcock pâté with quince and smoked potato. The potato has a warming, autumnal aroma, and the pâté is oh-so-smooth and meaty.
The heart of the menu is split into fast and slow cooking, although this doesn't seem to have a huge bearing on the prompt rate at which the food is delivered. The fast dishes include a tempura duck liver, perfectly done, with red-wine lentils, bacon jam, peppercorn and lovage, for £8. There's too much peppercorn, and the bacon jam is lost in a flood of lentils, but this is a good dish that, with a tweak, could be superb. Similarly, the hake with a vinaigrette made from lemon and potato, sea spinach, mussels and dill oil is very creative, but at £14, I expect a lot more hake.
Three dishes that I can't fault, however: the Nutbourne lamb with onion squash (which is sweet and moreish), sunflower seeds, honey and mint (£12); and, from the slow menu, a veal hotpot with malt, shallot and garlic; and stout-smoked mackerel with ironbark pumpkin, cranberries and black cabbage (both amazing value at £8). This final dish is emblematic of the whole place. To give mackerel, which can be slippery at the best of times, the tough, malty flavour of stout, and to throw plump, juicy cranberries against crunchy, sweet cabbage, is an inspired idea.
Even the desserts lay on the nostalgia pretty thick. What sweet offering do you most associate with your childhood? For me, it's Viennetta; here it's done as a parfait (£6), and it's delicious. The apple pie with caramel-vanilla ice cream (dear at £8) and exquisite rhubarb with milk ice cream, dulse and bay-leaf ice (£6) are both flawless.
Cocktails and cheeses are on offer, too – and, in keeping with the rest of the menu, affordably so. Wines made from the brothers' own Chardonnay and Pinot noir grapes grown in West Sussex include the award-winning Nutbourne fizz, Nutty Brut (£11 a glass).
Word has it that King's Road residents have felt let down by the restaurant trade in recent years. Rabbit will cheer them up. You have to be very rich to live round here, but if you're looking for a country escape that won't break the bank and will awaken fond memories of innocent, lazy summers in the sun, this is it.
8.5/10
Rabbit, 172 King's Road, London SW3. Tel: 020 3750 0172
Four more things I've been eating this week
Lamb kofta
I had some of these in Heathrow last week. Served with roast potato, tomato and aubergine. They were horrible.
Naked bars
If I'm detoxing – which I am right now – I gorge on these. Made of dates and cashews, they're low in calories, high in taste.
Nigel slater's Chocolate and hazelnut cake
My dear mate Alice made this. Then my dear wife did. Best cake I've ever eaten. Twice.
Ham and cheese panini
I had one of these in a dark moment at a Pumpkin café in Norwich station. Greasy… and delicious.
Join our new commenting forum
Join thought-provoking conversations, follow other Independent readers and see their replies