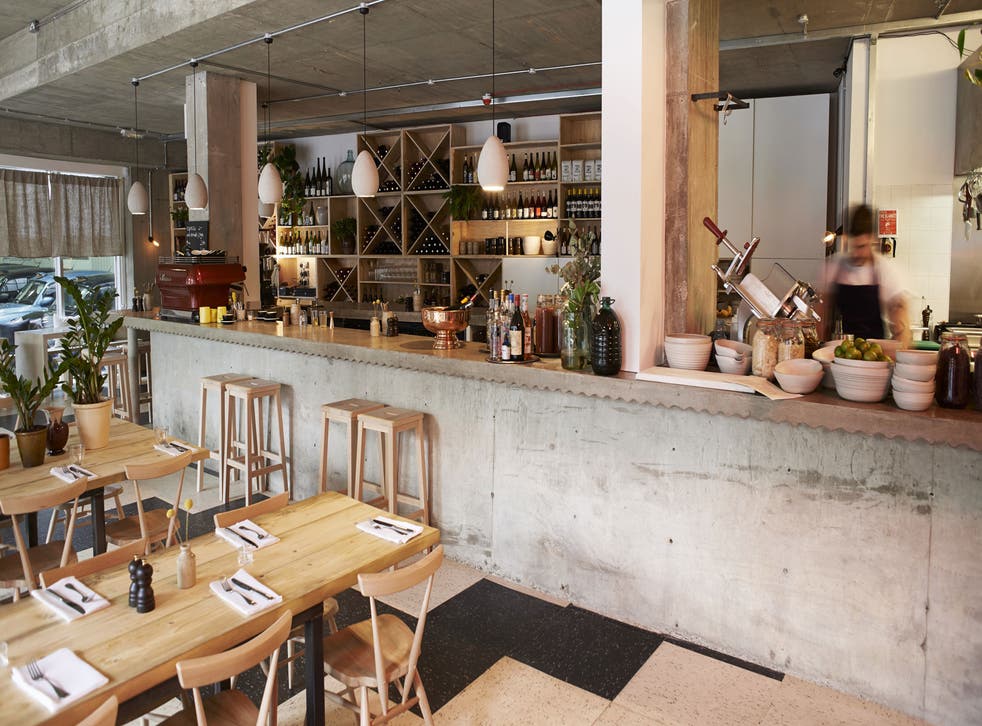 Raw Duck, restaurant review: Sister venture of Soho's Duck Soup is bigger and bolder
197 Richmond Road, Hackney, London E8 (020-8986 6534)
Things don't start promisingly at Raw Duck. As our waiter shows us to our table, he says, "Here you are, gents". Come on, fella, we're in Hackney. If I was a man, surely I'd be sporting a beard? Still, there's a chap at the bar wearing ankle-grazing culottes, so the confusion is forgivable.
Raw Duck is the sister restaurant of Soho's Duck Soup, only it's bigger, bolder and a lot more... raw. An earlier incarnation had to be demolished soon after opening, when the building subsided because of nearby construction work. Now it has reopened in new premises hard by London Fields, looking like the canteen of a brutalist architectural practice.
The walls and ceiling are fashioned from monumental slabs of poured concrete and the furnishings, including long wooden refectory tables, seem to have been banged together from MDF. One wall is filled with a hugger-mugger display of wine bottles and pickling jars, and someone has done an emergency run to the garden centre, but it still looks as though the set dressers have arrived before the builders have signed off. "It's quite lo-fi, isn't it?" ventures my guest, who likes his creature comforts.
There's more comfort to be found on the menu, which bears the signs of a wildly curious chef with a lot of time on his hands. It starts all Nordic/Japanese, with various on-trend pickles and ferments, and swings by some interesting cheese and charcuterie 'by the gram'. Then we're heading south for the main dishes, or 'plates', which brim with good things from the Mediterranean and Middle East-spiced lamb ragu with friggitelli peppers and ditaloni, reads a typically gnomic example. Many of the dishes bounce between food cultures, apparently at random, as in 'smoked trout with salted coconut yogurt and freekeh'.
An assortment of ferments and pickles jump-starts the taste buds. A blast of concentrated flavour from pickled daikon and ginger; feisty, fermented white cabbage popping with caraway seeds, and the sweet-sharp relief of mildly cured cucumber with slippery, saturnine kombu.
They may read complicated, but most of the dishes that follow are fairly straightforward, focusing on a single ingredient intriguingly spiced and sauced. Leg of lamb comes sliced thin and grilled crisp and smoky, then bashed about by the one-two punch of cumin and preserved lemon, and the nutty crunch of toasted almond flakes. Cauliflower fritters, pakora-like puffs, are cleanly fried and perfect for dipping into a cucumber yogurt warmed with a breath of curry leaves.
A hint of orange zest lifts a salad of air-dried beef and buttermilk-dressed iceberg. Curls of fried squid marry happily with an oil tingling with Szechuan peppercorns. Buttermilk fried chicken comes with a fermented soy and chilli sauce that inhabits a new taste category, somewhere between umami and ooh-pour-me-some-water. So enthusiastic is our waiter, bouncing up at regular intervals, to make sure we're loving it all, that we don't feel we can leave a morsel.
When he tells us reverently that the Shaker lemon pudding "uses every part of the lemon", he ignores my friend's cackled "Even the penis?!". He's probably still recovering from Gents-gate. That pud is a wonderful thing, though, like an apple pie refitted with nubbly lemon curd, and piled with clotted cream.
The slight feeling of having fallen into the hands of a cult of wild-eyed fermenters is reinforced by the drinks list, which focuses on natural, untreated wines (all unfamiliar to us). We consult the sommelier – actually, let's call him the drinks guy – and enjoy his recommendation, Brut and the Beast from Piedmont, which falls between prosecco and cider.
Also worth trying is Raw Duck's drinking vinegars made with seasonal fruits. We guzzle a strawberry vinegar, fruity and mild with the gentlest hint of acidity, and immediately order a watermelon, which is a bit more pondy.
The polished cement table and unforgiving seating don't make it too tempting to linger, but our meal is done and dusted unexpectedly early, so we ask for dessert wine. A request greeted by the Fermenters with apparent confusion. What will they want next? A tablecloth? An ashtray? A crêpe Suzette? So we settle for a digestif of enhanced vermouth, and it works very well.
If I've made Raw Duck sound odd, well, it is a little. But good odd, interesting odd. It's a restaurant built from enthusiasm and curiosity, and there's a friendly, welcoming feel to the place, with a much more mixed, all-ages crowd than is customary in these parts. With bookable tables (albeit shared with strangers) and all-day opening, it's a user-friendly entry point for anyone curious about the new wave of London restaurants. Slightly cultish, perhaps, but it's a cult that seems happy to welcome new members, young or old, ladies or gents. Or a little bit of both.
Food ***
Ambience ***
Service *****
Raw Duck, 197 Richmond Road, Hackney, London E8 (020-8986 6534). Around £30 a head, before drinks and service
Register for free to continue reading
Registration is a free and easy way to support our truly independent journalism
By registering, you will also enjoy limited access to Premium articles, exclusive newsletters, commenting, and virtual events with our leading journalists
Already have an account? sign in
Register for free to continue reading
Registration is a free and easy way to support our truly independent journalism
By registering, you will also enjoy limited access to Premium articles, exclusive newsletters, commenting, and virtual events with our leading journalists
Already have an account? sign in
Join our new commenting forum
Join thought-provoking conversations, follow other Independent readers and see their replies