Red House, 2 Elystan Street, London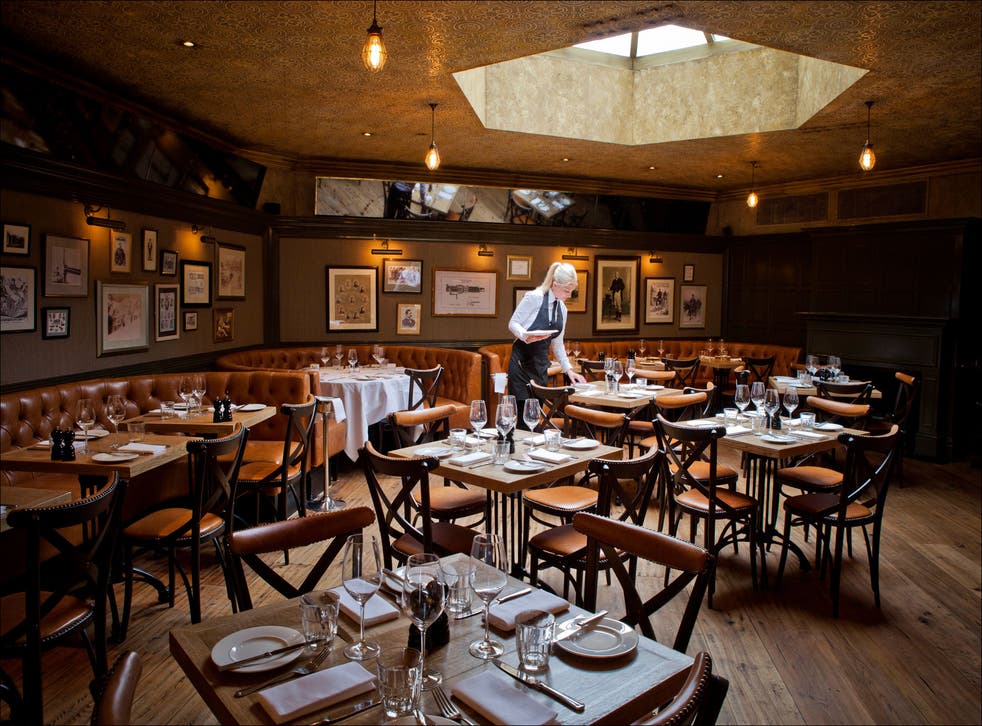 The American invasion of London continues. It seems only yesterday that Keith McNally opened a simulacrum of his New York brasserie Balthazar, to reviews that found the food pedestrian. The Shake Shack burger franchise will soon explode upon Covent Garden, along with the Bubba Gump Shrimp Co in the Trocadero, Piccadilly, while the hip New York hotelier André Balazs will open a new joint with a fancy grill in Marylebone. Soon you won't be able to move in London for luxuriantly-priced USDA steaks, seafood platters and ingenious deployments of quinoa.
The latest Stateside chef to arrive is John De Lucie, a founding chef at the deeply-admired Waverly Inn (co-owned by Vanity Fair's Graydon Carter) in Manhattan's West Village. He's taken on the Markham Inn, located in a lovely Chelsea square, and re-opened it as "a New York-style bistro with some English influences".
The décor is resplendently ersatz, as if several photo-shoot styles have been picked from a catalogue and bolted together. There's the Gentleman's Club look (button-back banquette, portraits of old soldiers), the Ale House look (wooden floors and tables, leather-and-nail chairs), the Ship's Cabin look (dark wood panelling, dome to the stars) and the Royal Society look (ancient maps, 18th-century drawings of air balloons). It's very butch and masculine.
My wife, who has an eye for these things, noticed the maître d' was wearing slim-leg chinos rather than the baggy ones. "This place," she said, "is the skinny-leg chino of London restaurants. Strenuously cool and young." The clientele fitted her description. A quartet of groovy young things flirted and brayed like the cast of Made in Chelsea. Nearby, a loving couple interrupted their conversation every 10 minutes to give each other an urgent tongue sandwich, like mid-course palate-cleansers.
The menu revealed that Manhattan restaurateurs have odd notions about what constitutes supper. Instead of bread, they give you a homemade scone: fine at teatime, not at dinner. Among the starters was acacia honeycomb with hazelnuts and toast. Toast and honey to begin with, guaranteeing you won't eat anything else? An alternative was a plate of 'farmstead English cheeses'. I know Italians sometimes have cheese antipasti – in England, it feels like you're eating dinner back to front.
Angie's organic kale and rocket salad yielded up sliced green apple, cashew nuts and a tahini dressing, a terrific combination for the egregiously health-conscious. My Spanish octopus was contrastingly decadent. A fat, near-blackened octopus tendril curled round the plate like the alien in Alien, its burnt suckers like hideous vertebrae, its tail whorled and Satanic. It tasted fine, but its delicate flavour was overwhelmed by chorizo and (unannounced) capers. And why serve sauté potatoes in a starter course?
The octopus starter was £14, the kale salad £9. Were the Yanks, as we say in London, having a laugh? When we saw the price of the pasta dishes, we tried one out of curiosity. 'Silk handkerchiefs' is a white-meat-only (pork and veal) bolognese costing £19. "We make our own pasta," explained our perky Polish waitress, Marlena, "and some of the meat is flown in." Angie plumped for spaghetti alla vongole, featuring razor clams, courgettes, agretti and chilli. It cost £21 and was an unmitigated disaster.
I couldn't believe the gloopy, gummy, grey dome of grot that was plonked on Angie's plate. The pasta seemed to have been cooked in an oversalted, dishwatery veggie broth. The seafood, such as it was, didn't come on shells. This was like no vongole dish I'd ever seen; to charge £21 for it bordered on insult.
The manager, Jack, was charming, offered to replace it, and fast-tracked Scottish salmon with spring vegetables to our table. It was OK, but the moment of gustatory bliss had passed. My onglette steak was nicely done, tender and soft, sliced in the Tuscan tagliata style, drizzled with pesto and served with shaved fennel and fries: fine, though hardly demonstrating much cuisinal skill.
We shared a rhubarb and ginger tart, in which the rhubarb had been poached too long, coffee for which the phrase 'full-bodied' would not be accurate, and a slug of pudding wine, Moscato d'Asti, that was like Appletiser.
I wish I could welcome Mr De Lucie more heartily, but after trying his eccentrically paced, uncertainly flavoured and wildly overpriced food, I'd rather dine in the Café Rouge than Maison Rouge.
Food **
Ambience ***
Service ****
Red House, 2 Elystan Street London SW3 (020-7581 9139). About £150 for two with wine
Register for free to continue reading
Registration is a free and easy way to support our truly independent journalism
By registering, you will also enjoy limited access to Premium articles, exclusive newsletters, commenting, and virtual events with our leading journalists
Already have an account? sign in
Register for free to continue reading
Registration is a free and easy way to support our truly independent journalism
By registering, you will also enjoy limited access to Premium articles, exclusive newsletters, commenting, and virtual events with our leading journalists
Already have an account? sign in
Join our new commenting forum
Join thought-provoking conversations, follow other Independent readers and see their replies