Reform Social and Grill, Mandeville Hotel, Mandeville Place, London W1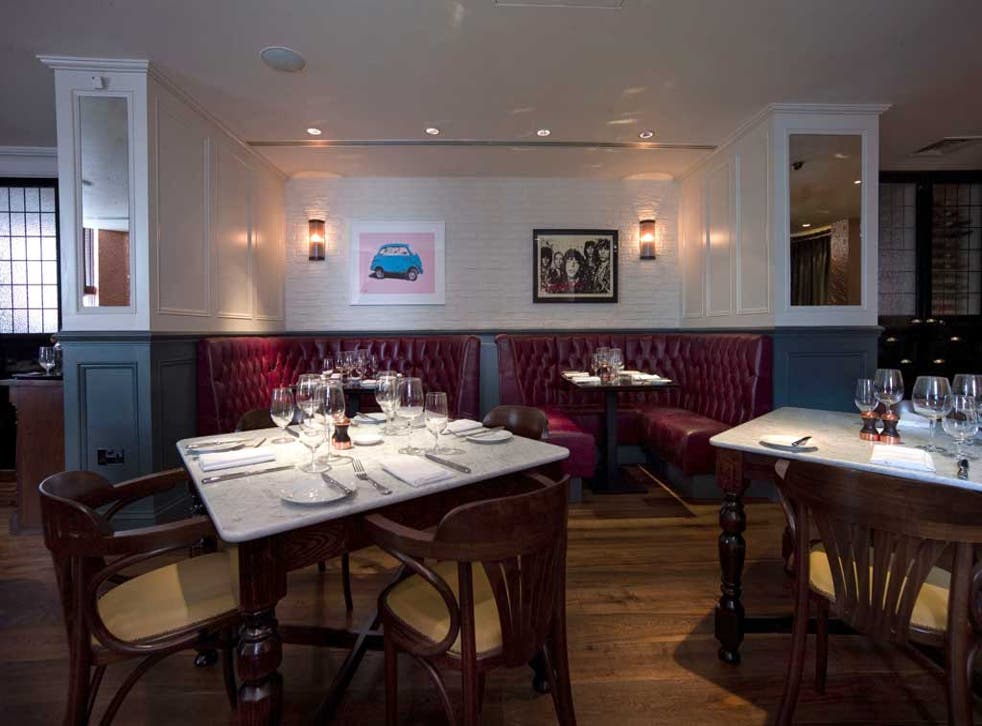 Did you think that gentleman's-club dining – Brown Windsor soup, game-heavy main courses, "savoury puddings" like Welsh rarebit, a "roast" that's carved, table-side, from a carcass on a silver trolley by a chap who expects a tip – had gone the way of the bowler hat and the maiden aunt? You'd be wrong. While Jeremy King and Chris Corbin are reintroducing the Mitteleuropean grand café concept to London (with the Wolseley, the Delaunay and now Brasserie Zédel) others – from Mike Robinson to Mark Hix – are breathing life into traditional club grub.
The Reform Social and Grill has nothing to do with the club in Pall Mall; it just wants to borrow its elderly glory. Housed in the Mandeville Hotel, in what used to be the DeVigne Bar, it's a dream of gruff male camaraderie, with its button-backed leather sofas, marble-top tables, a huge clock at one end that suggests a station waiting-room and a menu presented in circus handbill typefaces.
I rather like this effortful image-making. I certainly liked the old-fashioned attentiveness of the French cocktail barman who made a fabulous Cîroc vodka martini, while my friend Simon, a slave to fashion, floored an Aperol Spritz, that trendy orange aperitif that tastes of weak Campari and looks like Tizer.
To emphasise the gen-yew-ine Englishness of the place, the menu name-drops a dozen local suppliers, all the names suspiciously Hardy-esque and characterful: Brancaster pea and broadbean soup, Thornby Moor goat's-curd salad, Blythburgh pork chop and something called a Wealdway Ashed Goat Log, which turns out to be an artisanal cheese from Sussex. Even the snails are from Herefordshire. I suppose if they hailed from Orpington, they wouldn't hold half the menu-appeal.
Clubland aficionados will hail old favourites like crab tart, sardines on toast, lamb cutlets and Eccles cakes – but will the horde of foreign visitors who invade Mayfair in the next few weeks? Is Englishness enough of a selling proposition? I ask because, when Simon and I dined there, we dined alone. There wasn't a soul in the place at 8pm on a Tuesday. Solitary dining isn't fun. Dining without any neighbours isn't a lot better. "However sparkling the company or brilliant the food," said Simon severely, "if you're the only people in the place, you could be in Garfunkels." We reflected that, if you're opening a restaurant in the middle of the most alfresco-tastic street in England (James Street), around the corner from the platinum-grade eateries of Marylebone High Street (Roganic, Orrery, Providores), you need to sell your wares more vividly than the owners are doing.
Because there's nothing wrong with the food, even if it's a little hit-and-miss. My Duck Scotch Egg was heaven, the duck egg's creamy yolk creeping like sunrise across the rough casing of black pudding and oats. I finished both halves feeling as though I'd consumed an epic breakfast. A mini-bowl of apple sauce was redundant, though. I mean – apple with egg? Simon's Cornish mackerel lacked plumpness and excitement, but its accompanying army of squid roundels was slightly and tantalisingly smoked, and blended well with sea pickle and watercress.
I had to try the Lamb Cutlets Reform, just to see how closely the chef stuck to tradition. Alexis Soyer, the Jamie Oliver of the 19th century, invented this sweet-and-sour number at the original Reform Club. It's lamb cutlets in breadcrumbs with ham hock and black truffle, and a sauce of ham or tongue, beetroot, gherkins, egg, vinegar and redcurrant jelly. How was it? The cutlets tasted bland inside their little shrouds of breadcrumbs, but a battle raged on the plate between the accompanying ham hock lumps (yummy), a slimy helping of beetroot (horrible), and some ox tongue that hadn't been on the menu. "Finding an unscheduled ox tongue in your dinner," said Simon darkly, "is like finding an unscheduled Paul McCartney at your Springsteen concert." His Megrim, or scaldfish, sole was simply and deliciously grilled with capers and a jug of melted butter for pouring. A side-order of Sweet Hart cabbage was piquantly tickled with chilli, garlic and sage.
Puddings here are pretentiously divided into "Puddings" (sticky toffee, summer, bakewell) and "Desserts" (tarts, trifle, cakes, choc pot.) Simon fell with delight on the Bakewell pudding, the authentic Derbyshire progenitor of the down-market, Mr Kipling-esque, Bakewell tart. "I worked in the market in Bakewell in the hot summer of 1976," he said, misty-eyed, "and I can confirm this is completely authentic and very good. Almond pud with choux pastry. And no cherry." My Vanilla Blamanche [sic] was a loose-textured buttermilk panna cotta, tricked out with Pimms and strawberries garnished with cucumber flecks; lovely, but too runny for puddingy bliss.
There's a lot to relish in this protein-heavy, clubby slab of Olde England. But the management has its work cut out in bringing its delights to public attention.
Reform Social and Grill, Mandeville Hotel, Mandeville Place, London W1 (020-7224 1624)
Around £120 for two with wine
Food ***
Ambiance **
Service ***
Tipping policy: 'Service charge is 12.5 per cent discretionary. All tips and service charge go to the staff'
Side orders: True Brits
Fitzbillies
The British grub on offer at this recently restored beloved local cake shop cum restaurant includes rabbit leg with saffron and almond gravy with mash (£16.40).
51-52 Trumpington Street, Cambridge (01223 352 500)
Rules
Roast pigeon with lettuce, peas and bacon (£27.95) is a typical dish at this atmospheric, quintessentially British eaterie.
35 Maiden Lane, London WC2 (020-7836 5314)
Humphry's
Chris Wheeler's cuisine at this restaurant at the stunning Stoke Park Country Club includes oven-baked loin of lamb with mini shepherd's pie and redcurrant sauce.
Park Road, Stoke Poges, Bucks (01753 717171)
Register for free to continue reading
Registration is a free and easy way to support our truly independent journalism
By registering, you will also enjoy limited access to Premium articles, exclusive newsletters, commenting, and virtual events with our leading journalists
Already have an account? sign in
Register for free to continue reading
Registration is a free and easy way to support our truly independent journalism
By registering, you will also enjoy limited access to Premium articles, exclusive newsletters, commenting, and virtual events with our leading journalists
Already have an account? sign in
Join our new commenting forum
Join thought-provoking conversations, follow other Independent readers and see their replies