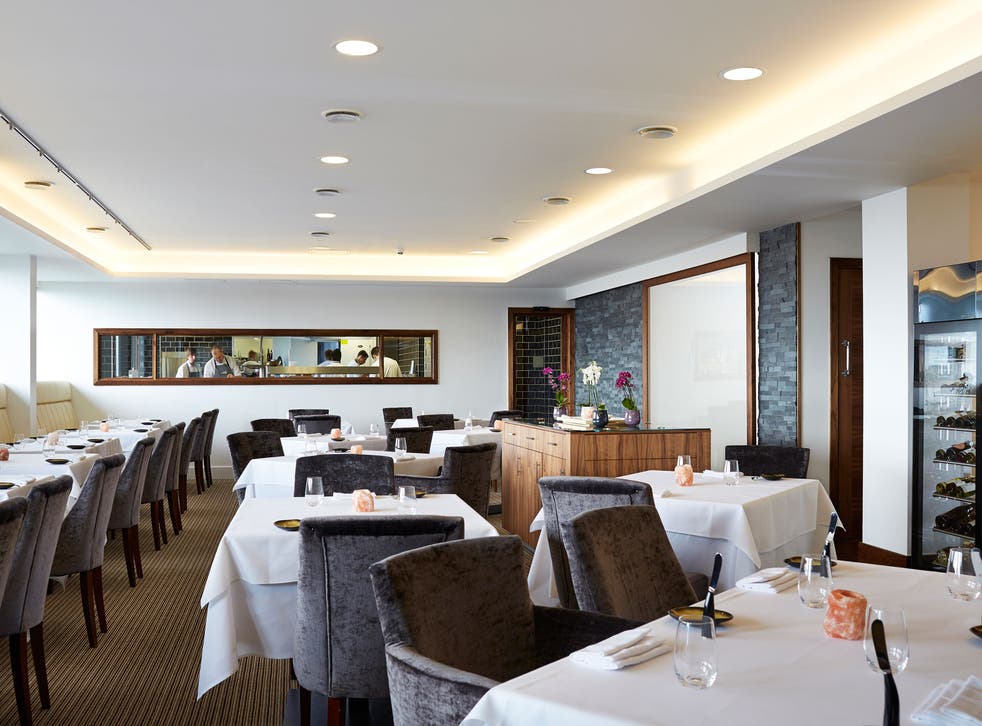 Restaurant James Sommerin, review: 'If foam blew in off a passing wave they'd put it on the menu and call it espuma'
The Esplanade, Penarth, Wales (029 20706559)
I've written about a fair few seaside restaurants on this page over the years. Jolly, family-friendly brasseries in shabby-chic hotels. Spartan oyster-shacks with Long Island pretensions. Architectural eyries suspended over cliffs, from the south coast to St Andrews. But I've never eaten in a seaside restaurant anything like Restaurant James Sommerin.
Like an Edwardian family group perched formally on deckchairs, fully hatted, suited and button-booted, Sommerin sits by the pier at Penarth, resolutely ignoring the fact that it's on the beach. You can sample various high-ticket tasting menus, all available with paired wines for twice the price. But anyone drifting in after their last swim of the day hoping for a glass of wine and a bite to eat will leave disappointed.
Turning its back on the picture postcard view of the Severn Estuary, the restaurant has made the kitchen the star of the show. Tall banquettes obscure the view on the sea-facing side, leaving just a tantalising glimpse of the horizon. Instead, the diner's view is directed to the kitchen, visible through a snazzy window, showcasing local-boy-made-good, chef-proprietor James Sommerin,
Sommerin emerged as a serious talent as head chef of the Crown at Whitebrook, winning and hanging on to one of Wales's few Michelin stars. When the Crown closed suddenly last year due to financial problems (it has since reopened under new management), Sommerin vowed to stay on in his native Wales.
He resurfaced this May, after a build lengthy enough to rival the nearby Millennium Centre, in a purpose-built restaurant in the genteel resort town of Penarth, a bracing walk over the headland from Cardiff Bay. Restaurant James Sommerin sits in a colourful Balamory-ish terrace, and is intended to operate as a restaurant with rooms, though the rooms aren't ready.
It's hard to imagine much crossover between day-trippers and RJS's clientele. The website says the restaurant is 'relaxing', but it lies. Diners are dressy, and the room is a tribute act to Gordon Ramsay-era fine-dining smoothery; grey-ochre walls, crushed-velvet bucket chairs and a glass-box private room. If a grain of sand crossed the threshold, they'd whip the Dyson out. If some foam blew in off a passing wave they'd put it on the menu and call it espuma. And whatever caused the delays in opening, it clearly wasn't the fussing of a lighting designer. The place is as viciously bright as a call centre.
At dinner it's tasting menus only. Of the three on offer, we go for the cheapest, at £55 a head for five courses. It begins with three amuses – truffled arancini, cheese gougères which yield to the bite with a puff of air, and a set sweetcorn custard punched up with smoked haddock and a crunchy bacon – all so fleetingly delicious, we mourn their passing as we eat them.
The butter which comes with straightforwardly good bread is served on a stone, but otherwise there's no nod to the local in the imaginative and intricate dishes which follow. There's a quiet reliance on the technical – a horseradish snow which comes with miso-dressed mackerel and salted cucumber, a grassy wild garlic foam with crisp little tarragon gnocchi – but it's always used to enhance and intensify flavour, rather than to show off.
Braised pig's head, almost rillettes-like in its softness, comes with a filigree of crisp pig's ear, like a pork scratching crafted on a jeweller's bench. Sauces are dotted, microherbs tweezed, but there's real earthiness and depth to a dish of poached and seared chicken breast and pinenut purée, anchored by a terrific truffle-infused gravy, like all your Sunday dinners come at once.
Desserts – one riffing on a strawberry theme, the other a celestial assembly of almond sponge, sour-sharp poached apricot and salted-caramel ganache – are first rate, though we're flagging by the petit fours.
And there's the problem. What if we don't want two desserts? This kind of we-know-best formality, the ritualistic solemnity – sauces poured from height, guests ushered into the kitchen to meet Chef at the end of their meal – just feels so at odds with the jaunty seaside setting. Sitting down, you see deferential waiters lifting bell jars to release swirling smoke. Stand up, and a romantic Jack Vettriano scene rises from behind the banquettes, fairy lights slung in front of the art deco pier, and lovers embracing against a pinky-blue sunset.
Maybe RJS will make more sense when the bedrooms open, and foodies can plan a pilgrimage. But it feels like the place is missing a trick by not engaging with the passing crowds. Nobody's saying Sommerin should put on a kiss-me-quick hat and start serving fish and chips; he's too talented for that. But he won't create a wonderful restaurant unless he loosens up, throws back the curtains and embraces his location.
Food ****
Ambience **
Service ****
Restaurant James Sommerin, The Esplanade, Penarth, Wales (029 20706559)
Lunch: from £27
Dinner: from £55 for five-course tasting menu
Join our new commenting forum
Join thought-provoking conversations, follow other Independent readers and see their replies