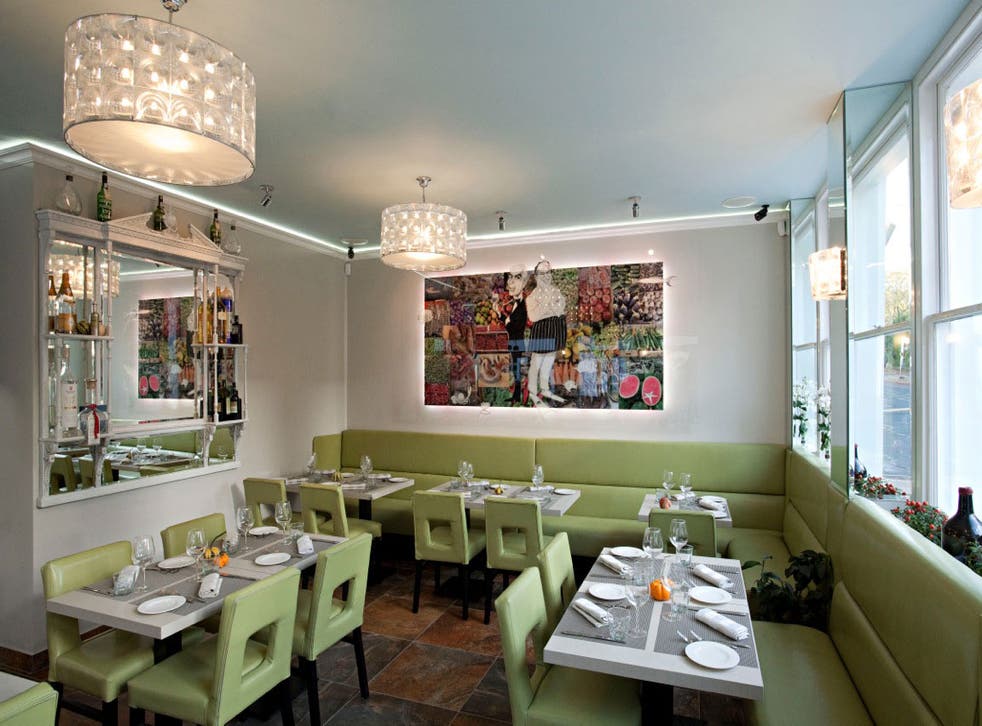 Restaurant review: Ballaro - an offer you can't refuse
Could north London's Ballaro be the capital's best Sicilian?
See-cilly, as the natives call it, has a special claim on my affections. It was there that, last year, I first had intimations about my day job, which, believe it or not, goes beyond visiting nice places to eat. It was this sepia island that gave us the mobster culture which, translated into film in the 1980s and 1990s, made for my favourite cinema. And after the cricket and Mario Kart, the pastime that most occupied me as a child was chess, in which I set out to master something called the Sicilian Defence.
This move comes when white opens with his king pawn (or e-pawn) and black responds with his c-pawn, countering a king-side offence with a queen-side defence. Gary Kasparov favoured this method when defeating Nigel Short for the world title in London in 1993. That event was what got me going.
Since that visit last spring, I've fallen for Sicilian food, an intensification of the mainland's cuisine that bears the heavy imprint of Arab occupations and which, until recently, has not been very easy to come across on these shores. All of which made the opening of Ballaro very exciting. It is perched beside a hotel in Belsize Park, an area economically, morally and geographically in between Camden and Hampstead. The décor is curiously un-Italian, with bright white light, lime-green sofas, and a maze of doors into the toilets that makes it hard to know where you are meant to relieve yourself. But the service is sublime, and the food not far off it.
Each of the waiters is dressed in pressed white shirt, black waistcoat, and black beret. They tend to have carefully decorated facial hair, such as our chap with the shaved, pencil-thin band of hair marking his jawline. He is from Florence, having grown up in Naples, and has an accent so thick we half imagine he'll break out of it in a second, shout "Only kidding!" and reveal himself to be called Joey, from Essex. But it turns out he is the real deal, so we follow his recommendations, ordering each one.
There are six antipasti options, including a tomato salad with grapefruit, fennel, red onion and "Sciacca anchioves [sic]" (£8.50), referring to a town in the south-west of the island. This is fresh and near faultless: the grapefruit appears to be tinned. A trio of salmon, tuna and baccala (salt cod) comes with perfectly cooked quail eggs and pomegranate (£13.50), the snap and juice of the fruit making a lovely foil for the fish. The deep-fried squid with chilli-and-lime mayonnaise (£11.50) puts crisp and smooth textures together without too much grease, but a weird little accompaniment of chickpea pancakes has got me thinking. These are small, about 12cm squared, and tasty like chewy, hummus-flavoured flatbreads. Fine, but what have they got to do with squid and mayonnaise? They are the antipasti version of an asylum seeker, warmly welcomed in but never fully at ease.
There are six dishes under "La Pasta". A celeriac soup with truffle oil and rosemary crostini (£8.50) is too thick, but full of strong flavours working in harmony; and something called a ricotta gnudi – in between pasta and gnocchi – is made good by saffron-infused pecorino and pistachio nuts (£11.50).
Four fish and five meat dishes then take the menu up a level. A sea bream marinated in paprika and orange, with lentils and Savoy cabbage (£15.50), is moist, aromatic and delicious; and a rack of lamb with pumpkin, braised radicchio and mint yoghurt sauce (£19) has my mate Zahra – who studied Arabic, is marrying an Italian, and cooks like a dream – purring with joy. Of an excellent set of sides, each £4, the signature caponata is the best.
At this point the head chef, Carmelo Carnivale, comes over. He used to be head chef at Novikov. "Sometimes I burn myself on the oven," he says, "just to convince the wife I've been working."
He is a talented man, whose rotundity encourages us to order desserts aplenty. These scale new heights altogether, from a pear with ricotta mousse and sesame-seed nougat, to a tiramisu, a chocolate cake with fig sauce and an affogato (all £6). They, in keeping with the man who has cooked them, are generous, intelligent, delicious and very Italian. This could, already, be the best Sicilian in the capital. 1
Ballaro, 154 Haverstock Hill, London NW3 (020 7586 1107). £140 for two, with wine
Rating 8/10
Four more things I've been eating this week
Tropical fruit salad
Two for £5 from M&S, just like the "Mango Madness" selection. Am using them as preparation for my honeymoon to the Caribbean.
Ham & Cheese toastie
At Sager & Wilde in Hackney, east London. Thick ham, melted cheese and succulent gherkin in a divine bite.
Mango dhal
My mother really is the best cook I've come across. This gloopy, rich, fruity dhal with lemon rice was a Christmas highlight.
Christmas pudding
We had a few left over, of which the Waitrose one with chocolate, branded by Heston Blumenthal, was, I'm afraid, the best by miles.
Register for free to continue reading
Registration is a free and easy way to support our truly independent journalism
By registering, you will also enjoy limited access to Premium articles, exclusive newsletters, commenting, and virtual events with our leading journalists
Already have an account? sign in
Register for free to continue reading
Registration is a free and easy way to support our truly independent journalism
By registering, you will also enjoy limited access to Premium articles, exclusive newsletters, commenting, and virtual events with our leading journalists
Already have an account? sign in
Join our new commenting forum
Join thought-provoking conversations, follow other Independent readers and see their replies