Restaurant review: Paesan, 2 Exmouth Market, London, EC1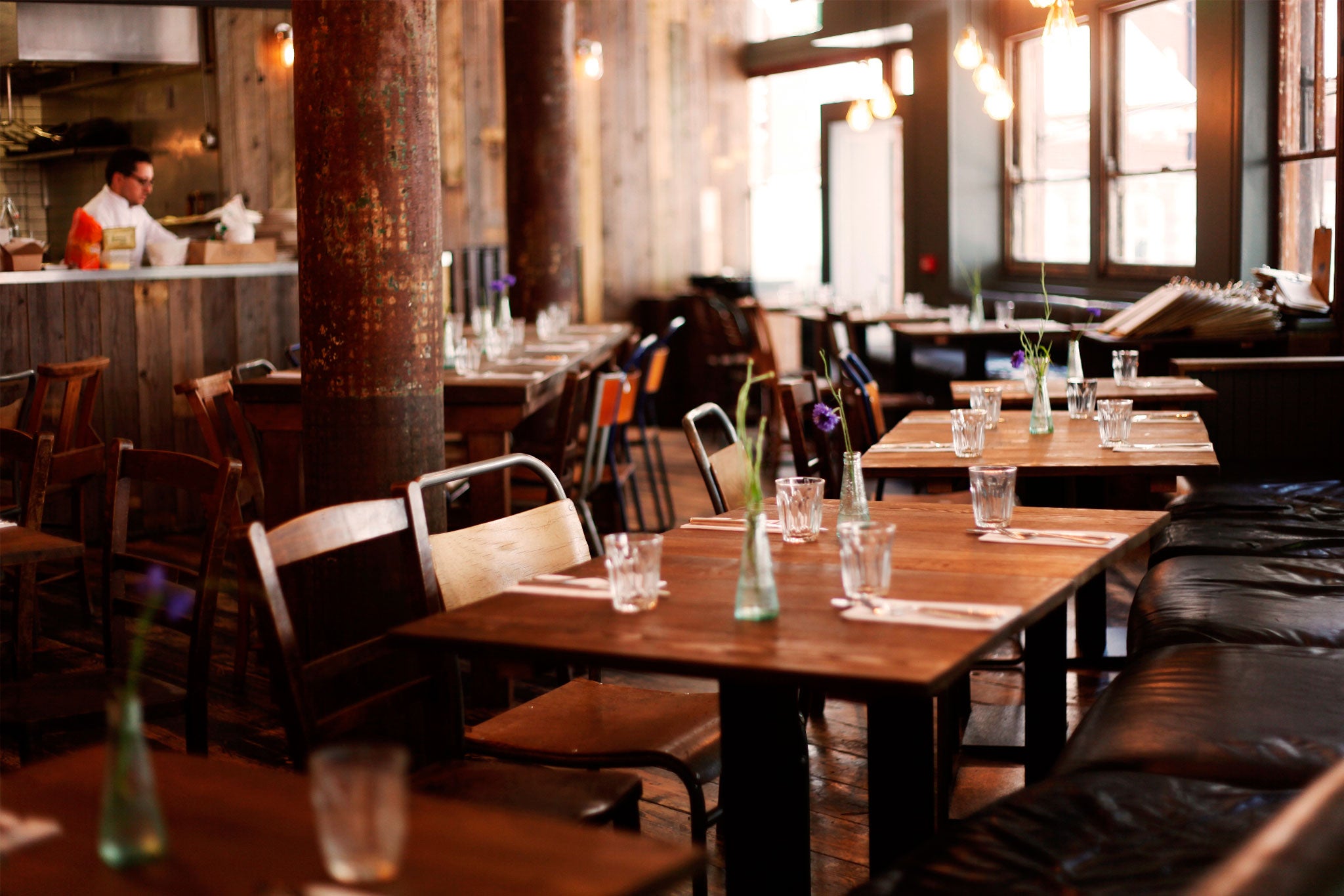 Just how authentically poverty-stricken do you like your Italian supper? Twenty years ago, the River Café introduced us to the concept of cucina rustica, Italian country cooking with its paste-thick bread-and-bean soups, its dark armpitty flavours. Goodness, we thought, these country folk certainly know how to live. Now Paesan, a new north London restaurant, brings us 'cucina povera', which translates, not as 'poverty cooking' but 'peasant cooking'; though its owner, Anthony Brown, founder of the popular Pasta Brown establishment in Covent Garden, steers cautiously around the p-word.
"Cucina povera isn't just a style of cooking, it's a way of life," says Brown. "It's the tradition of sharing great food, from one paesan to another." But what's the food like? It is, we're told, "the tradition of using simple ingredients to create high quality and flavoursome food" – which is, of course, the "tradition" of anyone cooking anything all over the world.
It is a truism that the Italians have no equivalent phrase for 'haute cuisine', and that classic Italian dishes, enjoyed all over the world, haven't changed a lot since Garibaldi's day, except in regional variants. So, in a sense, cucina povera means just 'ordinary Italian grub'. But can 'ordinary' be made to seem sexy?
Paesan, on the corner of Farringdon Road and Exmouth Market, occupies the site that used to be Dollar Grills & Martinis, a place notable for red velvet and chandeliers. Paesan is the opposite. It feels cool and groovy – and oddly familiar. You know the stripped-down London look, all exposed brickwork, acid-bathed wood and distressed-industrial steel stanchions, no carpets or tablecloths, and chairs from a 1950s inner-city classroom? Yeah, that look. At Paesan, they've brought it to a pitch of no-frills blankness. It's an unpretentious place. I was dissuaded from trying the downstairs bar because "the evening's so hot, we've had to close it".
The menu seems like an Italian relative of Rowley Leigh's Café Anglais. There are little mouthfuls of antipasti (salami, lardo, mortadella, peperonata) at three for £11. The Piccolo section of small sharing plates includes the Café favourite of anchovy and Parmesan, but done in breadcrumbed crocchette, very light and piquant; a caponata of burrata and aubergine that's gloriously soft and sensuous on the tongue; and grilled radicchio with a strip of hot cheese and a lovely fruity mostardo, half of which was fine, and half burnt almost black. (I had almost exactly the same in a Rome backstreet a month ago, so I knew it sure as hell was authentico.) The only calamity was the dish-of-the-day whitebait – flabby and inconsequential. Being a wholly English dish, it was a real fish out of water in this Italianate company.
For your main course, you could have a fried mini-pizza, or bistecca tagliata with Parmesan, that dish so emblematic of summer in Tuscany. But I decided the only way to judge a restaurant so keen on 'tradition' was by sampling the pasta. So I had the 'hand-cut' pappardella with braised rabbit ragu and briciole. It was spectacular, the pasta sumptuously perfect, the ragu crammed with rich flavours.
It was, however, just a plate of pasta, that you might possibly make for yourself at home. It didn't look anything special. Nor did my date Gina's roast lamb with fagioli uccelletto, which was a plate of orange borlotti beans and pale roundels of lamb that seemed more stewed than roasted. "This," said Gina primly, "looks as though someone's reached into a cauldron of beans'n'lamb and plonked a ladleful down. It's not refined cookery." She was right. These were dishes from a canteen or from an Italian mamma's kitchen, doled out to her weary peasant family after a hard day plying the zappa in a vineyard. If you want more from a restaurant – more drama, more elegance, more artifice, more of a climax – maybe Paesan isn't for you.
I liked it a lot, however. I liked the buzz of the place, and the wine list (which offers several vintages in half-litres). I particularly liked our waiter, Tobias, a young Welshman with the hairstyle of a medieval Florentine page and a wickedly camp sense of humour. I liked the tiramisu semifreddo – imagine melting slices of tiramisu ice-cream – and the free digestifs of amaretto.
Provided you're not expecting high-drama (or High-Table) Italian food, this newcomer to bustling Exmouth Market will show you a fine time. As the bald geezer in the Ferrero Rocher commercial used to say: Eccellente!
Food ***
Ambience ****
Service *****
Paesan, 2 Exmouth Market, London EC1 (020-7837 7139). About £100 for two, with cocktails and wine
Join our commenting forum
Join thought-provoking conversations, follow other Independent readers and see their replies