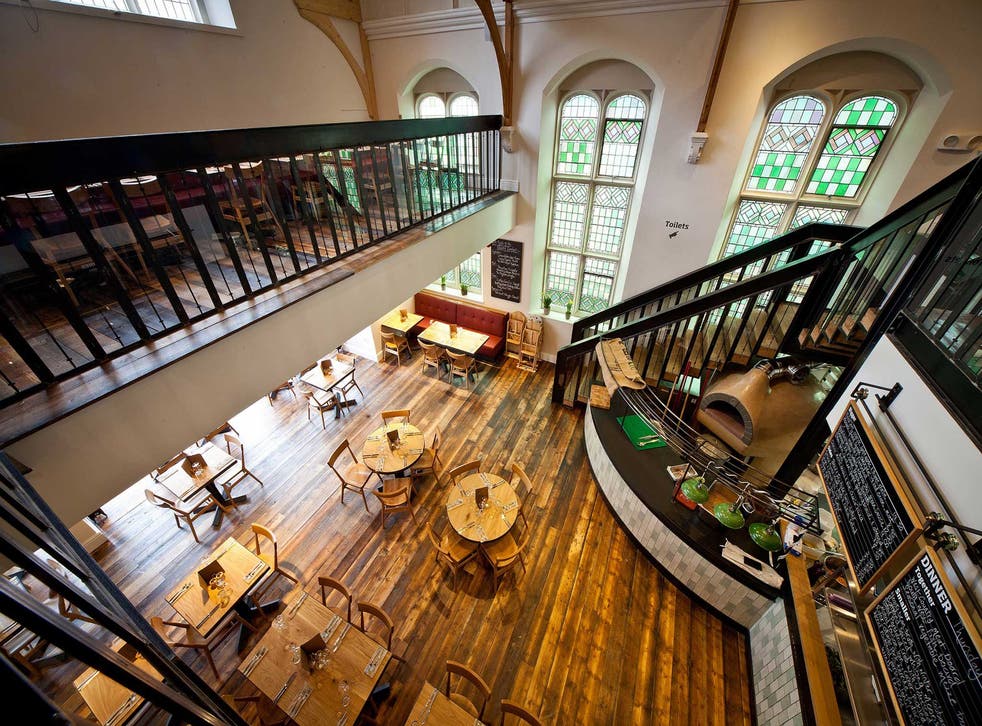 Restaurant review: River Cottage Canteen, St John's Court, Whiteladies Road, Bristol
Tracey Macleod visits Hugh Fearnley-Whittingstall's latest River Cottage Canteen housed in a former church hall in Bristol. But will she be subjected to lengthy sermons about locavorism and sourcing fish responsibly?
Is there a busier man in the food world than Jamie Oliver? He just keeps on giving us new restaurant concepts we don't want, even before we've realised we don't want them. Earlier this summer, he unveiled yet another new diffusion line – Jamie's Italian Trattoria – while simultaneously launching Jamie's Diner, a dude-food-for-rubes pop-up in Piccadilly Circus. He's obviously got some brilliant business minds around him, but even Jamie must worry he's spreading himself as thin as one of his Union Jacks flatbread pizzas.
Meanwhile, Jamie's Channel 4 stablemate, Hugh Fearnley-Whittingstall, has taken a rather different approach to brand extension. Not for him the pell-mell expansion into shopping malls and airports. As you'd expect from an evangelist for the Slow Food movement, his approach has been steadier and altogether more organic.
Building on the values hymned in the various River Cottage series, he opened the first River Cottage Canteen in Axminster in 2007. The mantra – local, sustainable, seasonal nose-to-tail eating – has been trotted out a thousand times by a thousand restaurants, but few have HF-W's credentials to back it up.
A second Canteen followed four years later in Plymouth. And now there's a third, in Bristol's Clifton area, a neighbourhood whose studenty/boho constituency makes it prime River Cottage territory.
The restaurant sits on a busy stretch of the main shopping drag, a traffic-clogged artery that feels a very long way from any rivers or cottages. Appropriately, for the high-minded campaigner known as Saint Hugh, his Canteen occupies a converted church hall, with vaulted ceilings and tall stained-glass windows, and a mezzanine which just cries out for Hugh to appear like a wild-haired prophet, preaching the doctrine of locavorism and denouncing sinners who don't source their fish responsibly.
But the congregation will search in vain for any iconography in this church of Hugh. No pictures, no come-hither blurb on the menu, no mention of him anywhere, apart from a display of books behind the reception desk. The notice boards in this well-scrubbed, ascetic dining room are reserved for the names of the local food heroes – farms, dairies and producers – who have supplied the kitchen.
Some really good things came out of that kitchen when I visited for lunch. Crisp, airy croquettes filled with smoked mackerel whipped to a brandade-like lightness. An enormous fishy sharing platter, terrific value at £12.50, which paired fingers of battered pollock with a punchy gremolata, and smoked trout with a satisfyingly complicated wild rice salad. And – surprisingly enjoyable – a "speltotto", made with pearled spelt, broad beans and Ogleshield cheese. A collision between a risotto and a fondue, with the cheese doing that raclette-ish trick of staying oozily fondant to the last bite, it tasted far better than it looked.
Of course, speltotto sounds like just the kind of worthy gear you'd expect a River Cottage restaurant to turn out; ditto the nettle, chestnut mushroom and chilli sourdough pizza. But the Canteen offers more straightforward crowd-pleasers, too. Chicken pie and mash; pulled pork bap with slaw and chips; mussels, bacon and cider – it's a menu which invites you to fearlessly eat it all. Given Hugh's mission to get families cooking and eating together, the children's menu is also unusually varied, offering grilled whiting and onion bhaji, as well as things you might be able to persuade children to actually eat, like bangers and mash and flatbread pizza.
The only miss was a claggy "clafoutis", not a puffy, fruit-studded batter, more a slab of cold custard with embedded berries. And my guest, the wine-matching guru Fiona Beckett, was disappointed to see the shortish drinks list wasn't doing as good a job for local beers as the Canteen was for local food.
Overall, though, it was an impressive performance. There's no shortage of casual, family-friendly restaurants in Bristol – including an enormous Jamie's Italian on the other side of Clifton – but the Canteen already seems to be preaching to the converted, and was doing good business on a midweek lunchtime.
It may not feel like a place you'd go for a fun night out with friends – it's more somewhere to take the parents-in-law, or the kids for Sunday lunch. But River Cottage is doing most things right. It doesn't go in for long sermons about its sustainable credentials, but they are there in every honest, homely dish. This may be the one celebrity-led restaurant concept which has no room for the cult of personality. The food is allowed to do all the talking, and amen to that.
Food ***
Ambience **
Service ****
River Cottage Canteen, St John's Court, Whiteladies Road, Bristol (0117 973 2458). Around £30 a head for three courses, including service
Join our new commenting forum
Join thought-provoking conversations, follow other Independent readers and see their replies