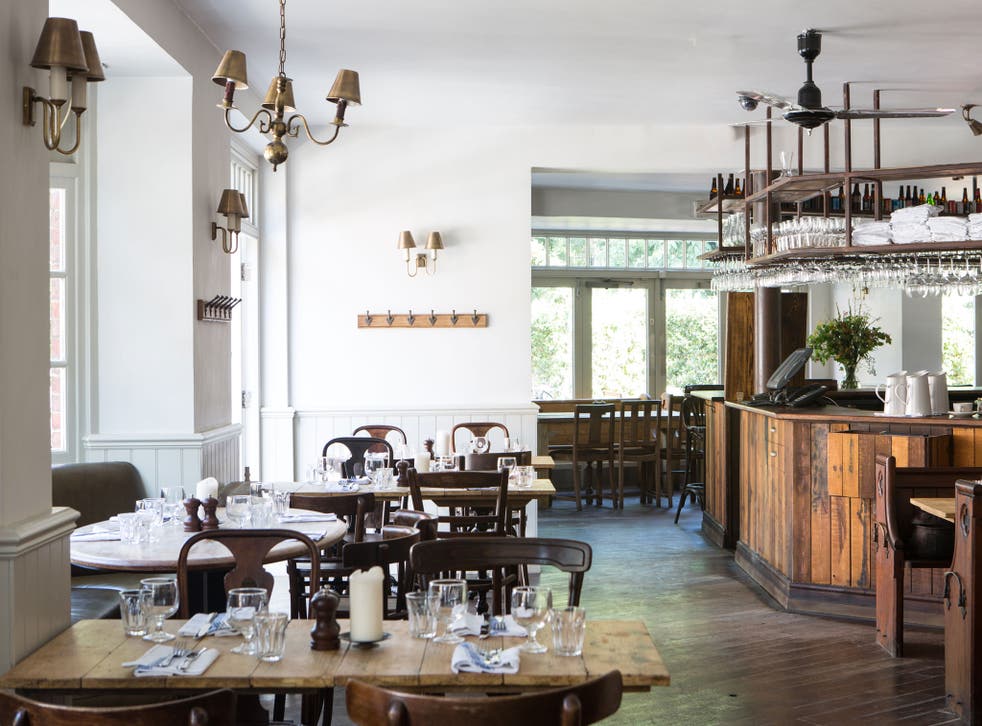 Restaurant Review: Smokehouse, 63-69 Canonbury Road, London N1
Pitt Cue Co, John Salt… now Neil Rankin is setting the world on fire at his own place, says Lisa Markwell
I've had a couple of near-misses with chef Neil Rankin. I never could get in to the rackety but delicious Pitt Cue Co once it moved from a food truck on the Southbank to a restaurant with Rankin at the helm in Soho, and seemed fated not to sample those oft-dreamt-of melting pork dishes. When he took over at John Salt in Islington, it was just after I'd reviewed it, so I couldn't justify a visit.
Now he's got his own place, Smokehouse, in north London. Tattooed and shaven-headed, he's a bit of a poster boy for (shudder) dude food. One frequently trotted-out image had him leaning over an indoor barbecue, ready to char anything within reach. Rooooaaaaar.
Goodness knows, there's money in grilling. Last week the Hawksmoor group, steak purveyors with four branches in London, was sold for a reported £35m. So why wouldn't a chef famed for BBQ and extolling the virtues of butchery hold a carnivore's carnival at his own place?
Of course, he does. Smokehouse is where the meat comes thick and slow (cooked). But the delicious surprise is in the other stuff, dishes of refinement and delicate flavour such as a starter of smoked mullet with sea purslane and burnt onion (£6), or squid with romanesco (£7), the lightest, softest version I've had since, well, forever.
A pit-roasted corn on the cob with confit onions and smoked béarnaise (£10) is less dainty but insanely moreish, the charred corn drenched in rich sauce, the excesses of which are mopped up with pleasingly scorched cauliflower florets. There's also a Smokehouse salad, a highly seasoned tangle of little gem, fennel, onions etc, that has been shown the grill. A tiny niggle is that some of this is more burnished than other bits (the lettuce could have had more char), but it's pretty fine fare.
Rankin is a blur through the hatch, closely conducting his kitchen crew and a very slick, informed front-of-house team. This venue was a somewhat pedestrian gastropub before he took over, and it sits on the border of some of north London's grandest squares and some of its scruffiest estates. An expansive beer menu and chunky salamis (from the nearby Picco, purveyors of excellent cold meats) as bar snacks should draw in a varied crowd.
It's dark, bustly, noisy and bare-boards unfussy. Reading dozens of brews faintly chalked on a board in the twilight is a young man's game, and the price/comfort ratio might put some off, but the waiters are treasures. And yeah, that meat… A chopped brisket roll with gochujang (spicy Korean pepper condiment) at £5.50 is outrageously good. Crisp, complexly flavoured crumb, soft shredded meat inside and a piquant but not eye-melting sauce. One of these, with that salad and a glass from the ace wine list would make a lunch worth crossing town for.
But for dinner, for meat-eaters, a short-rib bourguignon (£16) is a glossy, almost black hunk of meat, wobbling on its bone and with plenty of mushrooms, bacon and onion strewn around. Mutton chops with caponata, 'nduja migas, anchovies and parsley (£17) is a potent combination; the punchy sausage nubbins and salty seasoning threaten to overwhelm the fat-furrowed cuts, but are tempered by a deft touch.
You want carbs? What about stovies, a nod to Rankin's Scottish roots? Since they're streaked through with more lamb, it's a step too far for me. Do let me know if you ever order them.
In some areas, then, a taste tightrope is walked brilliantly; in others, a sledgehammer of flavour. There is no moderation with puddings. Vanilla, Vanilla, Vanilla is one, with no prizes for subtlety; Krun Chee Nut is another, a caramel-and-almond confection that demolishes my tooth enamel on impact.
I've eaten with my back to the kitchen. I've met Rankin at some food do's but not eaten his food before, and I want the punter's not the professional's experience. At the end, though, I can't resist saying hello. I'm about to heap praise upon him when my daughter pipes up. "The onions with the fish were too crunchy." Chef listens intently; our eyes meet over T's head. Everyone's a critic when you open a new restaurant, we silently agree, but I think Rankin will be all right.
8/10
Smokehouse, 63-69 Canonbury Road, London N1, tel: 020 7354 1144. £80 for two, with wine
Three more for well-sourced meat
George and Dragon
This gastropub serves very locally sourced food from the owner's estate (including delicious steaks). Clifton, near Penrith, Cumbria, tel: 01768 865 381
Stagg Inn
Hard to fault, thanks to expertly cooked, locally sourced dishes (and starring a divine bread'n' butter pudding). Titley, Kington, Herefordshire, tel: 01544 230 221
The Parkers Arms
A hidden gem of a country pub where the amazing food is of unbelievable quality. Newton- in-Bowland, near Clitheroe, Lancashire, tel: 01200 446236
Reviews extracted from 'Harden's London and UK Restaurant Guides 2013', www.hardens.com
Join our new commenting forum
Join thought-provoking conversations, follow other Independent readers and see their replies