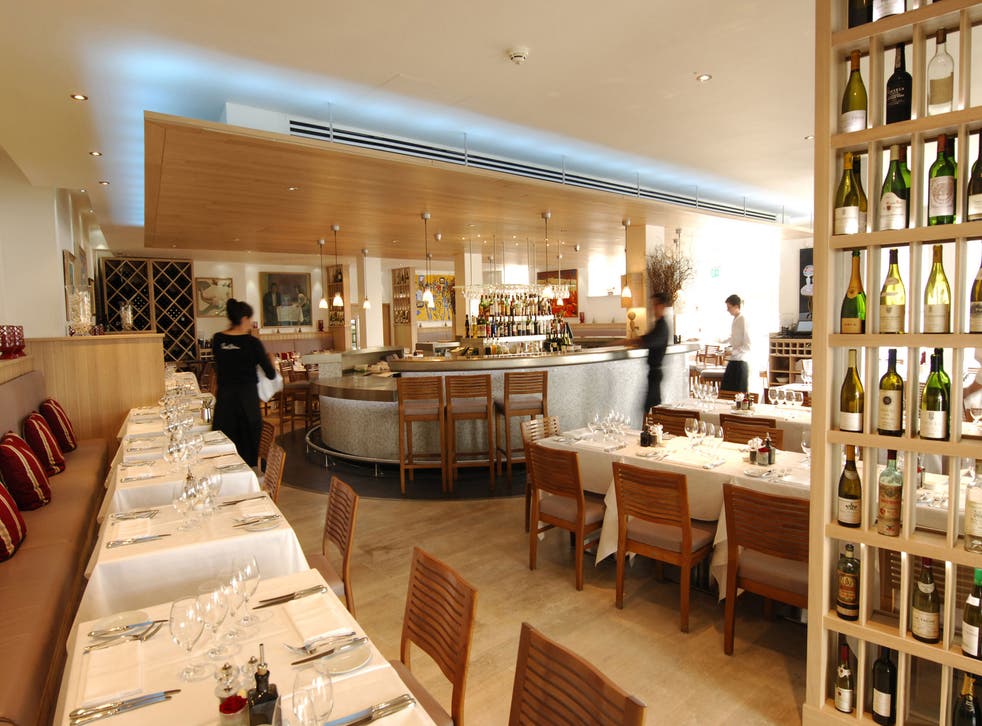 Restaurant review: The Seafood Restaurant, Riverside, Padstow, Cornwall
Does Rick Stein's flagship Padstow place float Amol Rajan's boat?
Amol Rajan
Thursday 10 October 2013 18:38 Comments
It's the locals rather than the tourists who refer to this curious patch of north Cornwall as "Padstein". From where I'm sitting, in a charming B'n'B, it's not as beautiful as other parts of north Cornwall (Trebarwith Strand, for instance); and the dilapidated harbour and seafront would displease discerning aesthetes. But for the gastronome, it is that sacred thing: a "destination".
The talk of "Padstein" denotes a begrudging local respect and affection for a man whose fame long predates the Age of Chefs. Rick Stein has brought millions in tourism and investment, created thousands of jobs, and sprinkled stardust over this place. The most celebrated of his establishments, the Seafood Restaurant, has a glasshouse front and large main room with elliptical bar in the centre. It overlooks a car park and faces Rock, across the Estuary. On an autumnal Monday night, it is packed by 6pm, and the waiting staff are prompt, precise and polite. You can eat at the bar without reservation.
Every seafood classic is here. In the broadest terms, the food is very good rather than excellent, slightly too pricey, not as good value as J Sheekey – still the best seafood restaurant in the country – and not worth coming to Cornwall for. But should you be in the area, you really should pay a visit.
A pair of jamon and cheese croquettes are a simple and good hors d'oeuvre, and the two breads – French sourdough and sesame and walnut – come hot, with lovely unsalted butter. If I believed in the divine, it would look and taste like elements of the hot shellfish with parsley, chilli, olive oil, garlic and lemon (£25.50). There are mussels, whelks, brown-crab claws, velvet crabs, langoustines, winkles, scallops, oysters, clams, and razor clams… the worst of which are the oysters, which are excellent, and the best of which are the juicy whelks, fetched out by a long metallic fork. I'm a sucker for scallops, and those served here with Serrano ham, salad leaves and a sherry vinegar dressing (£14.50) are firm and full of flavour. The ham is tough, dry and very salty: ideal.
All the mains come with a blurb beneath them on the menu, explaining their virtue. For the turbot with hollandaise sauce, it reads: "Turbot in the English style, simple and probably a nicer way of eating this wonderful fish than anything more elaborate". True, but paying £39 is more nasty than nice. I would rather a less elaborate price: nigh-on 40 quid is very, very expensive for a solid, safe, strong piece of fish, albeit in a magnificent hollandaise, pleasingly heavy on the lemon.
Beneath my main course, a Madras fish curry of sea bass, tomato and tamarind, the blurb is even longer. Forgive me: "A beautiful hot and sour Southern Indian curry which brings out the very best of one of my favourite fish. Don't believe it when people say spice ruins the taste of good fish, it accentuates it." Never mind that that should be a semi-colon rather than a comma in the final sentence, this dish is poor, despite the fish being tender and pungent. The problem arises because the English have yet to work out how best to deploy tamarind. The fruit from this wonderful tree should be soaked in water and squeezed into a rich pulp; here, it is mixed with tomato in a way that dilutes the flavour of both, while applying an unappealing yellow tint to the fish. It is also cold.
The Indian influence on my dessert, however – a bread-and-butter pudding with saffron, cardamom and Indian Nimish cream flavoured with saffron and rosewater (£8.90) – is perfectly absorbed, making it the highlight of the meal.
Staff say that Stein is in once or twice a week, which certainly adds to the appeal of this place for customers hoping for a lucky glimpse. Over several decades, he has given a wonderful bounty to the people of Cornwall, not the least of which is French-born Stephane Delourme, who has been head chef here for nearly 15 years. The food that comes out of his kitchen is for the most part hard to fault, and the venue's charming vibe makes it worthy of your time. But there are a few shortcomings – and at these prices, you have to be famous to get away with them.
8/10
The Seafood Restaurant, Riverside, Padstow, Cornwall, tel: 01841 532 700. £160 for two, including drinks
Three more seafood selections
La Lanterna
Excellent fish in a friendly environment have kept this trattoria in business for nearly two decades.
33 Queen Street, Scarborough, tel: 01723 363 616
Mourne Seafood Bar
Just how a seafood restaurant should be; you may have to queue for entry, but the wait is always worthwhile.
34-36 Bank Street, Belfast, tel: 028 9024 8544
One-O-One
One of Europe's best seafood restaurants, thanks to the genuine joy of Pascal Proyart's inspired cuisine.
101 Knightsbridge, London SW1, tel: 020 7290 7101
'Harden's London and UK Restaurant Guides 2013', www.hardens.com
Register for free to continue reading
Registration is a free and easy way to support our truly independent journalism
By registering, you will also enjoy limited access to Premium articles, exclusive newsletters, commenting, and virtual events with our leading journalists
Already have an account? sign in
Join our new commenting forum
Join thought-provoking conversations, follow other Independent readers and see their replies