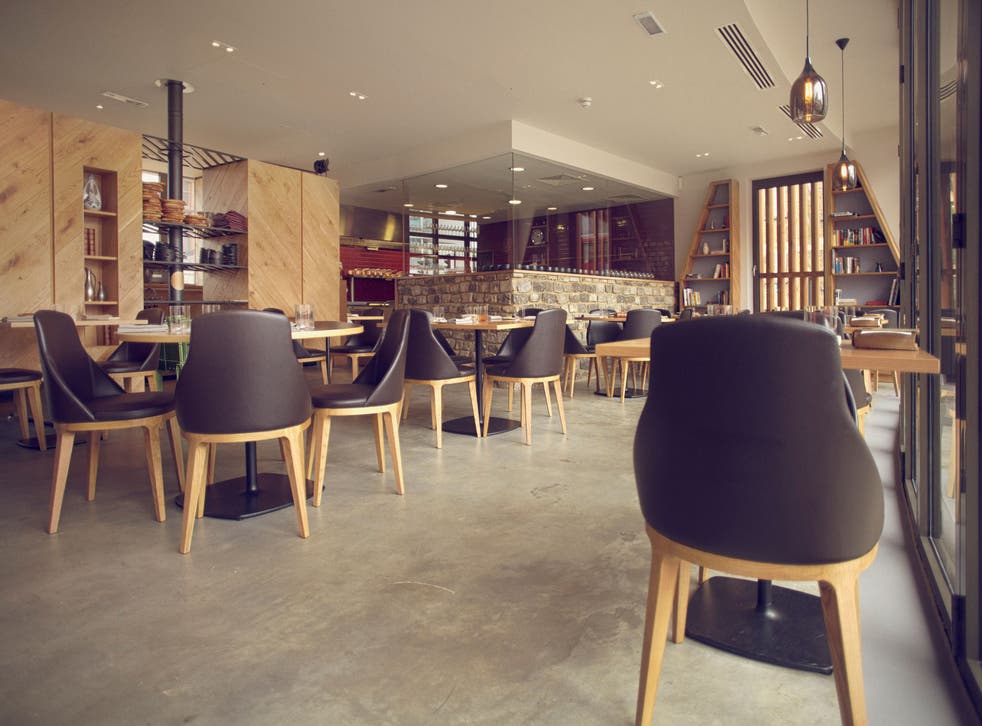 Restaurant Story, 201 Tooley Street, London SE1
Can you judge a book by its cover? Not in the case of Story, the white-hot new restaurant housed in what looks like a garden centre on a traffic island just south of the Thames in Bermondsey.
During opening week, the here-be-dragons territory at the scruffier end of Tower Bridge rang to the keening of disoriented restaurant critics and bloggers, whose desperate attempts to be first through the doors of Story were endangered by their inability to find it.
So why have foodish early-adopters got so frothed up about this new kid on the block? (Or, actually, toilet block – the garden centre has risen on the site of a demolished Victorian public convenience.) Because Story's young chef, Tom Sellers, is a rising star, with a CV that reads like a directory of the world's best restaurants: he trained with Tom Aikens and went on to work at Per Se, Noma and with Adam Byatt of Trinity.
Sellers is clearly a cerebral sort of chap, given to galvanising his staff with daily-changing mantras. His mission statement here is "to inspire people to take their own journeys – creating stories not just of food, but of everything that has played significance and holds a memory". Story's website encourages diners to bring a book, and leave it behind to "evoke inspiration in others". In short, if you could slap a restaurant in the face, it would be this one. But hold hard. It sounds pretentious, hell it is pretentious. But Story is a lot more fun than it sounds.
Lunch was a thrill-a-minute experience. A succession of showstopping dishes began with a couple of insanely delicious pre-starters. First a wafer of translucent cod skin, dusted with 'gin botanicals' (powdered juniper berries) and dotted with whipped cod roe. Then a rabbit 'sandwich', a crisp, breaded parcel containing a superb, rillette-like confit of shredded meat.
Bread, a dense apple-based sourdough, came to the table in a leather pouch, possibly a repurposed book-cover. But it's what comes with the bread that's the story – an edible candle, made from beef dripping which melts into a dippable pool as it's heated by the flame. It's a dish that has got more newspaper coverage than Labour's deficit reduction plan, and it sets the tone for a meal which is designed to be talked about, as well as enjoyed.
Take the fairytale-ish dessert, cutely titled 'Three bears porridge'. A trio of distinctively flavoured oatmeals; one sweet, one salty, one 'just right'. It sounds ludicrous, but it left us grinning like kids. Sellers, like Heston Blumenthal, loves to play around with all that childhood stuff. And though his food is tricked up in modernist trappings, under the flowers, leaves and dustings of ash or yeast, there's a real precision to his flavour combinations, with bursts of acidity and sourness punching through.
Raw scallops, marinated in meadowsweet to leave them with a succulent milky texture, came with balls of cucumber rolled in dill ash, and oils which melted together like a psychedelic light show. More substantial, and the most satisfying dish of the meal, was a meltingly soft hunk of beef cheek cooked in hay, served with roasted cauliflower and stout sauce.
The trio of sweet dishes that closed our meal offered pure fun. First, mini milk bottles containing layers of rhubarb compote, custard and foamed egg-white, to be slurped up through candy-striped straws. Then the Goldilocks porridge combo. And, finally, a Tunnock's-like teacake, the marshmallow flavoured with rosewater.
Service is rat-a-tat-tat, with dishes coming out every few minutes, leaving our table-talk with more dangling narratives than Cloud Atlas. And there's the rub. As a food experience, Story is amazing. As a restaurant experience, it's… tricky. Story is not the place to go for a comfortable night out. It's certainly not a place to take your elderly parents, unless they happen to be modernist architects who enjoy eating ash and petals.
The plain, Nordic-styled room, with its enormous picture window filled with a view of the Shard, is not a relaxing environment. Chefs and waiters outnumber diners by a factor of 2:1. It was apparently without irony that our menu came to the table folded into a handsome old copy of A Tale of Two Cities; apt as we sat deliberating between a six or 10-course tasting menu, under the curious gaze of bemused passing locals.
Still, Sellers is a serious talent, and his achievement in launching a restaurant this fine at the age of 26 is worth celebrating. Like a good book, Restaurant Story left me feeling stimulated, satisfied, and wanting to tell my friends about it. It also left me with a suspicion that, much as I'd enjoyed it, I would probably never need to return.
Food *****
Ambience ***
Service ****
Restaurant Story, 201 Tooley Street London SE1 (020-7183 2117). Six courses £45, 12 courses £65, before wine and service
Join our new commenting forum
Join thought-provoking conversations, follow other Independent readers and see their replies