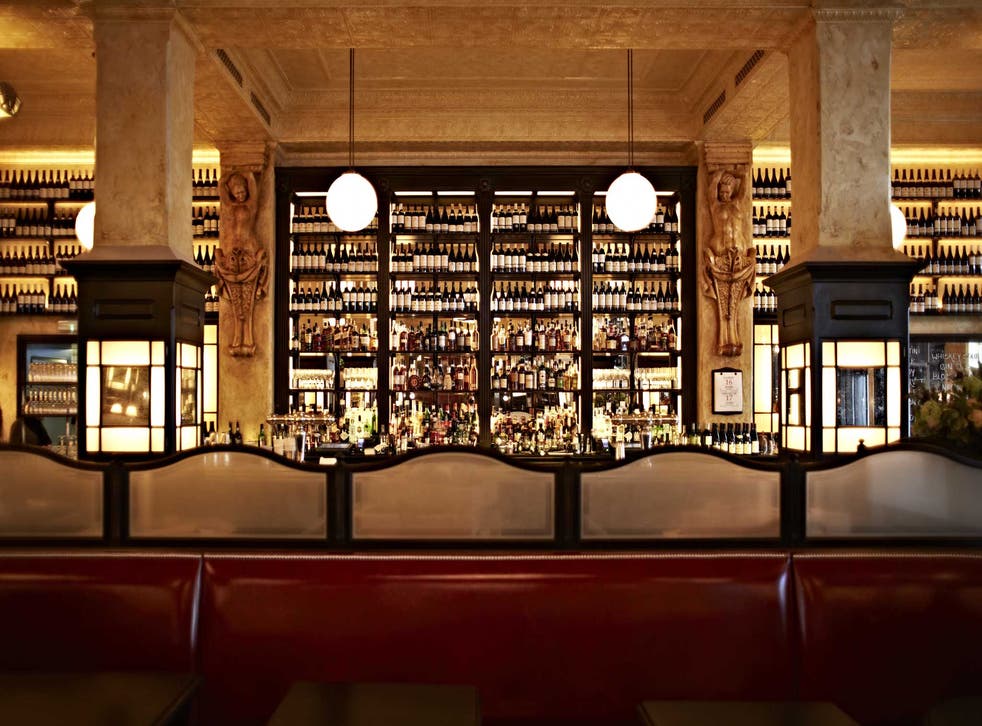 Review: Balthazar, 4-6 Russell Street, London
Keith McNally's era-defining Manhattan brasserie opened in London this month - but has it stood the crossing?
Tracey Macleod
Saturday 16 March 2013 01:00 Comments
Two huge hot-ticket productions have opened in London this month, direct from New York. The Book of Mormon transfers from Broadway already anointed as the funniest musical of all time. And into the old premises of the Theatre Museum in Covent Garden comes another New York hit, Balthazar, an almost exact replica of the wildly successful SoHo original.
One of a stable of era-defining Manhattan hot-spots created by London-born restaurant legend Keith McNally, the original Balthazar was a New York take on the classic French brasserie. The London version, backed to the tune of squillions by Richard Caring, is McNally's first opening outside New York. Famously a perfectionist, he is rumoured to have commissioned a full-scale replica of the restaurant's interior, to get a sense of whether it worked. Now that's method…
Well, the happy news for him, and for London, is that it most definitely does. Arriving for dinner on the second Saturday post-opening, we found the atmosphere crackling with first-night excitement. Ah, the smell of the greasepaint, the roar of the crowd. And that was just the bar, already packed at the unfashionably early time of 7pm.
The show opened with a swagger-coated doorman who greeted us, not with the polite murmur of his top-hatted British equivalent, but with a lusty, Joey-esque, "How you doin'!". That happy combination of things done properly, but with lightness of touch, was characteristic of our whole Balthazar experience.
The sepia-tinted room is beautiful, but doesn't feel 'designed', despite the meticulous attention to detail that has gone into it. With its brass-buttoned red leather banquettes, mosaic-tiled floor and enormous foxed mirrors, it's like the dream version of your favourite restaurant (especially if your favourite restaurant happens to be Balthazar in New York).
The crowd is an unusual, all-ages mix of uptown and downtown-SoHo with a smattering of Upper East Side, in Manhattan terms. McNally's joints are renowned for attracting famous faces and Balthazar already seems to be something of a celeb-magnet, even if we are talking Justin Lee Collins rather than Robert De Niro. Patrolling the floor are Keith McNally himself, looking rumpled and bashful, plus several lead players who have come over for the opening, including McNally's long-serving chief of staff, Roberta, and the managers of Balthazar SoHo and Minetta Tavern.
It's not a full-cast transfer though – executive chef, Robert Reid, is a home-grown talent, and his menu, based on the New York original but tweaked for the local audience, is full of non-canonical character. Clearly, with entries including duck shepherd's pie and pork belly with black pudding hash, this is a brasserie that hasn't simply been air-freighted straight from Paris.
A bracingly huge starter salad of finely-chopped raw kale and roasted butternut squash in a creamy, spry dressing, generously loaded with toasted Marcona almonds and sweet-sharp dried cranberries, was very much from the inventive American school. Also impressive was the abundance of tender lobster meat in a sybaritic risotto, blowsy with black truffle and finished with truffle butter.
Things got a little more French with the main courses. From the daily specials, a glossy, lip-sticking oxtail bourguignon, served with fresh pappardelle, achieved the perfect balance of slow-cooked beef, smoky lardons and caramelised onions. A gigantic double lamb chop, or T-bone, as the menu has it, was explosively juicy, its sweetness enhanced by a cassoulet-ish mix of flageolet beans, Merguez sausage and carrots. Only a marginally undercooked and over-nutmegged gratin dauphinois fell short of superb, in a meal which satisfied right through from the bread (Balthazar has its own bakery) to our shared pudding, a shimmering, silky rhubarb soufflé.
The staff – a full Chorus Line of them – have apparently been through intensive training to get them up to snuff, though the service feels unobtrusive; mercifully, no one tries to introduce either themself or anything you're about to eat. And our waiter didn't blink when we established squatters' rights at our early-evening table, managing to stretch our meal out from pre-theatre to post-theatre and cheekily catch the whole show.
Our bill came to around £45 a head for food; the all-French wine list offers a vast number of ways to push it up much higher. But all-day opening means that Balthazar should get more accessible once the initial hype has died down.
Keith McNally is famous in Manhattan for opening in unfavoured parts of town and bringing them to life. Now he's bringing Londoners flocking to Covent Garden, an area which was losing its soul under the tourist invasion. There's been so much pre-publicity about this long-awaited opening, it could easily have fallen flat. But though the London branch may be a pastiche of a pastiche, there's nothing brash about it – in fact it has that touch of mystery and magic that characterises all great restaurants. As a theatrical showcase of the restaurateur's art, it's a hit.
Balthazar, 4-6 Russell Street, London WC2 (020-3301 1155). Around £45 per person, not including wine
Food ****
Ambience *****
Service ****
Tipping policy: 'Service charge is 12.5 per cent discretionary. All tips and service charge go to the staff'
Side orders: US imports
Bar Boulud
Daniel Boulud is the top French chef who brought his fabulous New York bistro to London – the burgers are delicious and well-priced.
Mandarin Oriental, 66 Knightsbridge, London SW1 (020-7201 3899)
Cut
Try the massive 8oz pure-breed Chilean wagyu rib-eye at this offshoot of Wolfgang Puck's classic American steakhouse in Beverly Hills.
45 Park Lane, London W1 (020-7493 4554)
Electric Diner
Chef Brendan Sodikoff has brought his Chicago-based, French-American diner concept to the capital; main courses include bone marrow with beef cheek marmalade (£11).
191 Portobello Road, London W11 (020-7908 9696)
Register for free to continue reading
Registration is a free and easy way to support our truly independent journalism
By registering, you will also enjoy limited access to Premium articles, exclusive newsletters, commenting, and virtual events with our leading journalists
Already have an account? sign in
Register for free to continue reading
Registration is a free and easy way to support our truly independent journalism
By registering, you will also enjoy limited access to Premium articles, exclusive newsletters, commenting, and virtual events with our leading journalists
Already have an account? sign in
Join our new commenting forum
Join thought-provoking conversations, follow other Independent readers and see their replies