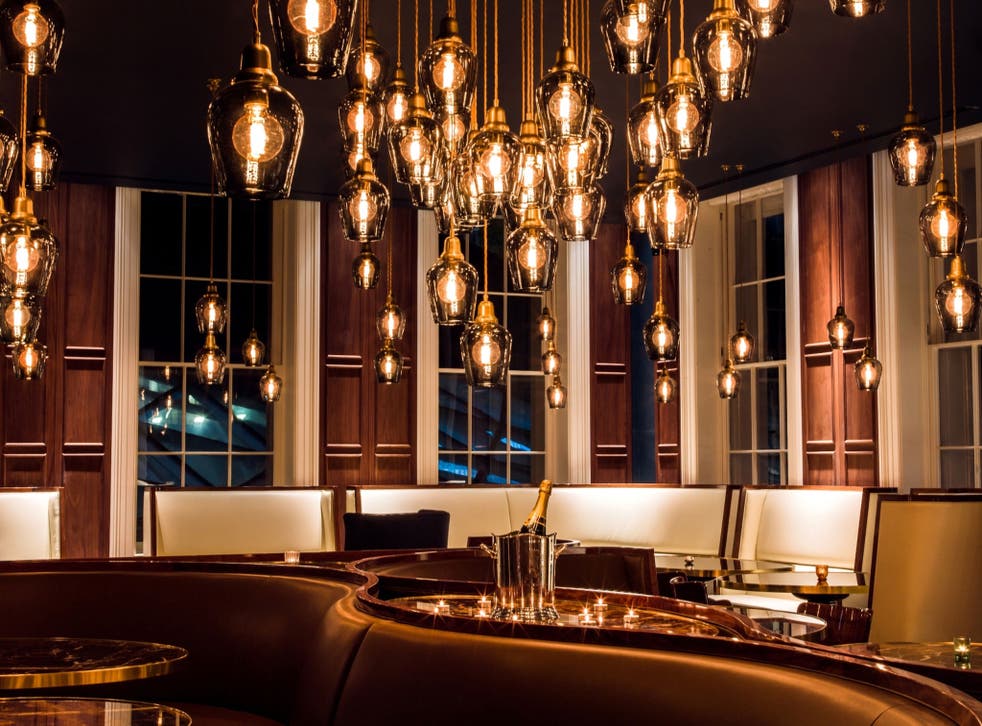 Review: Plum + Spilt Milk, Great Northern Hotel, Pancras Road, London
Not so long ago, the idea of going out for dinner at a self-styled boutique hotel in King's Cross would have been a joke. Rackety, crackety, crime-ridden KX was a place nice folk scuttled through, eyes averted.
What a difference a few years and a gazillion-pound regeneration programme can make. With its street-food market and open-air performance space, its buffed-up warehouse quartier and performing arts hub, King's Cross is now an area to travel to, not through. The opening last year of a dramatic new concourse brought the train station into line with its swanky hinterland. And now the next phase of its transformation is unveiled – the rebirth of the Great Northern Hotel, a Victorian survivor, connected to the new concourse on the St Pancras side, which has stood derelict these last dozen years.
Compared to the ornate swagger of its Gothic neighbour St Pancras Hotel, Lewis Cubitt's Great Northern is a plain Jane – a monumental, curving terrace like a generic building from a model railway set. But looks can be deceptive. While the reborn St Pancras is all about nostalgia for steam-age glamour, the Great Northern is determinedly, almost neurotically, modern.
If, having emerged from its hibernation, the hotel were to be resealed immediately, future historians would find a perfect encapsulation of early 21st-century design tropes. Guests are met by a brace of resting supermodels – that's boutique hotel 101. At ground level, opening almost directly on to the new western concourse, there's the mandatory moody, Manhattanish bar. One floor up, reached by a staircase whose walls are sprinkled with little gold stickers – quirky? check! – a restaurant with its own cast of gorgeous greeters.
Plum + Spilt Milk (yup, that's really the name) is glamorous, snug and surprisingly small, given the scale of the building. Curvy cream leather banquettes wrap around the walls, glowingly lit by low-hanging pendant lights holding those expensive exposed filament bulbs. Artfully arranged clusters of mirrors and wood-panelled walls emulate the current reclaimed, mismatched aesthetic in shiny new materials – a Mayfair designer's idea of shabby chic. But for all the would-be funky touches, there's still something slightly hotel-ish about the space.
The menu, from head chef Ray Patterson, offers trad Brit dishes – pie of the day, roasted cod with champ, pork loin with cider sauce – with some cheffier Anglo-French fare, and a selection of grills and the inevitable house burger. I remembered enjoying an indulgent smoked haddock soufflé at Patterson's eponymous Mayfair restaurant, and did so again here, albeit a more rarefied version given extra interest by the addition of oozy cheese and whole flakes of fish. Veal sweetbreads in a stickily reduced red-wine sauce were textbook good, although the delicacy of both dishes contrasted weirdly with the chunky Staub cocottes (very 2013) into which they had been pointlessly decanted.
Our mains came from the butch side of the menu. Grilled spatchcock poussin from the Inka grill didn't need more than a squoosh from the chargrilled lime that came with it. But slow-braised Jacob's Ladder (aka short rib) in a sweet, lip-sticking reduction, was tipped towards sickly by the parsnip mash. Only a side order of excellent gratin dauphinois supplied some much-needed umami.
We'd piled in indecently early – during the soft launch period – but service couldn't have been crisper or more charming.
I complimented the manager on the choice of music, which sounded like someone's favourite mix-tape. We have someone to help us with the selection, he confided. Of course. With this level of investment, no decision can be taken without the help of a consultant.
The dessert menu may well have been kept in a safe place since the hotel closed – bread and butter pudding, poached pear, and our shared choice, a darkly caramelised tarte tatin with vanilla ice cream. The kitchen's missing a trick, surely, in not including a dessert that riffs on the restaurant's name.
That name, Plum + Spilt Milk, comes not from a gay porn website, in case you're wondering, but from the nickname given to the original LNWR dining car, painted in the railway's traditional livery colours. No doubt it, too, was chosen with the help of consultants. Brave of them to saddle a restaurant with a name whose main association is resigned disappointment – as in the phrase 'it's no good crying over…' .
By and large, P + SM isn't disappointing. It's a decent restaurant, with a female-friendly vibe – our fellow guests included several all-women groups. But with a less clear proposition than the Gilbert Scott, St Pancras's Brit-brasserie, it's going to have to work a lot harder to promote itself as a destination restaurant. Still I'm sure they've got a team of consultants working on that.
Plum + Spilt Milk, Great Northern Hotel, Pancras Road, London N1 (020-3388 0818). Around £50 a head for three courses including wine and service
Food ***
Ambience ***
Service ****
Tipping policy: 'Service charge is 12.5 per cent discretionary. All tips and service charge go to the staff'
Side orders: Transporting food
Number One
Edinburgh's Balmoral Hotel hosts this Michelin-starred venue, overlooking the city's Victorian Waverley railway station.
Balmoral Hotel, Princes Street, Edinburgh (0131 557 6727)
Plane Food
Gordon Ramsay's snazzy Heathrow outpost offers rushed jet-setters take-away picnics for Ramsay-approved in-flight meals.
Heathrow Terminal 5, London TW6 (020 8897 4545)
The Waterside Seafood Restaurant
Stunning end-of-the-pier views and fresh-from-the-Loch fish, all from the comfort of original carved-wood British Rail chairs.
Railway Buildings Station Road, Kyle of Lochalsh (01599 534 813)
Join our new commenting forum
Join thought-provoking conversations, follow other Independent readers and see their replies