Review: The Clove Club, Shoreditch Town Hall, 380 Old Street, London EC1
You don't have to be a hipster to dine at The Clove Club – just open the door (if you can)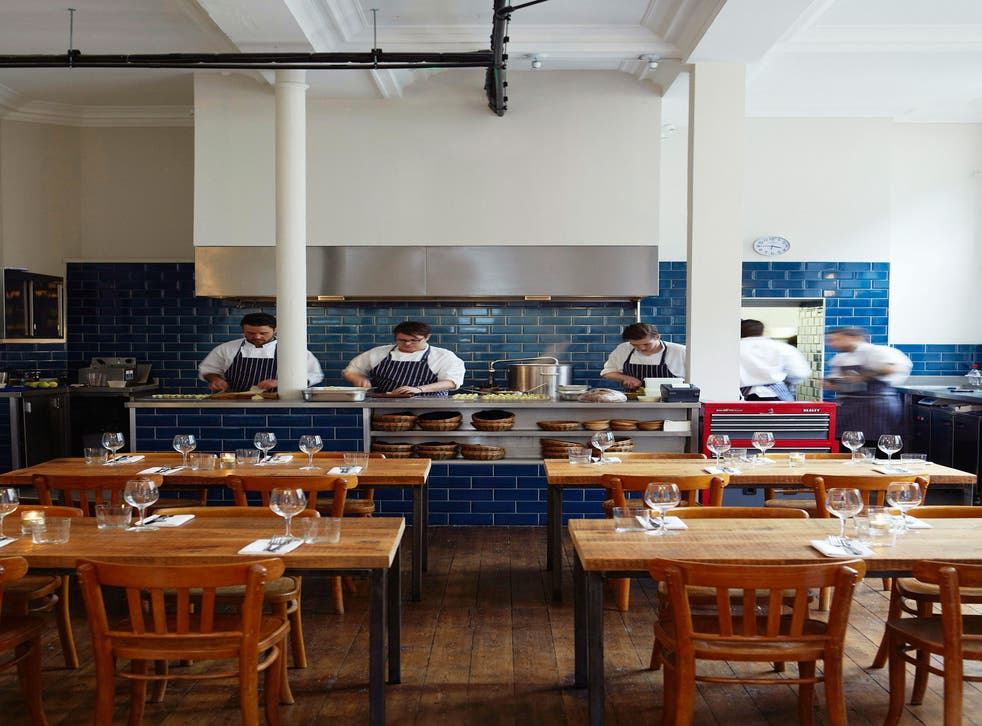 So much has been written about the "hipster" provenance of both the staff and clientele of The Clove Club that it's no surprise to me, on arrival at the time of my reservation, to find the door firmly closed. I am left on the pavement at Shoreditch Town Hall looking a bedraggled country mouse, while girls with lilac hair and boys with elbow patches pass by.
After rattling the handle, I try to flag the attention of my date through the window – being a local, and a fabulous hairdresser to the stars, too, he's safely inside, nursing a Martini at the bar. No dice, so I give the door one last tug and it opens. I'm in! I'm so in! They didn't operate a remote lock to keep out fuddy-duddies. The crowd inside is delightfully diverse: the hipster myth is busted.
The Clove Club, inside the repurposed Shoreditch Town Hall, is spartan – dark wood and pale walls, high ceilings and an open kitchen of severe beauty, with tiles in my very favourite colour: cerulean. Controlling the quiet industry is Isaac McHale, head chef (in the middle of the photograph, right), and one of the three chaps behind the restaurant. He, Daniel Willis and Johnny Smith have been players in the London cuisine scene for a few years now, with a track record in pop-ups that everyone wished would stay up. Now they have the opportunity, and the responsibility, of a permanent venue.
George, my date, has fitted in dinner with me between styling Gwyneth Paltrow for a shoot and making Mila Kunis red-carpet-ready. I feel both honoured and in need of a hairbrush. He, in turn, is rather pleased to be playing at restaurant reviewing. We settle in for the only option, a £47 tasting menu, which affords us time to catch up on gossip… Oh, who am I kidding? George is discretion itself, and I don't know any superstars.
Instead we talk about the food, which is easy because a) there's lots of it and b) it is endlessly debatable. A stellar start is a trio of little sharing plates: radishes with sesame and a mayo spiked with gochuchang (a Korean spicy soybean thing – the menu could use some footnotes); crisp little cheesy pastry squares topped with more curd; and a basket packed with pine fronds and a pine cone – and within, two chunks of buttermilk-fried chicken with pine salt. Super-soft inside, crisp exterior and that faintly cleansing hint of pine. This last element is the best – it's no surprise to hear that it's a hit on the bar menu.
A highly promising dish of warm fennel with walnut and seaweed follows – but the seaweed is dulce and the fennel is dull. It's tender but underseasoned; I can see the idea was to borrow its saltiness from the seaweed, but the ratio isn't right and I end up with a chunk of one of my favourite veggies uneaten. Walnuts made into an oil stirred through crème fraîche, crumb sprinkled on top, add much-needed texture and flavour.
Another pretty plate, this with a full leek, softly braised and buttery, topped with smoked mussels and torn lemon-balm leaves. Not sure I'd serve two veg so similar on a five-course tasting menu; I'm all for making veggies the star, but it's the expertly cooked mussels, with a faint hint of smoke, and a verdant spinach puddle that are the delightful bits.
Rib of beef with dots of ransom purée and neat potato "cigars" is a stand-out. The meat is fab, the chew of an outside-y bit of the roast on one side of each slice, the deepest pink tenderness on the other. The spuds are crisp and scrumptious.
As puddings turn up, I am reminded, again, why I will never have Gwyneth's sylph-like figure. A modest ceramic bowl contains a clever thing: a warm cider mousse with softened apple below and shreds of sweet ginger on top. Just right for a brutal, still-wintery night.
The second sweet is a pretty ensemble carefully, if curiously, placed on one edge of the plate. "Are they still trying to be edgy?" George quips. It's a heavenly, billowy cloud of ewes' milk mousse, with blood orange semi-dried and in a jelly, with a dollop of fennel sorbet. George, snake-hipped and gorgeous, has no qualms about eating all this plus the witty chicory teacake served with coffee.
A fortnight in, the staff tell me the plan is to change the menu every couple of weeks. A few tweaks – McHale might be the only chef I've ever met who could do with adding more salt – and this will be a serious destination restaurant.
8/10
SCORES: 1-3 STAY AT HOME AND COOK, 4 NEEDS HELP, 5 DOES THE JOB, 6 FLASHES OF PROMISE, 7 GOOD, 8 CAN'T WAIT TO GO BACK, 9-10 AS GOOD AS IT GETS
The Clove Club Shoreditch Town Hall, 380 Old Street, London EC1, tel: 020 7729 6496 Lunch and dinner daily. £130 for two, including drinks
Pop-ups turned permanent
Flat Iron
17 Beak Street, London W1
Just off Carnaby Street, this amiable bistro offers top-value steak/frites in a tightly packed communal setting evocative of Old Soho
Viajante
Town Hall Hotel, Patriot Square, London E2, tel: 020 7871 0461
Blows the Fat Duck away, say fans of Nuno Mendes' Bethnal Green venture and its modern-molecular dishes; some dishes, however, do work better than others
MEATliquor
74 Welbeck Street, London W1, tel: 020 7224 4239
Why would anyone queue for an hour outside a multi-storey car park behind Debenhams? The distinctly guilty pleasure of the juiciest burger ever
Register for free to continue reading
Registration is a free and easy way to support our truly independent journalism
By registering, you will also enjoy limited access to Premium articles, exclusive newsletters, commenting, and virtual events with our leading journalists
Already have an account? sign in
Register for free to continue reading
Registration is a free and easy way to support our truly independent journalism
By registering, you will also enjoy limited access to Premium articles, exclusive newsletters, commenting, and virtual events with our leading journalists
Already have an account? sign in
Join our new commenting forum
Join thought-provoking conversations, follow other Independent readers and see their replies