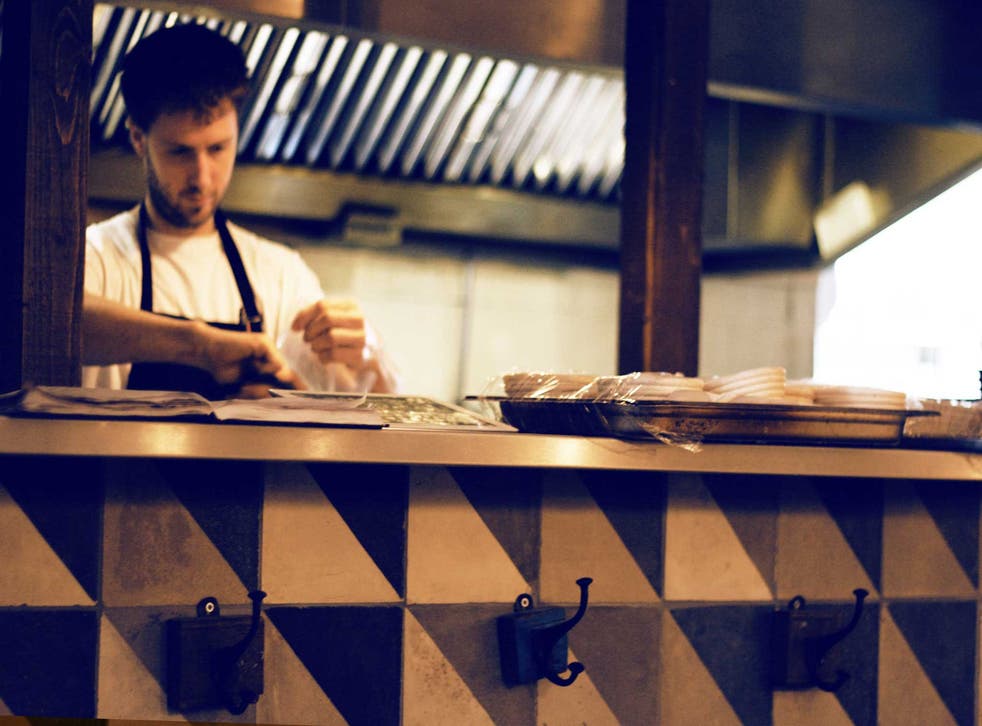 Review: The Dairy, 15 The Pavement, Clapham Old Town, London
Chef might be too busy to pop over, but his food rules, says Lisa Markwell.
Taking a child to a restaurant can be difficult – and not just because they get bored quickly, turn their nose up at anything green and are unwilling to split the bill (just kidding, P & T!). As revealed in a survey last week, many so-called family-friendly places offer terrible value and few healthy options for their younger eaters, which is rather dismal.
But for the critic, taking a child to a restaurant can be useful. For a start, if you want to be incognito, it's a zinger (my daughter may be blonde, but she's not The Blonde) and then there's the treatment one receives. It is often… different, shall we say.
At The Dairy, the chef makes a point of bringing out one dish to each table, in a trope that has caught on in recent years at a certain type of restaurant. He visits every table, that is, except ours. I couldn't say whether a mum and her daughter are culinarily invisible, or whether it was because we are sitting right at the back of the long, narrow room, enticingly open to the street on a hot, sunny Sunday.
I had heard from another source that service can be a tad chilly. For a newish place in a very local-centric location like Clapham Common, that needs to be addressed.
Happily, the food is so sublime that I – and Miss T – would forgive almost anything.
There's a tasting menu on offer, but we prefer to choose from the garden, sea and land sections of the card. (The garden is, at least in part, from the rooftop beds that chef Robin Gill and his wife/front-of-house partner Sarah have put in place, rather ingeniously.)
It's a small-plate thing, but under the circumstances – it's hot, I'm with a child – it works just right. We share the following (deep breath): roast and pickled beets, hazelnut, buffalo-milk curd; fresh peas, celery, mint and fried bread; Dorset scallop ceviche, malt bacon, ember-oil buttermilk; Somerset lamb, purple aubergine, borlotti beans, herb oil; and suckling pig belly, carrot, almond, ale pickle and onions. The dishes range in price from £6.50 to £10.
With the exception of the scallops, of which there are about eight (and that's a lot of slithery raw for a child to manage), every dish is perfectly sized, balanced and tastes a dream. Special mention must go to the pea dish, which is a combination of fluffy purée and whole peas braised for a second or two, with doll's house-sized diced celery and a puddle of fragrant broth. The lamb is tenderness itself, and the beans (a bit of a dairy theme, I'd hazard) delightfully nutty.
Talking of nutty, it is the junior palate that identified the hazelnut purée in the first dish. Smart kid. She tries to parlay that into having a discreet sip of my Chilean rosé (£4.50 a glass). No dice. The wine list is ace, by the way, plenty of bottles in the thirties range and imaginative (although quite who would order a red described as "fleshy", I really don't know).
Puddings are uniformly excellent (loosen your waistband): Gariguette strawberries, vanilla whey, cheesecake ice-cream; salted caramel, chocolate, malted barley ice-cream; peach and elderflower, stone-fruit ice-cream. It's only the vanilla whey in the strawberry dish that gives us both the lip-curl – another translucent slippery thing to eat around. The wafer-thin slices of white peach, however, are ambrosial.
So, all this clever-clever stuff that isn't about a showboating chef but the romance of good food. It is served in either vintage, patterned plates or rugged stone bowls, at tables adorned with meadow flowers and with refectory chairs and benches. In its slightly "aw shucks" approach, it reminds me of the Quality Chop House, another restaurant of seriously great produce served with deceptive simplicity.
When we get petits fours in an old biscuit tin, served on crumpled-up menus, we are won over. That and the jaunty striped underpants of the chef, a full handspan of which can be seen above his shorts as he weaves around the room. That's the kind of thing that makes a mum and her kid laugh when they're out for lunch. That and a delicious lunch. I urge you to visit The Dairy.
7.5/10
The Dairy, 15 The Pavement, Clapham Old Town, London SW4,tel: 020 7622 4165. £80 for two, with drinks
Three more new small-plate places
Flinty Red
Great flavours and presentation at this unpretentious bistro; owned by a nearby merchant, meaning first-class wines.
34 Cotham Hill, Bristol, tel: 0117 923 8755
Nopi
Yottam Ottolenghi's inspired small plates feature unforgettable Middle Eastern and Asian flavour combinations.
21 Warwick Street, London W1, tel: 020 7494 9584
Bistro Union
With its simple, flavoursome dishes, this quirky new bistro is an excellent addition to Clapham.
40 Abbeville Road, London SW4, tel: 020 7042 6400
Reviews extracted from 'Harden's London and UK Restaurant Guides 2013', www.hardens.com
Register for free to continue reading
Registration is a free and easy way to support our truly independent journalism
By registering, you will also enjoy limited access to Premium articles, exclusive newsletters, commenting, and virtual events with our leading journalists
Already have an account? sign in
Register for free to continue reading
Registration is a free and easy way to support our truly independent journalism
By registering, you will also enjoy limited access to Premium articles, exclusive newsletters, commenting, and virtual events with our leading journalists
Already have an account? sign in
Join our new commenting forum
Join thought-provoking conversations, follow other Independent readers and see their replies